by Marqeteer on

Tuesday, July 31, 2012
The original title of this post was, "How To Free Sex Properly Optimize Free Sex Your Website Content". Now obviously there is a reason that it's not the actual title of this post, but notice a few things stick out in this post, like, "Free Sex". This is an example of the same kind of tactics used by spammers and spam link builders. Well, Google got wise to this abuse and unleashed an updated algorithm that sent this kind of optimization to the pit.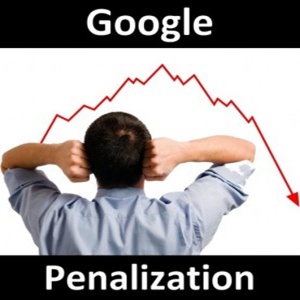 Yep.
Google's Penguin update at the end of April really packed a wallop for websites practicing (deliberately or unknowingly) spammy linking tactics. Websites all over the Internet lost their ranking and were flagged for spam virtually overnight.
Why?
Simple…for abuse of links. Too many links from too many irrelevant sources, all to make one's website look more popular than it actually is in the eyes of the search engines. It was only a matter of time until the search engines caught up with the tactic and created something to stop it.
The next big Panda update is coming up in August, and if your site is over-optimized you could be in trouble. Keyword stuffing has long been a problem in SEO, and the most common place for the stuffing was in meta tags on the back end of websites. To combat this, Google stopped indexing them around 2 years ago. Now, actual page content is being scrutinized like never before.
Links have already been addressed, and to avoid losing your ranking for over-optimization of your content now is the time to go over your website with a fine tooth comb. Over-saturation of keywords and duplicate content are two big areas you must address.
Do any of your pages have more than a 3% saturation of any given keywords? Is there identical content on any of your pages?
If the answer to any of these questions is "yes," you should fix those issues as soon as possible. Make sure your content flows and reads properly…like any other legitimate source of information would. If you have duplicate content within your site or if you have content that is identical to any other website, get rid of it or rewrite it completely in your own voice.
The days of cut and paste content are over. Original content takes more time, but it's the right thing to do and it will build you a solid foundation for your future higher ranking with Google and the other search engines.
*Editor's note: The original post had a number of "free sex" references scattered within the post as an example of what NOT to do and how over-optimized content may be viewed or read by the search engines. That being said, we removed many of these phrases as a protective measure.
Related Posts:
Mark Boyd+ is our writer and marketing pro! Feel free to hit him up on Twitter @marqeteer Or leave him a message here! Mark likes to play guitar and is currently researching keyword stuffing in song lyrics.