Social Doge
by NeoBlog on Monday, March 31, 2014
What is Doge: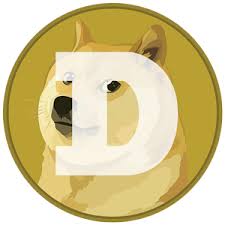 Doge is a meme  that became a quickly adopted crypto currency with a HUGE friendly community on /r/dogecoin (reddit)! You may have recently seen them in your Twitter, Facebook, or G+ streams… Or on Forbes, Huffington Post, USA Today, FOX, etc… etc… We (and when I say 'we' the Doge community) were able to send the Jamacian Bobsled team to Sochi. Help dig wells in Kenya for clean drinking water. We even have a modern day Robin Hood  @savethemhood… So it's no wonder this is taking off #ToTheMOON!
Why should you care?
Well for starters most of you reading this are in some fashion or another marketers. It's our job to know what's 'in' and what's 'trendy / trending'. Search and Social go hand in hand ever since the launch of MySpace! Probably a really bad analogy, but hey… I'm known for them.
What I should do is ask – How many times has a client, friend, colleague, etc… asked you "How do we get more likes? (or +1's, RT's, more followers)" My guess would be SEVERAL! When Facebook announced at the F8 conference that we could now add 'Like' buttons to personal websites everyone was in a rush to implement because… MOAR likes! (which btw h/t to zim who released the very first version)!
So the reason for this post is simple. I truly believe Doge will change EVERYTHING!
Tip bots are live!
If you comment on this post… and let me know what your favorite social site is (along with a username) I'll tip you some Doge! Just to get you started… it makes me happy


Do me a favor and watch this  video really quick then put on your Thinking Cap!

Let's think PPC for a second… Cash (USD) to send clients to a landing page, client site, affiliate offer, etc.   As you all know it can get expensive, and if the Golden Triangle theory taught us anything it's that human nature is to distrust that which can be bought.  (I won't even get into price – you need to do  your homework or call me)!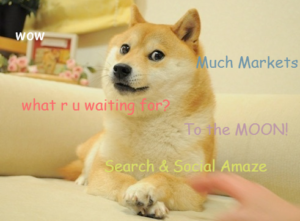 In comes Dogetipbot! Now available on Reddit / Twitter / Facebook / Imgur / and more to come!  Exciting isn't it?  Now your witty comeback or waxing philisophical can earn you actual crypto currency! It's taking off, and I for one want a seat to the MOON! I've been on Twitter for 7yrs now this March 13th! I was listening to Danny Sullivan on his show (because our old show SEO 101 followed his) and he introduced me… I went, signed up, and thought 'who the hell is going to use this?'  Months later I had a paradigm shift.
All of that to say… you may not understand this now… but you will, keep your eyes & your mind open to the possibilities! Imagine tipping on Twitter or Facebook for responding what your favorite pic, on a piece of content, was.  Think viral, think new, think it's happening, think… I don't want to be the last marketer adapting.
Game Changer? You decide…
There is a large audience, that's growing every day, that want's your (or your clients)  products / services – in Doge! Be a game changer. Tip. Have fun. Be a good Shibe. Help your clients and your friends board this rocket ship before it's passed you by!
I'm hopping on this rocket ship and going to the MOON! If you have any questions, comments, concerns, etc… by all means let me know here in the comments /SEO101 on FB – @neoblog on twitter /u/neoblog on Reddit and I'd be happy to talk about the possibilites!
p.s. I remember scoffing at Google at $200 a share… Yes, I've been wrong before, but this coin and the community will get you right in the 'feels'!
Best,
DB / neoblog