4 Tips for Your Local SEO Strategy
July 25, 2019

By Ashley Orndorff, aka Marketing Geek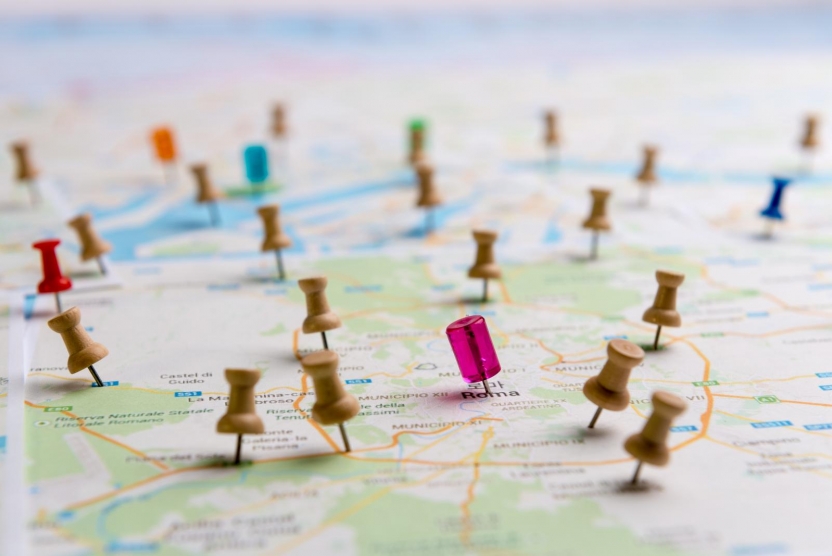 Local businesses can often become the backbone of their communities. They may have a loyal following that knows them well, but still have trouble competing for space online. As search engine result pages (SERPs) continue to evolve, add more elements that take up space, and the competition continues to increase, it can be hard for a local business to get noticed. A solid local SEO strategy can help them claim their space online and show up when it matters.
What is Local SEO?
Local SEO is a subset of search engine optimization and marketing that focuses on a specific location or service area for your business.
It's all about getting your business's name and website to show up for your local target audience when they are searching for products or services related to your business.
Local SEO is focused on strategies and tactics that help people in your service area find you in real life whether they are stopping by your business in-person or visiting your website.
4 Tips for Your Local SEO Strategy
A solid Local SEO strategy helps you optimize your website and focus your marketing efforts to increase brand awareness. It helps you show up when people in your area are searching online and increases traffic to your website and to your location. Here are a few tips for your local SEO strategy:
1. Claim Your Google My Business Profile
Google My Business is essentially a dashboard that allows you to manage information about your business. In Google, one of the elements that often shows up in the results is the "knowledge graph" or "knowledge panel".
This is the informational "box" or "panel" that shows up sometimes along the right side of the search results in Google. In results on mobile, it often enhances your business listing with extra features that help it stand out.
There is a lot that businesses should know about Google My Business and definitely a lot you can do from your Google My Business dashboard. In addition to managing your business's information, you can also add photos to your profile, manage and respond to reviews, create posts, and more.
Making sure you have control of this profile and that the information is correct is a vital step towards good local SEO.
2. Make Your NAP Citation a Priority
A NAP citation is your business's name, address, and phone number. It also often includes your website address and perhaps a contact email as well. Your NAP citation is the foundation of your local SEO strategy – it's who you are, where you are, and how you can be contacted.
It's important for it to be consistent. Inconsistencies in your NAP citation can lead to duplicate listings in directories, a lower or even nonexistent listing in the local search block, and a lot of confused, lost customers.
You want to claim as much "digital real estate" as you can and in areas that make sense for your business. Get your NAP citation and company information figured out and then start claiming your listings in relevant, authoritative business directories. Also, get involved in your local Chamber of Commerce.
Additionally, claim your social media profiles and claim any custom URLs available in those profiles. Your goal here is to gain that digital real estate for your brand and claim your name – before someone else does.
Claiming, filling out, and using social media profiles for your business can help you maintain a consistent brand across platforms and make it way easier for your customers to find you. It also helps search engines recognize and build the connection between your brand name, website, and these other web properties.
Manage it with a Service
If your business is still in startup mode, you may be moving around a lot, which can cause inconsistencies in your NAP citation as it takes time for you to update the listings you have and for that information to filter everywhere else. But, it's not just startups that have trouble with their citations – established businesses who may have changed addresses also have issues with inconsistent or duplicate listings.
The filter-down effect from larger data aggregators to the smaller ones can take months, which means a lot of incorrect NAP citations for your business. You can spend a ton of time searching for and updating everything yourself or you can use a service to help you manage it.
Whether you use something like Moz Local, Yext Powerlistings, or something else, there is usually an annual or monthly fee involved. But, for that fee, you will be able to log into a single dashboard to find, update, and manage the major listings and directories. This can make listing management and monitoring a lot easier and save you a lot of time.
3. Create Location-Focused Content
Search engines love to crawl fresh content, especially when it is relevant, authoritative, and useful. So, if you have a heavy local focus, make sure the content on your website reflects that. Your on-page SEO should include location-related keywords. You can also write content related to your region.
In addition, you can create a location-focused landing page on your website for use in a PPC (pay-per-click) campaign focusing on driving local traffic. With a combined strategy like this, you'll be able to target your locale and support it with relevant content from the initial click to the final conversion.
4. Get Involved With Your Local Community
Don't overlook the power of community in your local marketing strategies and keep in mind that all of your activities don't have to be online. For them to benefit your local SEO, you will want to try and tie them into your online efforts. You can do this through press releases, local news coverage, social media posts, and more. But, you will want to get involved with your local community regardless.
You can start and sponsor a much-needed community program, help out with an existing program, partner with local charities, host an event, and more. A lot of the time, doing something with the community that also benefits the community will boost your company's reputation and increase brand awareness as well.
You may even earn some extra boosts to your efforts online by gaining local links and mentions. These could come from charity site linking to you as a partner, interviews by local bloggers or journalists, local fans and communities on social media, and more. The possibilities are endless – you just need to get involved in creative ways that best fit and represent your brand while also providing something valuable and helpful to the community.
It's hard to keep up with everything and it can often feel like you are juggling a ton of different things. But, you don't have to be a master juggler to be able to catch all of it – you just need a solid local SEO strategy and the tenacity to implement it.