Penguin the Kung fu Panda vs Link Ninja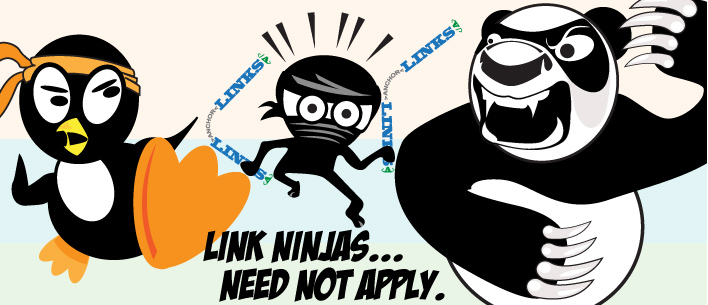 Penguin & Panda updates: we've heard all about them but just in case you haven't here's a quick recap.
Penguin
Google Penguin is a code name for a Google algorithm update that was first announced on April 24, 2012. The update is aimed at decreasing search engine rankings of websites that violate Google's Webmaster Guidelines by using black-hat SEO techniques such as keyword stuffing, cloaking, participating in link schemes, deliberate creation of duplicate content, and others
Panda
Before Penguin Google released a series of algorithm updates called Panda that first appeared in February 2011. Panda aimed at downranking websites that provided poor user experience. To identify such websites, a machine-learning algorithm by Navneet Panda was used, hence the name. The algorithm follows the logic by which Google's human quality raters determine a website's quality. In January 2012, so-called page layout algorithm update was released, which targeted websites with little content above the fold. The strategic goal that Panda, Penguin and page layout update share is to display higher quality websites at the top of Google's search results. However, sites that got downranked as the result of these updates have different sets of characteristics. The main target of Google Penguin update is to check webspam. Credit Wikipedia.
Add to that the Over Optimization Penalty and, well…
The good 'ol days of SEO were pretty simple, stay away from black hat… Write some good content for your site, and get more (better quality) links than the #1 ranked site in Google. While that is an extremely abbreviated synopsis you get the point.
We've been extremely fortunate to get a plethora of new clients coming to us after the penalties, trying to get back the rankings that they lost with other SEO firms. Let's face it, the old adage "If it sounds too good to be true, it probably is." has never rung more true as it pertains to link building, than it has in the last few months.
SEO now with Added RDFa!
Rather than droning on about what SEO is and isn't… (will save that for another day) Let's jump into RDFa! What does it mean, what does it do, why is it important to SEO post Panda & Penguin?
What is RDFa? (or Resource Description Framework – in – attributes) is a W3C Recommendation that adds a set of attribute level extensions to XHTML for embedding rich metadata within Web documents.
Back in November of 2011 Google announced that they'd start supporting RDFa Lite 1.1 with OpenSchema. What this means is we can now start adding RDFa code to our sites and Google is crawling it even including it in the SERP's! You've probably seen some of the results here in the last few months.
Microformatting / RDFa tags can be used for:
Products Information
Business or Product Reviews
People
Businesses Address Information
They even put up this handy little tool  so you can test your RDFa code and see what it looks like to Googlebot. You've no doubt seen results in the SERP's with the 5 gold stars based on X number of reviews, or maybe someone's avatar next to their article (like this one should eventually have my Dr. Evil avatar).

While it seems that Google hasn't quite made up their mind yet – We've seen some SERPs showing the Red Zagat results, some without the red and others still with the yellow stars. The only thing we know for sure is at this point it's something we can add to our markup and have shown in the SERP's – What we're not sure of is where the Google Gods will decide to end up (stars or red zagat squares)?
Reviews (prior to the Zagat purchase by Google) with the 5 gold stars, were showing promising CTR's according to some of the plugin creators at Magento were claiming 30%+ CTR improvements!
The choice – We've decided to not build links anymore.
I know it's a strange concept coming from an SEO – I will say there's still some other great ways to get those inbound links pointing to your site.
Write quality content that others want to link to. (Google's been preaching this for years)!
Infographics are a great way to not only get your message out there, but with a little RDFa every time it's posted on another site it can work as a backlink for you!
Press Releases done properly can bring in major linkjuice!
Guest Blogging / Guest Posting is about the only way to go after links en masse (although my crystal ball says this may become overrun by SEO's quickly).
Paid Directories (there's still a list of important paid directories like yahoo, business.com, & BOTW)
Yahoo Answers is a great way to help people in need and get some schweet link juice at the same time (just be sure not to over do it)!
Your best bet is Great Content… and don't be afraid to ask for a link when you're done! ahem, if you enjoyed this article you could link to it 😉
While there are still other acceptable ways to get links to your site just be careful right now it's easy to overdo it and it's much easier to move up the first page a few spots than it is to recover from a penalty.
"How exactly do I go about staging them [images] so that Google image search can parse it all apart and figure out that a particular image is covered by a particular license… The simplest way to do this is by using RDFa."
The New SEO + RDFa
Ok so it's not new, but the industry is changing. My prediction is we'll watch the W3C bring in Web 3.0 or the Social Semantic Web by mid-August 2012 (I could be wrong, it's happened once before). What does this mean for those of you trying to recoup from a Panda, Penguin, or Over Optimization penalty.
Well for starters, if you've been considering updating your site, now's the time to do it!   HTML5 along with CSS3 are both a necessity to hop on the SEO + RDFa train! It's also not a bad idea to move your site into the 21stCentury, either.
Proper Code
It's more and more important that the code that makes up your site is written properly — while there are hundreds of ways to get a site to look right or function properly, you have to remember that bots crawling your site don't see pages the way you see them in your browser, they just parse the code. Semantics, accessibility, and validation are key points to keep in mind when you've got a developer cranking out markup and stylesheets.  Using proper tags according to their semantic meaning and not for design purposes – that means you, people who use an H1 tag just to increase font size.
Each site will have a different set of needs when it comes to RDFa and what to implement. Each library has different protocols and while not new, we still have a LOT of testing to do, maybe even building our own dataset to submit to the CKAN open registry. There's a lot out there and a lot of data to sift through – If you'd like to see a 30,000 foot view take a look at the Linking Open Data Cloud Diagram.
When you're done there check out the Data Hub and search around all the data sets now available. What would you like to see happen next in the field? Are you already using RDFa on your site? Is your competition?