SEO Best Practices Guide
October 13, 2017

By Ashley Orndorff, aka Marketing Geek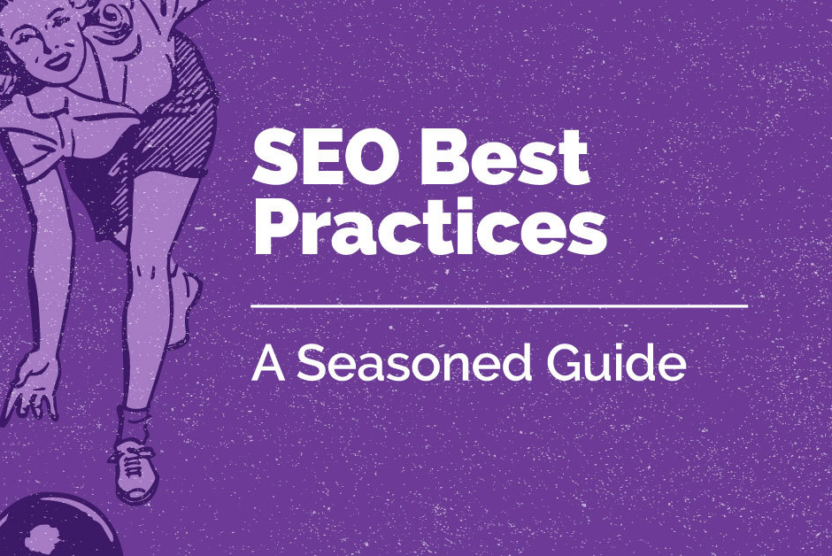 SEO – Search. Engine. Optimization.
If you have a website, you will have heard this term many times.
SEO is serious business. If done right, it can help grow your business and keep you competitive. If done wrong, it can cause huge issues and may take years to recover.
That's why it's so important to know SEO best practices and basics to make sure your business stays on top.
What is SEO?
SEO stands for Search Engine Optimization. It encompasses everything you do within, and outside, your website to gain visibility in search engines.
SEO excludes any paid advertising, like PPC (pay-per-click) campaigns in Google AdWords or other paid advertising platforms.
When we talk about SEO best practices, tactics, and strategies, they can usually be broken down into one of three categories: on-page, off-page, or technical. All are considered SEO; they just focus on different areas.
On-Page SEO
On-page SEO refers to the content and HTML source of a page that can be optimized.
This generally includes things like updating your title tag and meta description, adding alt tags and title attributes to images, and adding relevant schema markup.
On-page also includes updating the content on the page to better reflect what it's about. Using headers and integrating appropriate keywords related to the topic of the page are especially useful for this.
Off-Page SEO
Off-page SEO refers to the activities you do outside your site that create brand mentions and draw traffic, and potentially links, back to your site.
These inbound links or backlinks are like upvotes or trust signals – as long as they are natural and are from authoritative, relevant sites. Search engines will take these, and many other factors, into account when evaluating the authority of your website.
However, off-page SEO is about more than just links.
Common off-page SEO tactics include strategic guest posting, leaving valuable comments, promoting content on social media, outreach for content promotion, and more. What you do for off-page SEO should focus on what others are telling search engines to think about your site.
Technical SEO
Technical SEO, sometimes referred to as foundational SEO, focuses specifically on how well search engine spiders can crawl your site and index your content.
This includes things like using Google Search Console or a different tool to identify crawl issues on your own site and then fixing them. Also, checking for any of the common website caching mistakes and fixing those. Checking for 404 errors and verifying that you are using the correct redirects are good places to start.
Technical SEO includes tactics to increase site speed, like minimizing javascript, enabling caching, compressing images, and reducing http requests. A tool like Google PageSpeed Insights can be helpful in narrowing down a few areas for improving your page speed.
Improving site architecture and modifying your design to be more responsive and mobile-friendly are SEO best practices that also fall under technical SEO.
SEO Best Practices
SEO has changed a lot over the years – it's constantly evolving. Some of the tactics that work today may not work three years, or even one year, from now.
So, you need to understand where search engines have been as well as where they're going to operate within SEO best practices. This will also help you operate within SEO best practices as search engines evolve.
It's important to keep in mind that search engines are businesses too.
Their goal is to provide the best, most relevant, and most helpful results to users so they continue to employ their search engine, instead of another.
Every time a search engine places your website in the SERPs (search engine results pages), that search engine is recommending your website to their users. If search engines are not recommending the right websites, users will leave and that search engine will lose market share.
This means your website needs to become an authoritative, valuable resource for users and one search engines will want to list in their results.
Here are some SEO best practices to keep in mind:
User Experience
The user experience on your website comes first. It's one of the most valued aspects according to search engines.
A good user experience on your website tends to result in higher engagement metrics and more conversions. Both of which are good indicators to search engines that your website is a relevant, authoritative result.
After all, if users go to your website, stay there, and explore instead of bouncing back to the results, you must have provided what they were looking for.
So, how do you provide a good user experience?
The answer is simple. You meet – and then exceed – a user's expectations. This is easier said than done, of course.
A lot of the details will depend on the particulars of your users and your business, but there are a few SEO best practices you can apply broadly across websites:
Clear Navigation
Navigation on your site should be user-friendly and intuitive. No matter what page within your website a user starts on, they should be able to easily find what they want. A clean, clear, and simple navigation often goes a long way in helping to accomplish this.
The various pathways users employ to navigate your site are called "user flows". When users visit your website, the user flow should help them find what they need quickly, and allow them to easily move through your website.
You don't want users to have to stop and think.
If your navigation is clunky or confusing, users will eventually get frustrated and leave your website.
Fast Website
A good user experience hinges on meeting user expectations. People visiting your website expect it to load fast.
How fast?
2 seconds or less.
Every second on the web counts.
Almost 70% of tablet users expect a website to load in 2 seconds or less. If you're an ecommerce website, milliseconds could cost you – and affect your bottom line. 47% of retail consumers expect web pages to load in 2 seconds or less, and 40% of them will abandon a website that takes more than 3 seconds to load.
That's a lot of potential business lost due to slower load times!
Clean Design
Keep your design simple, clean, and consistent. You can have fun, but users don't want to be bombarded with clutter and distractions.
Your users are busy – they want to find what they need, solve their problems, and then move on to the next thing on their list.
The last thing you want is for a cluttered, busy, and overwhelming design to become a hindrance.
Smooth Functionality
A clean design and navigation fall under site functionality, but that's not all there is to it. As a user navigates through your website, does it allow them to do so smoothly?
Consider every step a user can take on your website and evaluate whether each one can happen without hassle.
Start with asking yourself some of these questions:
Are they running into issues with your forms?
Do you have annoying pop-ups interrupting them?
If you offer any tools on your site, do they all work as intended?
If you're running an ecommerce site, check your cart abandonment rate. If users are abandoning their carts, it could point to an issue with your checkout process.
Test your site regularly to ensure everything works as intended. By doing so, you're likely to identify issues, and be able to fix them, before they cause problems for your users.
Content
The content on your website is critical. In fact, it's one of the most impactful webpage elements.
It helps search engines understand what your site pages are about, and it communicates directly with your users. Thus, it contributes to user experience as well.
Content is a huge part of SEO, so there are a lot of SEO best practices and content types to consider.
In addition, the content sphere is ridiculously competitive. Back in 2015, there were approximately 2 million blog posts published every day. Now, that number easily ranges between 3 and 5 million per day.
It's easy to go about content the wrong way, and even easier to just be average. To stand out and grow your business, you have to meet the best practices for SEO and then take your content further and promote it.
But first, take the time to make sure the foundation is there to support your promotion efforts.
Keyword Research
It's true that keywords and search engines don't relate now the way they did five, or even two, years ago. However, just because the relationship changed doesn't mean that keywords no longer matter – of course they do!
The Rise of Semantic Search
In 2013, Google released the Hummingbird algorithm update. This update brought semantic search to the forefront.
With the rise of voice search and more context-based queries, search engines needed to get on board to deliver more relevant results. This is what Hummingbird did for Google.
When you add machine learning into the mix, you have SERPs that are constantly changing per person, time of day, location, and a multitude of other factors.
Your research cannot be as narrowly focused, and you can't rely on rankings alone to determine your SEO success.
How to Approach Keyword Research
For keyword research and SEO, this means focusing on broader keyword topics rather than one narrow keyword.
Plus, of the trillions of searches Google processes every year, about 15% of those queries have never been searched before. To meet this demand, your content has to include related keywords so search engine spiders can better understand the context of your page.
Doing so allows search engines to focus on meeting the intent of a user's search to deliver better quality results.
Use research to determine the topics that matter most to your customers. Then, figure out the various keywords and query strings they use for that topic.
This will give you an idea of what your content should be focused on and the various ways you should be talking about that topic within your content.
Keep it Relevant
Your content needs to be relevant to your business and, more importantly, to your customers' needs. Keyword research, market research, and other research methods will help you identify those needs so you can write content to resolve them.
Focus on Quality
Along with research, and some work, comes quality. Above all, your content should be high quality. This means it is well-researched, well-written, and geared towards your customers.
Update Regularly
Search engines like to see websites that are living entities, which means they are updated regularly and grow.
By updating your content regularly, even if it's just by adding a blog post every now and then or updating old content to keep it working for you, you're providing fresh content. This sends signals to users and to search engines that you care about being a valuable resource in your industry.
The benefit of updating regularly is that you are providing fresh content for your users to read and for search engines to crawl.
The more relevant content you have, the more opportunities show up. This increases the probability that you will be in the right place at the right time when users are searching for topics related to your content.
This does not mean you can throw some words on a page, publish it, and then call it a day – that's not how it works!
The content you publish has to be relevant to your industry and valuable to your users – it needs to meet a searcher's intent. Plus, it needs to be better, and more useful, than what is already indexed in the SERPs to come out on top.
There is a lot that needs to happen for content to be successful and meeting SEO best practices can help. But, if you're not publishing any, you won't even have the chance for it to be listed.
Readability Matters
Another important aspect of optimizing your content is optimizing for engagement. Once users actually get to your content, you want to make sure they read it.
Granted, users on the web don't usually read every word – they tend to skim information quickly. They may take a moment to read specific sections they find particularly relevant. However, on average, users are not going to spend a ton of time reading every word of your content.
So, follow some SEO best practices and make your content easy for them to skim and even easier for them to read with headings and spacing.
Use Headers
Headings and subheadings help organize your content and break it up for easier skimming, which improves overall readability.
Your headings and subheadings should also be htags and not simply bolded.
The H1 is reserved for the most important heading on the page, usually the page title or blog post title. Because it is the most important, there should also only be one H1 per page. Any subheadings you add within the page or post should follow a hierarchy starting with H2s.
Using this post as an example, the post title is the H1, main section headers are H2s, subheadings under that are H3s, then H4s and H5s as needed. For most content, H1, H2s, and H3s are usually sufficient to cover the topic.
Using htags appropriately adds hierarchy and priority to the content on the page. This makes it easy for users to read it and for search engine spiders to better understand and categorize your page.
Small Paragraphs and Spacing
In addition to headers, paragraph breaks are also useful. Because readers tend to skim web content and read what they find interesting, big blocks of text are less preferable.
Headers help you break up text, and so does spacing.
Breaking up large paragraphs into smaller ones adds space, and makes your post easier to read. Don't be afraid to vary your paragraphs in your content.
In content written for the web, it's not uncommon for paragraphs to only be 2-3 sentences. Sometimes a paragraph will only be one sentence, which can add emphasis in addition to breaking up large blocks of text.
Adding space also makes long content less intimidating, especially for mobile users – big blocks of text are terrifying on those smaller screens.
On-Page Metadata
On-page SEO is all about the content. This includes not only the text users are reading on your pages, but also the metadata about the content of the page.
The metadata and other on-page elements all work together to reinforce and emphasize the topic of the page.
URLs
It's important for your URL to accurately describe the content on the page without getting too long. When it comes to length, 50-60 characters or less is usually a good range. Generally, you'll want to rewrite URLs pushing 100+ characters to be shorter.
Your URL structure helps search engines, and users, understand the importance of a page relative to other pages on the site. So, keep it simple, short, and relevant.
Title Tags
Your title tag should also describe the content on the page. It tells both your users and search engines what the page is about.
When your page is listed in the SERPs, your title tag is what will be hyperlinked at the top of the listing. So, you should make sure it is accurate and relevant.
Your title tags should be unique for each page across the website. When crafting title tags, it's important to include both the topic of the page and your brand name. The topic should come first followed by your brand name, if it will fit.
The length of your title tag is also important. If they are too long, they'll get cut off in the SERPs. Too short, and they likely aren't providing enough information to users.
Google now displays title tags based on pixel width instead of character count.
Since characters vary in width, it's generally safe to keep them between 50 and 60 characters. It also helps if you do not write your title tag in all caps – THIS takes up more pixel width than This.
Meta Descriptions
Your meta description is your chance to further describe what users can expect to find on the page and entice them to click on your listing. Include the topic of the page, but focus on the value it provides to the user to encourage them to click through to your page.
In a perfect world, each page on your website would have a unique meta description crafted specifically for it. For some websites, particularly large websites with frequent changes, this is not often a sensible reality. In this case, it makes sense to spend your time on the most important pages.
For less important pages, you can have meta descriptions auto-fill based on page content, at least until you can make time to update them. If these pages do not need to be individually indexed, you can add a noindex tag to them using a plugin or from within your robots.txt file.
As a note, be very cautious and careful about making changes to your robots.txt file – using the wrong directives here can cause crawling and indexing issues. In the worst case, mistakes can block your website entirely from search engines!
Images
Search engine spiders cannot process the context of images on your website.
To assist them in understanding images, we have image alt tags. Adding a description here allows search engine spiders to read images when they crawl your website and is one of the tips for better image SEO.
Alt tags also improve web accessibility as they allow people who use screen readers to understand the images you have on the page.
It's a good idea to use title attributes on your images as well. This is an HTML feature that allows you to provide additional information about the image.
This does not mean you should fill it with a bunch of keywords!
Just use it to add value to your other image tag and reinforce the overall topic of the page and image theme.
Design
The design of your website plays a big role in SEO, mostly because it has such a large effect on user experience.
Here are a few of the biggest SEO best practices to keep in mind for design:
Responsive
The design of your website should be responsive, so it adjusts to all device sizes. Responsive design requires your website to be built so that it resizes or moves content. This ensures that it looks good and functions well on any screen.
Mobile-Friendly
One of the biggest SEO best practices when it comes to your website is making it mobile-friendly. But, just because your website is responsive doesn't always mean it's mobile-friendly. Further adjustments often need to be made so responsive designs retain smooth functionality for users across various devices.
It's imperative that your website meets the standards for both responsiveness and mobile-friendliness. Google has made it clear for several years that being mobile-friendly is critical to your business.
Simple & Clean
Make sure your design enhances the user experience instead of hindering it.
It can be tempting to add a lot of flashy elements and cool effects. However, it's often too easy for these design elements to throw off a user and mess with their experience on your site.
In terms of user function, keep your design simple and clean. You can have some fun with it, just make sure whatever you do makes things better for the users on your website.
Social Media
It's true that when search engines are determining where websites fall in the SERPs, social media does not have a direct impact. However, to say social media doesn't matter at all would be untrue.
Social media shares may not count as individual links, but they do count as brand mentions. Shares also indicate the potential for links, which do affect visibility in the search engines.
The biggest way social media helps SEO is in promotion, engagement, and overall brand awareness. Brands that are active, who also build a community, promote their content, and grow their presence socially, often find it complements and benefits their SEO efforts.
Keep in mind, social media channels are search engines too. This means an active presence on the social channels your customers use results in more opportunities to reach those customers.
Links
Links matter. Though how much they matter is often up for debate, the fact that they do is undeniable.
Although it is often referred to as "link earning" instead of "link building", you're still focused on gaining authoritative links back to your site.
But, your link profile can't be all about backlinks – it has to be balanced. This is where strong internal linking comes into play in SEO best practices.
Internal
Internal links connect content and pages within your website. These, too, need to be balanced.
When you link a page of your website to another page on your website, that connection needs to make sense and provide value for the user. If it doesn't, do not do it.
Internal linking is a great way to help users navigate through your site, especially when you have a large site with a ton of blog posts. Cross-linking blog posts with related topics provides value to your users; it makes it easy for them to jump to content that will help them learn more.
Also, if you have a blog post or other page on your website that gets a lot of user engagement, you can link that to other related pages on your website. This will help to increase the authority of those pages and provide more opportunities for user engagement as well.
External
External links are links that live on your website and link out to other websites. Part of being a valuable resource is pointing users to other useful information to back up statistics, expand on specific topics, or add context, even if that means sending them somewhere else.
By linking out to relevant, authoritative websites that are also useful and valuable to your users, you show search engines that you are an active part of building the most relevant experience for users as possible. By taking part and adding your own "vote of confidence" to other authoritative sites, you help to build your own authority as a resource.
Backlinks
Backlinks, also commonly referred to as inbound links, are links from other websites pointing back to your website. For search engines, a link from another website is like a vote of confidence or a recommendation.
When your website has a lot of backlinks from several authoritative and relevant websites, it sends signals to search engines that yours is also relevant and authoritative. If your website is considered a relevant authority in your industry, then it's more likely you will be listed as a resource for users who search topics related to your industry.
Links tend to get a lot more complicated than that. Check out our Beginner's Guide to Links to learn more. The important thing to remember is that quality matters more than quantity.
Also, in general, the easier a link is to obtain, the less authoritative it tends to be. This rule is not true for all links all of the time, but it's a pretty good indicator.
Conclusion
There are a lot of factors that go into successful SEO.
When talking visibility in search engines, Google's algorithm alone takes into account over 200 different factors. When you add in RankBrain, their machine learning algorithm, things get even more dynamic and complicated.
Over time, SEO tactics and strategies may change. However, the SEO best practices tend to focus on the same theme – the user comes first, and everything else you do should be for their benefit.
For help with your SEO and marketing efforts, contact us today for a meeting of the MINDs!