4 Most Impactful Webpage Elements
March 10, 2022

By Ashley Orndorff, aka Marketing Geek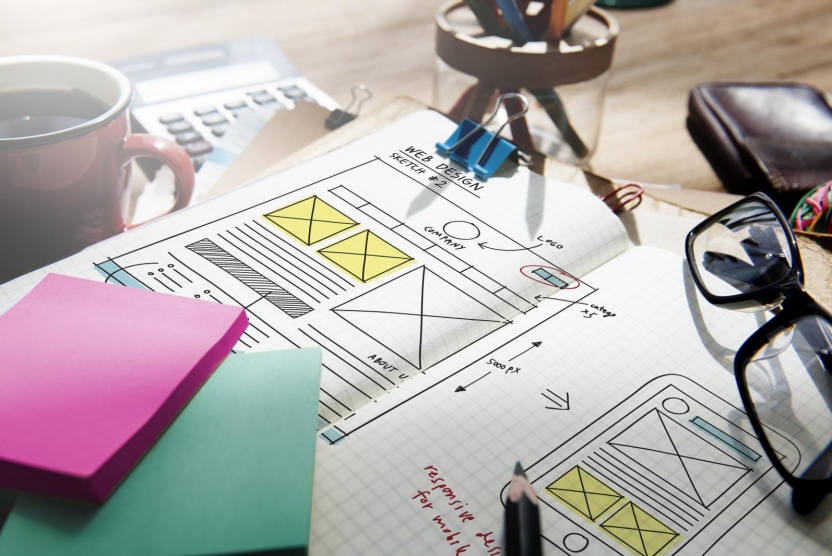 When it comes to your website, there are a lot of components that are important and can make a big difference for your website visitors. For SEO, good user experience, good branding, and more, here are some of the most impactful webpage elements:
1. Navigation
The navigation on your website should be available across its pages. No matter which page a website visitor starts on, you want to make sure the navigation and other links on the page make it as easy as possible for them to find what they're looking for or explore the next steps of whatever user pathway they're on.
Clear and Simple Navigations Help User Experience
Your website's navigation should be clear and concise; it should make it as easy and straightforward as possible for website visitors to quickly find what they want. Creating a navigation that is structured and designed to do this is one of the user experience tips for a better website.
Cluttered or Confusing Navigations Hurt User Experience
On the other hand, a cluttered or confusing navigation can make it difficult and frustrating for website visitors to find what they're looking for. And, if they can't find what they want quickly and easily, they'll just leave, and often with a negative view of your brand. This is why a confusing, cluttered, or poor navigation is one of the web design mistakes to avoid.
2. Branding
A user should be able to tell whose website they're visiting no matter what page they are on. There are a lot of scams, fake businesses with phony websites, fake websites attempting to mimic existing businesses, link cloaking schemes, etc. out there. It's important to make the source of a website as obvious as possible.
You need to make sure every page of your site has your logo, business name, business information, and more. Not only does this assure website visitors that the link they clicked on actually brought them where they were expecting to go, but it can also help build trust with them. All of these branding components are trust signals your website should have.
3. Content of the Page
The content of the page is one of the most impactful webpage elements. Not only does it tell search engines what the page and your website are about, but it's also why a user visited that page in the first place.
Provide the Right Content on the Right Page
You need to evaluate the content of your website and on specific pages to ensure you're providing the right content on the right page. Never evaluating the content of your website is one of the mistakes businesses make with their website strategy, and it's one you want to avoid.
Content Should Meet Search Intent
The content of a page should be relevant, well-written, and easy to read at a minimum. It should clearly communicate what the page is about to anyone reading it and it should solve the user's problem, answer their question, etc.
Whatever the reason behind someone visiting a page, your content should clearly and comprehensively meet those expectations. When it comes to SEO best practices, this is called meeting search intent.
Outline Your Content With Headings
The content on your page also needs to be structured well and outlined for better readability. People are not usually reading every word when they consume online content; they are skimming content and then focusing on specific sections that interest them.
Good Headings Improve SEO and User Experience
Using headings in your content is one of the biggest on-page SEO tips. Not only does it help search engines better understand the context of the page and the hierarchy of content on the page, but it also makes your content easier and more engaging for website visitors to read.
Make Sure Your H1 Describes the Page
The H1 is the most important heading of the page and is generally reserved for the title of the page, blog post, etc. This should be one of the first things a user sees on a webpage; it lets them know immediately whether they are in the right place, what the page is about, what to expect, and more.
Use Proper Heading Structure
From there, you can use H2s to outline sections and include H3s, H4s, and so on for subsection titles. Including headings in your content and sticking to a proper hierarchy with your headings are some ways to make your website more accessible. Additionally, using headings to outline your content in this way is beneficial for SEO, breaks up text in ways that make sense, and makes a better experience overall for users on your website.
Headings Need to be Included in Web Design
In this way, headings are one of the most impactful webpage elements. If they are designed well, they will help enhance the page visually and functionally. If they are not designed well, they can negatively impact the readability and accessibility of your content. This is also one of the ways web design impacts content marketing, SEO, and other marketing efforts you may be doing.
4. Overall Look and Function of the Page
It's not enough to just have all of the elements on the page; they also need to look good together on the page and relate to each other in a way that makes sense. On top of that, the website, and all of its pages, needs to be built to function well.
Everything needs to be mobile-friendly and responsive so that it looks great and is easy to use across all devices. The site also needs to be built to load quickly. Pagespeed and SEO are connected and it also matters to website visitors. If a site is too slow to load, they'll just leave, and often, they won't come back – people don't use sites that don't work.
Make Sure Your Website Supports Your Business
These are just a few of the most impactful webpage elements. If some of them are missing or inconsistent, it can negatively affect your website experience and drive people away from your business. Those are also signs it's time for a website redesign and/or rebuild.
If your website is not performing or representing your brand the way you want it to, contact us for a meeting of the MINDs. We can talk about your goals and how we can help get your website back on track and supporting your business!