8 Trust Signals Your Website Should Have
February 22, 2018

By Ashley Orndorff, aka Marketing Geek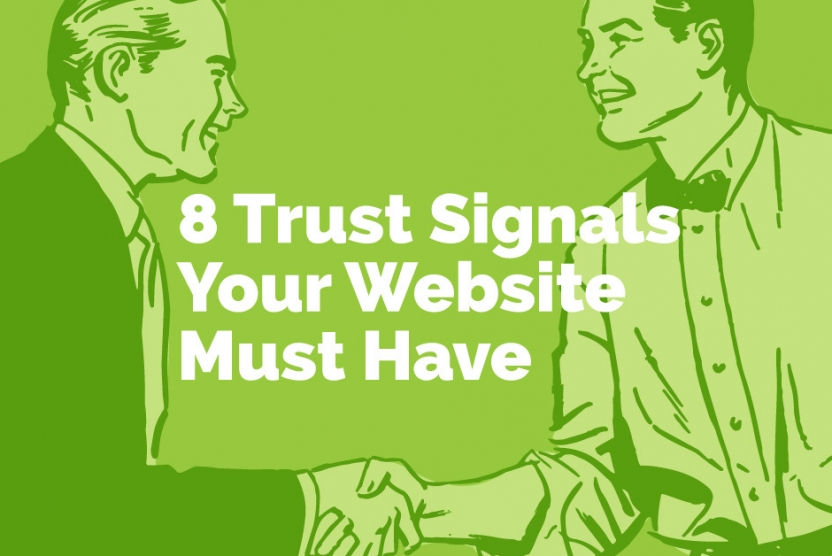 The internet is rife with spam. People have experienced shams time and time again. They've gotten duped into sharing their information in exchange for promised value and have received an endless stream of useless communication instead. Now, they carefully evaluate sources and look for trust signals.
Website visitors are cautious when it comes to giving away their information. They don't want a sales pitch, they want value. Above all, website visitors need to trust you first before they're going to hand over any information – especially payment information.
Having a website alone is not enough to earn a visitor's trust, particularly if they are unfamiliar with your brand. It's your job to design and build your website in a way that adds credibility to your business. If visitors see any red flags, like tons of ads or pushy sales tactics, they'll leave your site and go to one that makes earning their trust a priority.
So, how do you earn a website visitor's trust?
You prove to them that you are a credible business worthy of their trust in the first place.
Trust signals are one of the best ways to build credibility into your website. Trust signals often take the form of things like security badges and seals, customer reviews and testimonials, and more. They can also be more structural: like how easy it is to navigate your site, whether there are pop-ups, and how your content is presented.
Here are a few trust signals your website should have:
1. Clean and Professional Design
The first thing that will catch a visitor's attention, whether consciously or subconsciously, is the design of your website. Poorly designed websites are a huge red flag. Visitors who do not leave immediately might attempt to explore, but they will not be handing over any valuable information.
However, if your website design is clean and professional, visitors will have a better first impression of your business. They may not trust you enough to give you information or do business with you based on design alone, but they also won't view your business with increased suspicion either.
2. Clear and Easy Navigation
Your website's navigation is one of the most impactful webpage elements and it's important to get it right. This is why the next thing you can do to add credibility to your website is to ensure your navigation is clear and easy to use.
When users can clearly see from the navigation what your business is all about and easily find what they're looking for, their user experience is improved. This good impression bodes well for their perception of your website and of your business.
If your website navigation is clunky, unclear, or obviously missing or misrepresenting critical pages, users will leave with a negative impression of your brand. Plus, navigation like that generally creates a very poor user experience.
3. Visible, Easy-to-Find, and Accurate Contact Information
Nothing raises red flags faster on the web than incorrect or missing contact information. If your contact information is missing, visitors might wonder what you're trying to hide or even whether you're a real business. Incorrect information can have the same effect.
The easier you make it for someone to contact you, the better their first impression will be. Contact information that is accurate, highly visible, and easy to find helps add legitimacy to your business. It provides a point of reference for your business that is easily verifiable.
4. Useful Content
People like working with businesses that help them. By including useful content on your website that is specifically geared towards helping visitors instead of selling them, you add a trust signal to your business.
On the other hand, when your content comes across as a sales pitch or is poorly written or just spam, your website, and business, come across as untrustworthy. A similar result occurs with too many, or poorly placed, pop-up ads.
5. Security Badges and Certificates
With so much spam and scams across the internet, assuring your visitors that your website is secure is paramount. This is especially true for ecommerce websites. You're asking for very personal, valuable, and important information – you need to provide security for those transactions.
One of the reasons why shoppers abandon their carts is a lack of trust. A highly recognizable payment gateway is one way to build that trust for transactions. In addition, security badges and certificates help build that security further.
HTTPS
Upgrading your SSL certificate from HTTP to HTTPS is a priority. It's also one of the most basic ways to increase security on your website. It can't be the only method you employ; however, it will be one of the most visible methods and the first visitors will notice.
If you don't have it, most web browsers will notify visitors that your website is "not secure", which throws a veil of distrust over your business. Not only that, but HTTPS is required for many new browser features. It's necessary to keep up with evolving technology and to keep everything on your website working correctly.
6. Social Proof
Social proof refers to anything you can feature on your website from other sources that verify your claims, services, or products. They show visitors that others have done business with you before, or have used your products and liked them.
There are many ways to use social proof on your website. Oftentimes, social proof takes the form of user-generated content like customer testimonials and reviews. Media mentions and social shares, among others, can also be used to add credibility.
Customer Testimonials & Reviews
Customer testimonials and reviews are some of the most common and powerful forms of social proof. 88% of consumers trust online reviews as much as personal recommendations.
Customer testimonials and reviews allow potential customers to get a real view of your business from customers who have done business with you before.
If other customers have had a good experience with you, it's likely the visitor looking through reviews would as well. Good reviews and testimonials add credibility to your product or service.
Media Mentions & Social Shares
Another way to add credibility to your business is to feature media mentions. After all, if your business is being featured in multiple articles from various reputable sources, you're likely a real business. It's another way to provide information that visitors can easily cross-reference and check.
Social shares alone are not necessarily a trust signal. However, if a product or a piece of content is shared a lot, and by authoritative sources, it adds some extra legitimacy to your product or content. People wouldn't share it if it wasn't good, right?
Conversely, if you don't have a lot of worthy media mentions or your social share count is low, you may want to rethink featuring them. High counts and authoritative mentions can add credibility while low social shares and sketchy media mentions call credibility into question.
7. Links to Complete, Active Social Media Profiles
Each complete and active social media profile is a separate web property associated with your brand. If a potential customer is attempting to find out more about you, having social profiles they can reference adds credibility to your website.
It's important to first determine what major social media networks your customers use the most. Then, complete profiles or pages there, cross-link them with your website, and start posting consistently.
You want to make sure that the profile shows some recent activity whether someone gets there from within the social platform, a Google search, or from the icons on your website. Long periods of inactivity on social media can raise questions about the health of your business, so make sure you are sharing different types of content to post on social media to keep your profiles active.
8. Certifications and Memberships
Similar to security badges and certificates, featuring prominent certifications and memberships to industry organizations can increase trust in your business. This is information that is relevant to your industry, authoritative, and can be easily referenced and cross-checked.
The more information you can add to assuage a visitor's worries, the better. Your goal is to provide a good user experience on your website. Part of that is making sure website visitors feel safe and trust that your business is real, honest, and transparent.
What kind user experience does your website offer? Contact us today for a meeting of the MINDs and improve your site!