7 Ways to Use Social Proof on Your Website
January 28, 2021

By Ashley Orndorff, aka Marketing Geek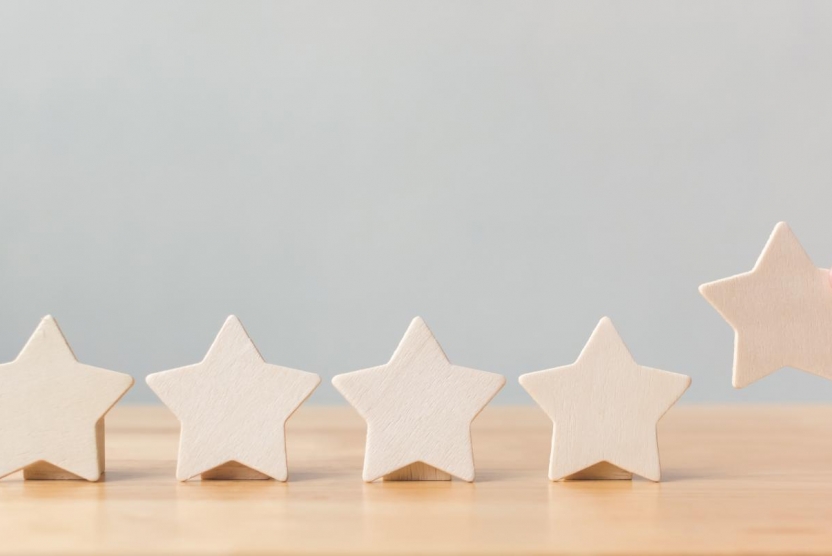 Because of spam, scams, and an increased desire for privacy, people are paying attention to how their data is being used and are more careful about who they give personal information to. Social proof is one of the things that can help you show website visitors they can trust your business. Here's what to know about social proof and some ways to use social proof on your website to help build trust with potential customers:
What is Social Proof?
Social proof is a term that was first coined by renowned psychologist Robert Cialdini in his book Influence. It refers to the social phenomenon where people tend to copy or conform to the actions of others. This is especially true in situations where someone is undecided or unsure of what the "correct" action is, which can include thinking about purchasing a new product or trying a new service.
Social proof is why we often ask our friends and family for advice or recommendations on products, services, businesses, etc. On websites, social proof tends to include elements that show that other people trust, like, and interact with your business.
One of the most relevant modern examples of social proof in action is when people are more likely to buy a product or use a specific service because others that they know, like, and respect have purchased or used it. Some of the most common types of social proof are customer testimonials, product reviews, media mentions, shares on social media, and more.
Because these provide the "social proof" that others trust your business enough to work with you or purchase from you, they are also considered trust signals. Having things like this on your website can help build trust with potential customers.
7 Ways to Use Social Proof on Your Website
One of the reasons why shoppers abandon their carts on ecommerce websites and people leave websites without interacting is a lack of trust. Social proof can be a valuable way to show potential customers that your business is trustworthy and can help encourage them to interact with your website by providing contact information, calling you, making a purchase online, etc. Here are a few ways to use social proof on your website:
1. Feature Customer Testimonials
Customer testimonials are one of the most common ways to use social proof on your website. They add credibility to your business and are a valuable resource for potential customers who are thinking about working with you. They're also one of the types of content to post on social media.
Testimonials allow potential customers to get an idea of what it would be like to work with you from an outside source. Not only does the information come from an outside source, but it also comes from people who have already experienced working with your business. So, it's easy for potential customers to imagine themselves in that situation and also having a positive outcome.
2. Include Reviews on Products
If you sell anything on your website, product reviews from previous buyers are essential. Authentic customer reviews are often one of the most important factors people consider when they are deciding whether to make a purchase. 93% of consumers using online reviews to decide on a purchase prior to making a purchase, so you want to make sure you're including them.
Not only do good reviews add credibility to your business and the product, but they also provide real customer opinions and experiences that can contribute to a purchase. Plus, they help customers feel more confident in their purchases, which can help reduce cart abandonment or refund requests caused by buyer's remorse.
3. Add Notable Media Mentions and Awards
If notable and trustworthy sources are mentioning you, feature them on your website. Mentions from respected, reputable sources and awards that you have received are all forms of social proof that show that others like and trust your business. They are also trust signals that add credibility and authority to your business.
4. Show Social Activity
Another one of the ways to use social proof on your website is to show social activity. A feed of recent posts and interactions from social media on your website can show potential customers that you are a real business that real people like to interact with.
If you maintain a blog on your website, you can include social sharing buttons to help encourage people to share your content. If you have an audience that actively shares your content on a regular basis, you can often include counters to showcase social sharing statistics on specific pieces of content. Not only is this a subtle way to add credibility to your business, but it can also encourage further promotion of your content.
5. Allow Comments on Your Blog and Be Responsive
Comments on your blog are another one of the ways to use social proof on your website. Although you will need to spend some time moderating comments and managing some spam, allowing comments on your blog shows website visitors that people are reading and engaging with your content.
If you are going to allow comments on your blog, it's important that you are responding to them regularly and in a timely manner. It can reflect badly on your business and cause people to view you as unresponsive or uncaring if you do not respond to comments on your blog. It doesn't have to be immediate, but you also don't want to leave things without a response for weeks at a time.
6. Create Case Studies
Case studies are like long-form customer testimonials and reviews that showcase what your business can do for real customers in real-life situations. They can also be a powerful and authoritative form of social proof.
The more details and quantitative results you can provide, the more impactful your case study will be. It also helps to have a testimonial from the customer success story you're sharing that you can tie to the case study.
7. Highlight Popular Items
On an ecommerce store, tagging the most popular products as "most popular" or "best-selling" is an easy way to add social proof to that product. You can also feature real-time statistics on a product by having a small notification that "x" people currently have that item in their cart or are currently viewing it.
You can use this type of social proof on your website even if you aren't running an ecommerce site. One of the most common ways to highlight popular items on a non-ecommerce site is to highlight the most popular blog posts and tag them as the "most popular" in a visible way. This often encourages further engagement on those posts and can help you connect with potential customers.
Use Social Proof to Build Relationships
These are just a few ways to use social proof on your website. By providing social proof and other trust signals, you can help build trust with potential customers who are visiting your website and start building a relationship with them.
If your website is outdated or just isn't up to your expectations, contact us for a meeting of the MINDs. We can talk about how we can help get your website back on track and performing for your business!