8 Common Web Design Mistakes to Avoid
October 31, 2019

By Ashley Orndorff, aka Marketing Geek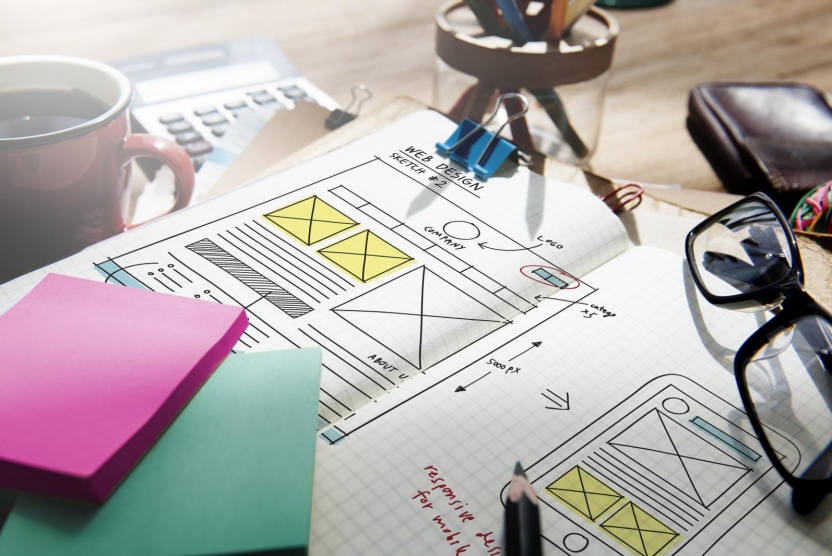 Your website is the face of your business online. It should help potential customers get to know you and it should help your business grow. But, website design mistakes can frustrate potential customers and drive them away. Here are some common web design mistakes to avoid:
Mistake #1 – Slow Load Times
A slow website is a major web design mistake. It's not always related to what's visual on the page, but that doesn't matter to a visitor – they care about accessing the content they want to see as quickly as possible. More than half of web users will start leaving a website if it doesn't load in 3 seconds or less.
Because speed is something that matters to website visitors, it also matters to search engines, which means page speed and SEO are connected. It also means that a slow site can hurt you while designing and building your site for speed can help you gain more visibility in the search engines.
Mistake #2 – Confusing or Cluttered Navigation
It's important for website visitors to find what they need quickly and easily. Your website's navigation is essential for helping them find what they need and it is one of the most impactful webpage elements. If it's structured and designed well, visitors will be able to find what they're looking for and easily continue to explore your site if they wish.
If your navigation is confusing or cluttered, visitors are less likely to find what they need without clicking around. Not only can this be frustrating for a potential customer, but it could also result in them leaving before they're able to find anything related to what they were trying to find.
Mistake #3 – Misleading Content or Page Titles
The titles of your website pages should clearly explain what someone should expect to find on the page. If your page has content about website design mistakes, for example, then the title of your page should clearly reflect that. Using misleading page titles, content, or design offers a poor user experience, is one of the SEO mistakes to avoid, and doesn't reflect well on your brand either.
Mistake #4 – Poor Mobile Experience
Not only are more people searching the web from their phones than ever before, but many search engines are now mobile-first. This means they evaluate websites based on their mobile experience first instead of the desktop experience.
If you want to offer a good user experience on your website, you need to make sure it is designed and built to be both responsive and mobile-friendly. A poor mobile experience will do you no favors and is one of the biggest web mistakes to avoid.
Mistake #5 – Too Many or Too Few Elements
Your website design needs to offer enough to provide what your visitors need without going overboard. Too many design elements can make your website look cluttered, contribute to a confusing experience, and can also slow down your load times. It's overwhelming and visitors who are overwhelmed will just leave.
On the other hand, not having enough can leave your website looking empty, sparse, and incomplete. It can also leave out the necessary elements that website visitors expect to see and are looking to find. A good example of this is your contact information. Site visitors expect to see your contact information prominently displayed. If it's missing or hidden, your brand could come across looking shady or suspicious. Plus, you could be missing out on customers!
This can also apply to the content and use of whitespace in your design. Too many font types or the wrong font types can also create an overwhelming experience. Typography trends can be great, but they can also hurt you if they're not implemented well.
You don't want to overwhelm your site visitors with giant blocks of text, but you also want to make sure you're providing sufficient information to cover the topic, provide a solution, answer a question, etc. Using whitespace well can help break up large blocks of text, help structure the page, and provide a visual guide as well.
Mistake #6 – Low-Quality Images
Quality images are important for web design or print design and making sure your website has high-quality images is essential. Images provide an interesting visual to your site and can be a great way to grab a visitor's attention. But, if they're fuzzy, grainy, and low-quality, they'll just make your site look poorly designed and could reflect negatively on your brand.
Mistake #7 – Lack of Security
You could have the best website design in the world. However, if your website is not secure, the design doesn't matter. Not only do search engines favor security, but web users do as well. If your website does not have an SSL certificate and is not set up for HTTPS, visitors will receive a warning that the connection to your site is not secure. As a result, you will lose a lot of traffic and potential customers too.
Mistake #8 – Annoying Pop-Ups
Have you ever clicked on a link in a newsletter and then gotten a pop-up to sign up for the newsletter the second you try to read the content? You're already signed up for the newsletter – that's how you got to the page in the first place. So, how annoying is it to not only have something pop up to block your view, but also to have it be something completely irrelevant to you?
When someone is trying to access content on your website, one of the most annoying things you can do is cover what they're trying to see with a pop-up. These are called interstitial pop-ups, they cover the content, and they do not provide a good user experience. This is not to say that there is no place on your website for pop-ups. You just need to be more strategic with how you use them.
Be More Strategic With Pop-Ups
First, make sure your pop-up advertising a newsletter signup is not showing up for people who have clicked through to the site from the newsletter. If you're using URL tracking parameters, you should be able to set a rule that excludes the pop-up from showing on them. From there, slide-out calls-to-action or exit-intent pop-ups can be good solutions.
Slide-out CTAs can be attention-grabbing without covering or blocking content. Exit-intent pop-ups can block content, but they only show up when they are triggered by actions that indicate someone is about to leave. It can be a great way to re-gain someone's attention before they leave your site without interrupting their experience on it.
Also, if you're going to use a pop-up, make sure it is easy to close or get rid of should someone not be interested in it. Pop-ups that stay on the screen even after clicking on the page behind it or are difficult to close only frustrate site visitors and can cause them to leave.
Web design mistakes can seriously mess with the user experience on your site, damage your brand's reputation, and more. By avoiding these common web design mistakes and partnering with an experienced web designer, your website will be more likely to help your business instead of hurt it.
If it's been a while since your website was updated or it's just not performing, contact us for a meeting of the MINDs to talk about how we can help get your website updated and working for your business!