25 Signs You Need a New Website
July 21, 2022

By Ashley Orndorff, aka Marketing Geek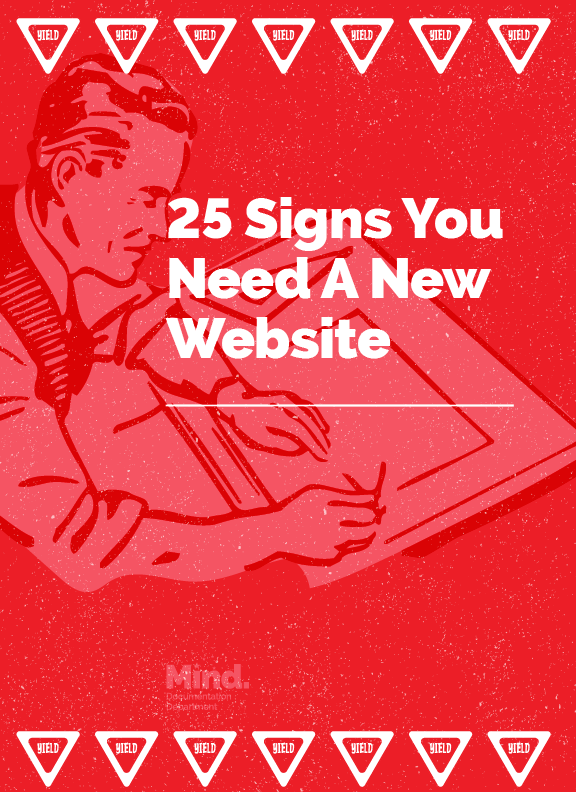 When was the last time you took a close look at your website? Do you need a new website? Websites are meant to be living entities that grow along with your business. So, take a moment and think about yours. Has it changed at all in the past year or so, or has it looked the same for the past several years?
Websites are not something you build once and then never touch again. Your website should be updated and maintained regularly. The look, feel, and function should change as needed to keep up with technological advances, search engine updates, your business, and, most importantly, your users' needs.
25 Signs You Need a New Website
If you've noticed your website hasn't changed in a long time, keep an eye out for these red flags. Whether it's a rebuild, a refresh, or a complete redesign, here are some signs you need need a new website:
1. You Don't Have a Website
Although most businesses have a website, there are still a lot that don't. Around 30% of small businesses still don't have a website. If you don't have a website for your business, it could be inhibiting your business growth and is one of the biggest signs you need a new website.
If this is the case for your business, there are plenty of things to consider for your first website. What's important is that you work on getting one up and running that represents your business well and helps potential customers get in touch with you, and helps them verify that you are a real, authentic, and trustworthy business.
With a good website, you can at least provide some online evidence that you are who you say you are. Then, you can think about business blogging to grow your authority, promoting your site to start getting traffic, and using your site to help grow your business over time.
2. Things Are Broken and Don't Work
Your website needs to work if you want it to help your business. If things are broken on your site or they aren't working correctly, they are some of the biggest and most obvious signs you need a new website. This is also one of the top reasons why shoppers abandon their carts on ecommerce websites.
Functionality issues like this can be caused by outdated technologies, incompatible technologies, lack of maintenance, server issues, design issues, security issues or malware, and more. No matter the cause behind them, functionality issues or lack of functionality often mean it's time for a new website ASAP.
3. You've Rebranded Your Business
If you have rebranded your business, it's time for more than new business cards and other brand assets; it's also time for a new website. The design of your website needs to match your brand; otherwise, it looks off and also tends to look suspicious.
There are way too many scams and shady businesses online and the last thing you want is for mismatched branding to damage your reputation and trust with potential customers on the web. A new website design to match your new branding can help keep things cohesive, consistent, and professional across the board.
4. Your Website is Not Mobile-Friendly
Various mobile devices and technologies continue to flood the market, which means browsing the web from them will only continue to increase. At the end of 2016, searches from mobile devices overtook desktop for the first time, and they've continued to increase since. Your website needs to be responsive and mobile-friendly to keep up with the changes.
If your website isn't mobile-friendly, users won't keep using it and search engines will stop giving it visibility. Search engines are only interested in showing the most relevant, authoritative result for a query. If no one is using your website because it doesn't offer a good user experience, search engines will not consider it relevant. This is why a poor mobile experience is one of the biggest web design mistakes to avoid.
Your brand's reputation could take a hit as well if you don't have a mobile-friendly website. When a website doesn't function well on their mobile devices, 48% of users feel like the company does not care about them or their business. In addition, Google updates over the years make it clear – your website needs to offer a good user experience, whether on desktop or on mobile.
5. Your Website is Not Responsive and Does Not Fill the Screen
Responsive does not always mean mobile-friendly and vice versa; your site needs to be both. In design trends of years past, it was popular to place your website inside a frame with a border. Now, mobile-friendly, responsive designs are a necessity for your website. This means that your website can't live inside a box.
Your website should fill the screen, instead of being limited by borders. Decorative borders can make sense in some cases, but your website should still respond effectively to different screen sizes. This also includes responsive styles for images to help with image optimization and user experience. Phone screens may be getting bigger and tablets may be getting more popular, but you're still dealing with smaller screens than desktop.
You cannot afford to have a border that cuts even further into the space available for displaying your website on mobile or a rigid box that won't allow your website to expand on bigger screens. You cannot afford to waste that digital space.
6. Your Website is Slow
Users expect your site to load fast. They used to wait about 3 seconds before most of them would start leaving your site. Now, your users live in a high-speed world where they are always connected and they expect your site to load in 2 seconds or less, or else.
There are several tools available you can use to check your website speed:
Some of them, like Google's PageSpeed Insights, Test My Site, GTmetrix, etc., will give you some specific recommendations on how to improve your website speed. Sometimes, however, the first step towards a faster website is a cleaner, more efficient design developed on a platform built for speed. A hosting provider who can deliver the speed you need is another necessity.
7. Your Website is Not Secure
Security matters – end of story. As technology evolves and our lives become ever more connected to the internet, the risks increase, and security continues to become more important. The same goes for your website. Not only do you need to keep your website updated and secure to avoid hacks, malware, etc., but you also have to provide a safe browsing experience for your users.
Users like to feel secure when they're browsing the web, especially when it comes to making a purchase. Search engines have recognized that preference and have been rewarding sites for upgrading their security measures. Upgrading your website's security certificate to SSL or something even more encrypted is important.
This helps to increase the security of your site and it helps your users feel more secure when they visit your site. An SSL certificate on your site is one of the trust signals your website should have and can help you start relationships with new customers on the right foot. New customers likely don't know your brand yet; they don't have the same level of trust current customers do.
When they start their research online and are checking out your site, making sure it is secure is the first step to building trust with them. If they visit your site and it is not secure, they may end up leaving and viewing your brand with suspicion. That's definitely not a good way to start a relationship!
8. Your Website is Not Accessible
Your website is the online hub for your business and all of your customers need to be able to access it and use it effectively. This is one of the biggest benefits of web accessibility. It's also legally required for your website to meet certain standards of web accessibility.
People and search engines value web accessibility on websites because it makes for a good user experience. Websites that look good, function well, and are accessible tend to offer a better user experience, are more relevant, and are often more authoritative too. A lot of the things that go into a good website design can also help make your website more accessible.
If your website is not accessible, it likely has other functional issues as well. Not only does that mean your site cannot be accessed by some of your potential customers, but it also means your website performance is suffering and usually also means your website results are suffering too. This is a sign it's time to redesign or rebuild your website to bring it up to current standards, improve user experience and accessibility, and more.
9. Analytics Shows High Bounce Rates Across Your Site
Google Analytics, or another analytics software, can tell you a lot about how users are engaging with your website. Bounce rates, the rate at which people leave, or "bounce" off, your site pages, are valuable tools. When viewed within the context of other important website metrics, they can tell you whether users find the content on your page valuable.
A high bounce rate can indicate a technical issue, an issue with user experience, or an issue with content. Because homepages tend to be the catch-all for traffic, bounce rates will generally be higher there than on other pages. This occurs simply because irrelevant traffic lands there at a higher rate. However, this doesn't mean you can ignore it.
High bounce rates on your homepage and other pages of your site could indicate users are not finding what they expect to find. Other metrics to consider along with bounce rate include average session duration, average pages per visit, and conversion rate.
This will give you a better idea of whether your users are finding what they need. Also, make sure you are looking at this data by device type as well to help identify mobile-specific issues. Ignoring differences by device type and only reviewing aggregate data are some common Google Analytics mistakes.
If users are not converting – or visiting other pages – then perhaps your page content and navigation are irrelevant or confusing. There could be several reasons why users are leaving your site without engaging.
If you're looking at these metrics and you see things like a high bounce rate, low time on site, low pages per visit, and low conversion rate, these could be signs you need a new website. In this case, redesigning your website and addressing any user experience, content, etc. issues can help you reduce the bounce rate on your website and improve everything else overall as well.
10. Conversions on Your Website Are Low
Adding goal tracking to your Analytics account is a great way to keep track of how well the traffic coming to your site converts into leads for your business. You can track phone calls, form completions, downloads, and more, which is one of the landing page optimization best practices you can use across your site to help improve pages, increase conversions, and grow your business.
Several different aspects can cause a low conversion rate on your website – an outdated or poorly designed website is one of them. Poor design and outdated information make it difficult for visitors to find what they need on your website. This indicates that there isn't a clear path to conversion on your website and your visitors may be getting lost or distracted along the way to your forms or checkout.
And, even if they make it to your contact page, offer page, or checkout, they may be turned off by poorly designed pages and forms. Issues like this can also raise suspicion and cause mistrust in your visitors, especially if you're asking for personal or payment information. A good website redesign will make your website visually appealing to your visitors. It will also address and improve the user experience it offers.
11. Your Website Uses Flash or Other Outdated Technology
Flash is an outdated technology and browsers no longer support it. If your website is still using flash or other outdated technologies, your user experience is likely taking a big hit. Page speed and SEO are connected, so things that affect speed, user experience, etc. will affect more than just website performance.
Due to lack of browser support and the evolution of faster technologies, flash elements will cause your site to load very slowly – if it loads at all. Then, when it does finally load, your flash elements may not even work. This applies to all outdated technologies that modern browsers no longer process or support.
47% of consumers expect a page to load in 2 seconds or less, and that percentage will only increase. If your page takes 3 seconds to load, you can say goodbye to 53% of your website visitors. Any longer than 3 seconds and you're losing out on visitors big time. The scarce few that wait around will only be further frustrated by elements of your page not loading completely, or working correctly, and they too will leave your website.
Your website represents your brand online – any experience users have on it will reflect back on it. Not offering a good user experience to your website visitors could leave a lasting negative impression of your brand. It could even damage your brand's reputation and leave you with a reputation management problem.
12. Your Website Doesn't Support Your Business Goals
Your website is intended to be the online part of your business. It should support your business, not work against it. If your website doesn't match your brand and support your business goals, there's a disconnect somewhere.
This mismatch is one of the mistakes businesses make with their website strategy and, usually, that disconnect is one of the signs it's time for a website redesign. Take some time to review your current business goals, and refine or update as necessary. Then, make sure your website matches, and supports you, in achieving them.
This is particularly important if you've made changes to your products or service offerings. Brand matters to your business and if there is a mismatch or disconnect on your website, you'll want to get your website redesigned or reworked for a consistent brand across all channels.
13. The Website Navigation is Confusing or Difficult
A big part of a good user experience is making sure your website is easy to use and that it's easy for people to navigate. Your website navigation should help users find what they are looking for as quickly and easily as possible. If it's not, you're likely offering a worse website experience than you think and it could be one of the ways your business is annoying potential customers.
If your website navigation is confusing, difficult, too small, or too big, it's going to cause friction and frustrate potential customers. That frustration is likely going to cause them to leave your site and be less willing to purchase from you or work with you. After all, if your website is that difficult to use, what is actually working with you going to be like?
14. The Look and Feel is Inconsistent Across the Site
The user experience on your website needs to be consistent. When users are browsing your site, they don't want to have to stop and think. The last thing you want is for a user to get distracted or thrown off by inconsistent design.
You want as little friction as possible between the user and conversion. If the look, feel, and function of your site is jarringly inconsistent across pages, your users will easily become distracted or frustrated trying to navigate and they'll just leave. In this way, web design impacts content marketing, your website performance, and all of your other digital marketing efforts.
15. Your Website Looks Outdated, Especially When Compared to Your Competitors' Websites
81% of consumers research online first before buying. On top of that, about 90% of your prospects will visit your website before calling your business. With all of that initial research, you can bet potential customers are seeing your website and your competitors' websites as well.
How does yours look in comparison? Think about this: it takes 12 positive interactions for a customer to overcome just one negative experience with your business. An unreliable, disappointing, or poor experience on your website is a negative one.
If your competitors have updated websites with better user experiences, then they're starting off ahead of you. It's going to take a lot of work to overcome that initial negative experience and get potential customers to contact you over a competitor with a better website. In addition to B2C, this is one of the top reasons why B2B companies should have a good website.
16. Your Website is More Than 3-5 Years Old
Even if you are happy with the design of your website, it's worth checking in and seeing if you need a new website if it is more than 3-5 years old. Technology changes fast and it's important to keep your website updated. If your site has not been regularly maintained and updated, the way it was built and some of the technologies or methods used to build it may be outdated or even obsolete.
Depending on what it is, how it was used, and how outdated it is, outdated technologies or methods could cause things to break on your website, make it vulnerable to cyberattacks, and cause other issues. Although it's not a hard and fast rule, this is why it's a good idea to check in every couple of years to see if you need an update to your site, a complete rebuild or replatform, or a complete redesign.
17. The Content on Your Website is Outdated
An outdated website design and outdated content often go together. Your website's content is how search engines and people understand what your website is about and is a big part of the reason search engines are indexing your pages. And, this is what your users are seeing when they land on your page. It's also one of the most impactful webpage elements.
If it's outdated with irrelevant terms and incorrect data, you're not delivering what your users need and it paints your brand in a negative light. After all, if you can't be bothered to offer accurate content or an updated design, your users will think you won't bother to care about them and their needs either.
18. It's Difficult for You to Update or Change Website Content
Part of the process of any website redesign is determining what the website owner likes and doesn't like about their current site. When it comes to what they don't like, you can bet difficult maintenance and updates are one of the items often mentioned. This is also something to consider when you are evaluating a website builder vs template website vs custom website.
You shouldn't have to be an experienced website developer to update a blog post or add an image to your website. Updating the content on your website should be easy. Sure, maybe you'll need someone to show you how to do it the first time if you're unfamiliar with the CMS (content management system). But, after that, you should be able to hit the ground running, manage your website content yourself, and avoid vendor lock-in with your website.
If your current site is difficult to update in-house, it's time for a different platform – and probably a redesign too (or at least a refresh). A user-friendly interface that makes it easy to manage and update content is one of the benefits of using WordPress for your website. Once you can update the content on your website whenever necessary, providing the most relevant, accurate, and up-to-date information to your website's visitors is easy!
19. Your Website Has Little to no Visibility in Search Engines
Your business should have a website, but it needs to be more than just a placemat on the web – people need to be able to find it. If your customers and potential customers can't find your website, it won't do much to help your business.
Low or no visibility in the search engines can be caused by a lot of different things. If you're not doing anything to market your website and your competitors are, that could be a large negative contribution to your visibility. It's also possible your website is not designed to attract and engage visitors when they do land on your site or you're not implementing any SEO best practices.
You might not have enough quality content for search engines to index in the first place. Perhaps your website is not built to be mobile-friendly? Issues with the robots file are common website migration mistakes to avoid and they can have a big effect on your website's ability to get traffic. In fact, your robots.txt file could be blocking search engines from even crawling and indexing your site's pages to begin with!
There are a lot of reasons why your website might not be showing up and reasons you're not getting any website traffic. You can bet a website redesign from an agency that keeps SEO in mind will help a little (marketing post-launch will help a lot).
20. Customers Have Expressed Negative Feedback About Your Website
Customer feedback is invaluable for your business. Take a moment and think about how many times you've had a great, or not-so-great, experience with a business. Out of those experiences, for how many did you notify the company either through direct contact, social media, or a review?
The answer is probably "not many" or "none". For every customer that speaks up, there are plenty more who have stayed quiet. The number tends to sit around 26; as in, for every one customer who speaks up, 26 have simply stayed silent. So, when you do get customer feedback, pay attention.
When you ask new customers how they found you, if none of them are saying from your website, it may be time to consider a redesign. If you receive negative feedback from multiple customers about your website, then it is definitely time to consider a redesign; or at least consider restructuring or refreshing depending on the context of the feedback.
21. Your Website Pages Are Too Narrowly Focused on One Specific Keyword Instead of Addressing Topics
Over the past several years, search engines have consistently moved away from focusing on individual keywords and more towards broader topics. This move towards broader context and search intent is the foundation for the dos and don'ts of keywords.
With the evolution of semantic search, machine learning, local search, and voice search, it's not a good move for your website to maintain a narrow focus on ranking for a single keyword. Between new features and testing on results pages and constant search engine updates, building relevance around a topic is a much better approach.
Search Engine Results Pages Contain Many Features
These changes, plus additional types of content shown in search results and SERP (search engine results page) redesigns, mean that "ranking #1 for x" doesn't mean what it used to years ago.
For example, a SERP could include images, videos, social media pages or posts, local business listings, and more before the organic website results are shown. This is why narrowly focusing on rankings only and ranking for a specific keyword are SEO mistakes to avoid.
Google is Always Testing New Features and Layouts
Plus, Google is always testing new layouts for both organic and PPC. Early in 2016, Google even removed PPC (Pay-Per-Click) ads from the sidebar of the SERPs and instead began listing them at the top of the main results.
They continue to test placement, color, new features, etc. for ads, which can affect how the organic results display on the page. Things like this in addition to how search engines work and display results are why one of the SEO myths to ignore is it being all about "ranking #1 for your keyword".
Keyword Topics Allow More Context and Relevance for More Queries
Instead of focusing on a single specific keyword, a better approach is to do keyword research and choose the most relevant keyword topic. Then, use that topic as a focus for the content on a page.
Finding the right topics that are relevant to your audience and important to your business is why keyword research is important. Plus, this broader topic approach gives users and search engines a better understanding of the content on your page and its context.
This allows your content to begin gaining visibility for the variety of terms users will use, even if the phrase they're using has never been searched for before. With 15% of searches being new and never searched before, this is an essential approach.
22. Your Website Ignores Social Media
Social media is not going away. No matter what your industry may be, your potential customers are on social media, and so are your competitors. Social media profiles claimed for your business and fully completed become more online properties for your business.
Linking them to your website and linking to them from your website makes it easier for potential customers to find and connect with you on multiple channels. This can also help you use social proof on your website to support your marketing efforts and build trust with potential customers. In addition, social media gives you a platform to curate useful content for your audience, promote your own content, and build a valuable community your customers will want to join.
There are tons of types of content to post on social media, so it's all about figuring out what best represents your brand and resonates with your target audience. Not to mention, the engagement you receive from sharing your own content helps boost the authority of that content for other users and for search engines.
23. There is no Method or Strategy for Building an Email List on Your Website
"Don't put all your eggs in one basket". It may be a cliché saying, but in our always-connected, multiple-channel world: it's true. Your business's future cannot rely on only one channel.
When it comes to marketing channels, you're looking at either owned, paid, or earned. A strong, in-house email list is an owned channel where you can connect with customers directly, which is one of the benefits of email marketing.
It will be unaffected by search engine algorithm updates or competitors bidding more for your campaign keywords and so forth. 77% of consumers tend to choose and trust email over other online channels. Add to that the fact that email is still a valuable marketing channel, and there is a convincing case for making an effort to build your own list.
24. Your Website is Still Using Splash Pages and Annoying Pop-Ups
If you want your website to succeed online, you have to offer a great user experience. Splash pages and pop-up ads that block content upon entry are not your friends – they're not good for your users and they're not good for your website.
Google has gotten so fed up with them that they released what has been called the Mobile Interstitial Penalty or "pop-up penalty". Yes, this is mostly targeted toward mobile devices. However, its purpose is to ensure that users who click through to a page can access the content they want to see without issue.
There are cases for pop-ups on entry, especially on sites with strict privacy policies, age restrictions, etc. Aside from those special cases, you do not want to do anything that will block the content your users clicked through to see.
25. Your Website Just Feels Wrong
Your website represents your business and is the lifeline of your business online. It's important for your customers to like it, but you have to like it too. You should want to share it and be proud of the way it represents your business.
If you are hesitant to share your website with people, if you hate your website, or if it just feels wrong for your business, it's time to think about a new website or, at the very least, an update that feels more right for you and better represents your brand.
Do You Need a New Website?
These are a few signs you need a new website. A full website redesign isn't always the solution to every problem on your website. Sometimes, a re-platform solves the problem. At other times, your website may just need a refresh or recoding.
However, if your site has multiple problems and you're seeing several of the signs on this list, it's time to redesign your website. Being able to evaluate your website and determine the best plan to meet your business goals is one of the things to look for in a web designer.
Contact us for a meeting of the MINDs to talk about your site, your business goals, and how we can help get your website back on track and working for your business.

Want to Share it on Your Site?
Just copy and paste this embed code into your page to share it with others:
<a href="https://www.minddevelopmentanddesign.com/blog/signs-you-need-a-new-website/" title="MIND Development & Design"><img src="https://www.minddevelopmentanddesign.com/wp-content/uploads/2022/11/25-Signs-You-Need-A-New-Website-min.jpg" alt="25 Signs You Need a New Website - Infographic by MIND" style="border:none;" /></a>