Website Builder vs Template Website vs Custom Website
January 14, 2021

By Ashley Orndorff, aka Marketing Geek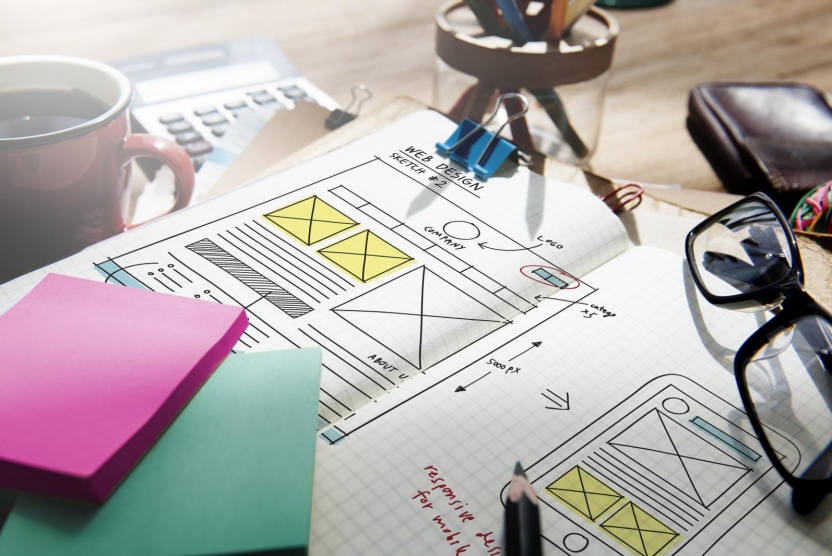 There are a lot of options when it comes to creating a website for your business. Although a common comparison is website builder vs custom website, a better comparison of options is website builder vs template website vs custom website. Each option has its pros and cons and the best option for your business depends on your current and future needs. Here are some things to consider to help you decide which option is the best fit for your business right now:
Pros and Cons of Website Builders
An all-in-one website builder is a tool that allows you to build a website without manual code editing. They often feature drag and drop functionality and preset styles and templates you can choose from to help you create a website easily. Some of the most popular website builders include Wix, Squarespace, Weebly, and more.
3 Pros of a Website Builder
Using an all-in-one website builder does offer some benefits. Here are a few pros of a website builder:
1. You Don't Need to Rely on Someone Else
Website builders are made for people who don't know how to code. They are specifically designed to allow you to get a website up and running on your own. Not having to rely on someone else or needing a specific set of skills to create your website are some big benefits of using a website builder.
2. Website Builders Are Inexpensive
Compared to the cost of building a website in other ways, a website builder is inexpensive. Using a website builder is cheaper than hiring a website designer or an agency to build a website for you.
Some website builders are even free, as long as you're okay with having their branding on your site. In addition, many website builders also include hosting, which cuts down on additional costs.
3. They Let You Create a Website Quickly
Because they are built to be user-friendly and have so many presets, you can often create your website in a short amount of time with a website builder. The best website builders have the basics covered and have made their themes responsive, so your website has a fighting chance at being mobile-friendly.
They also often give you some options for managing SEO. But, if you use a website builder that hasn't kept up with these offerings, your website may not perform to your expectations. And, it might not support your ongoing marketing efforts the same way a more optimized, less limited website would.
5 Cons of a Website Builder
There are also drawbacks to using a website builder. Here are a few cons of a website builder:
1. You Can't Fully Customize Your Site
Many website builders allow for customization within their preset styles and formats. If you have a little coding knowledge, you can often customize your website a bit more. However, you are limited by their platform.
So, you can only customize to a certain extent within their limitations. Although this can work for some people, it often becomes a source of frustration for others, especially as their business grows and their needs change.
2. You Don't "Own" Your Website
Hopefully, you own your domain name. But, with a website builder, you don't truly own your website. The content you put on your site is often under the control of the website builder you're using. They can remove it at any time for any reason. Although the best ones don't usually interfere much, they still could if they wanted to.
This also can pose problems if you ever want to transfer your website to a different platform. Some website builders do allow for some exporting while others don't. Or, if they do allow for exporting or transfer, it's not easy.
Making sure your website is portable so you can leave or transfer platforms if you want to is one of the ways to avoid vendor lock-in. But, it can be difficult with a website builder, especially if they also host your website.
3. SEO is Limited
Unstructured, messy code is a common problem with website builders. Not only do you not control the code of your site, but this also limits your ability to improve the SEO of your website. Many websites built on all-in-one builders have page speed issues and slow load times.
Page speed matters to SEO and to your users. It's essential for a good user experience on your website. But, with a website builder, you are limited by what you can do in terms of improving page speed and load times. Even if you hire a developer who knows what they're doing, the framework of the website builder itself will limit the page speed optimizations available.
And, if your site is hosted with the website builder as an all-in-one solution, you are also often limited on what server-side improvements are available. All of this can hold your site back and make your ongoing marketing efforts less effective while also giving your competitors an edge.
4. Your Site May Not Be Able to Scale With Your Business
Depending on the website builder you are using and the plan you have with them, you may be limited on the number of pages your website can have. As your business grows and you also grow your website, this could limit the ability of your site to scale with you. If you're also blogging regularly to help grow your website authority and drive traffic to your website, a page limit is a serious roadblock to your efforts and also to your growth.
5. Support Can Be Lacking
Some website builders are better than others when it comes to technical support. But, for the most part, if you have a technical problem that isn't a widespread issue on the website builder's side, you're often on your own.
While waiting on a response from the support team, you're often left to your own research to try and figure out the problem. And, even then, there is no guarantee that the website builder's support team will be able to help you or be willing to do so if it's not recognized as a widespread issue with their software.
Pros and Cons of Template Websites
Template websites refer to websites that are built using pre-made templates that are made to be re-sold or are otherwise available to multiple website owners. This could be a simple static website or one built on a CMS (content management system) that allows for easy selection & installation of multiple templates or themes. For example, a site built on WordPress or another CMS using a pre-designed theme purchased or downloaded from a marketplace would be considered a template website.
3 Pros of a Template Website
Using a website template has its own set of benefits. Here are a few pros of a template website:
1. A Template is Initially Cheaper Than a Custom Design
You can get a pre-designed theme from a marketplace for an affordable price. Some of them are even free. This makes a template website cheaper than a custom design, at least initially. If you want a more robust website than a website builder provides and your budget is very limited, a template can be a good approach to get started.
2. There Are a Ton of Options Available
Although you don't have the full freedom that a custom design provides, you do have a lot of options to choose from when you're trying to find a website template that works for you. If you're not sure what you want, templates can also be helpful in finding a look you like.
With a website template, what you see is what you get. So, you either like it or you don't or it covers most of your needs or it doesn't. That can help you quickly make a decision on whether a specific template will work for you. Plus, because it is premade, you can often test the template to see if you like the way it works before using it for your site.
3. Using a Website Template Can Be Faster
Because a website template is pre-designed, you can start building your website as soon as you install it. And, since it's a template, you just need to add your images and content to the predefined areas. Depending on how many assets you already have ready to go, you can get a website up and running relatively quickly.
4 Cons of a Template Website
There are some drawbacks to using website templates as well. Here are a few cons of a template website:
1. You Will Likely Need Your Own Hosting
Should you decide to go with a CMS and use a website template, you will usually need to obtain your own hosting. Not only is this an additional cost, but it can also add some work for you.
Not all hosting providers will be a good fit for you and there are a lot of web hosts out there that aren't very good. There are a lot of details that go into choosing the right web hosting provider. But, taking the time to do your research and find a good one is well worth the effort.
2. Your Site May Not Stand Out
Although you can do some customizations on website templates, you are limited to that pre-designed theme. At the same time, that theme is also available for other sites to use. This could mean that there are several websites out there, potentially even competitors, that look very similar to yours.
3. A Template Can Limit Your Site's Growth
Your website should be able to change and grow along with your business. With a pre-designed template, you are stuck with whatever limitations that template provides.
Plus, if you find yourself needing integrations with other tools or systems for your business in the future, you could end up finding out that they are incompatible with your website template. Or, if they are compatible, they are extremely difficult to get working.
Depending on the current and future limitations of your website template, you may find yourself in need of a complete website overhaul sooner than you had planned
4. Customization Can Be Costly
A website template may be cheaper than a custom design initially, but it can quickly become more costly than you expected if you need to customize it. A skilled developer can customize a template to fit your needs. However, they will often still be confined by the limitations of the template.
Customizing outside of those limitations is often inefficient, messy, and costly. Constantly hacking a premade theme to make it work for your specific needs quickly becomes expensive over time.
And, even after all of that time and money, you may still have a messy, clunky theme that will constantly break every time there is an update and will require even more time and money to fix. In cases like this, it often would have been cheaper, more efficient, better for your SEO efforts, and better for your business to invest in a custom design from the beginning.
Pros and Cons of Custom Websites
A custom website is one that has been created specifically and uniquely for your business. Everything, from the design to the functionality built into the site, is created to suit your business needs. On WordPress and other CMS platforms, this is a custom theme that is not pulled from a marketplace and has been designed from scratch for your business.
6 Pros of a Custom Website
Custom websites offer several benefits. Here are just a few pros of a custom website:
1. You Own and Control Your Website
Building a custom website on a CMS means that you own and control your website. You may partner with vendors to help support the site after it's built, help with marketing, and more. But, as long as you avoid vendor lock-in, you are the one who owns and controls your website. You get to determine how it looks, what it does, and what you do with it.
2. Customization is Practically Unlimited
With a custom design, customization is practically unlimited. In this case, limitations do not come from the software or a template. Any limitations you have on customization are budget, time, and skill.
This also means that your website design is unique to your business. Your custom design is yours and is not available for download to everyone else on the web like a website template is.
3. Your Website is Built to Your Specific Needs
When you choose to invest in a custom design for your website, you get a theme that is designed and built to fit your specific needs and support your business goals. The overall look and feel, the functionality, and more are all taken into account with a good custom design.
A good website can help add credibility and showcase credibility for your business. This is one of the reasons B2B companies should have a good website and it's important for any business. A custom website ensures your business is showcased online the way you want and need it to be.
4. Your Site Can Grow and Scale With Your Business
As long as your site is designed and built well, it is primed to grow and scale with your business. Unlike website builders or templates that can limit your growth, a good custom website supports it. You're not tied to a specific template's structure, so you can expand as you need to, add functionality, and more. Depending on your website and business needs, you can even explore headless CMS vs traditional CMS setups.
5. You Have More Options for Improving SEO
Custom designs on a flexible CMS also give you more options for improving SEO. Because you have more control over the website you create, you can make sure your website is both responsive and mobile-friendly while also providing a great user experience. Plus, you usually are not overly limited by the software when it comes to having a developer do page speed optimizations.
6. Ongoing Support is Usually Better
Usually, the person or company you partner with to build the site can provide ongoing support and updates. Plus, a solid custom website should have clean, structured code. These are things to look for in a web designer and can help reduce tech issues in the first place.
On top of that, it also makes regular updates and site maintenance easier and more efficient. And, if something does happen or you want new functionality, you have someone you can reach out to who you know you can trust and is familiar with your site.
3 Cons of a Custom Website
There are also some drawbacks to a custom website. Here are a few cons of a custom website:
1. A Custom Website Costs More Initially
Because a custom website is designed and built from scratch to suit your business, it will cost more initially than a website template or a website builder. For businesses that have the budget and are looking for an option that will grow seamlessly with them, a custom approach is more than worth the investment.
2. They Take Longer to Create
A custom website done right will have a longer development time than other options. The right partner will take some time to get to know your business and will speak with you about your needs and your goals before jumping in.
After that, there will be design concepts and revisions to finalize the custom design and functionality of your new site. From there, it needs to be built. The whole process can take months, which can be an obstacle for someone who needs a website up and running immediately.
3. Finding the Right Design and Development Partner Can Be Difficult
The quality of your custom website depends on the capabilities of the person or company you partner with to create it. Picking the wrong partner for your website could mean that you wait months for a website that isn't designed well, isn't built correctly, or isn't finished at all!
It can be tempting to go with the cheapest option, but the cheapest option is not always the best option and, sometimes, neither is the most expensive. Going on cost alone can be a big mistake. So, what can you look for when you choose a web designer and developer?
Do Your Research and Interview Options
Start with building some research time into your expectations and website plans. Make sure you have time to research some people and companies and meet with them. You can check out their websites and look through their portfolios to see what they can do on the design and web development side.
At the same time, you want to meet with anyone you're considering for the job to get a feel for who they are and how they operate. A good partner will be open, knowledgable, honest, and transparent with you about their business, capabilities, process, and values. You want to get a sense that you'll be able to work well with them and that they care about your success too.
What's the Best Fit for Your Business?
Whether you're comparing a website builder vs custom website or you are also considering a template website, what's best for your business will depend on your current needs, your future needs, your budget, your timeline, and more.
In many cases, a custom website is the best bet because it offers the most support for your business online and the most potential for growth as your business grows and scales. Even so, not every business requires a custom design right out of the gate. It just depends on your business, your goals, and your budget.
If you need a website for your business or it's time to upgrade your current website design, contact us for a meeting of the MINDs. We can talk about your needs and goals for your business and help you create a website that can help you get there.

Want to Share it on Your Site?
Just copy and paste this embed code into your page to share it with others:
<a href="https://www.minddevelopmentanddesign.com/blog/website-builder-vs-template-website-vs-custom-website/" title="MIND"><img src="https://www.minddevelopmentanddesign.com/wp-content/uploads/2021/01/Builder-Template-Custom-min.jpg" alt="Website Builder vs Template Website vs Custom Website - Infographic by MIND" style="border:none;" /></a>