What to Look for in a Web Designer
October 20, 2022

By Ashley Orndorff, aka Marketing Geek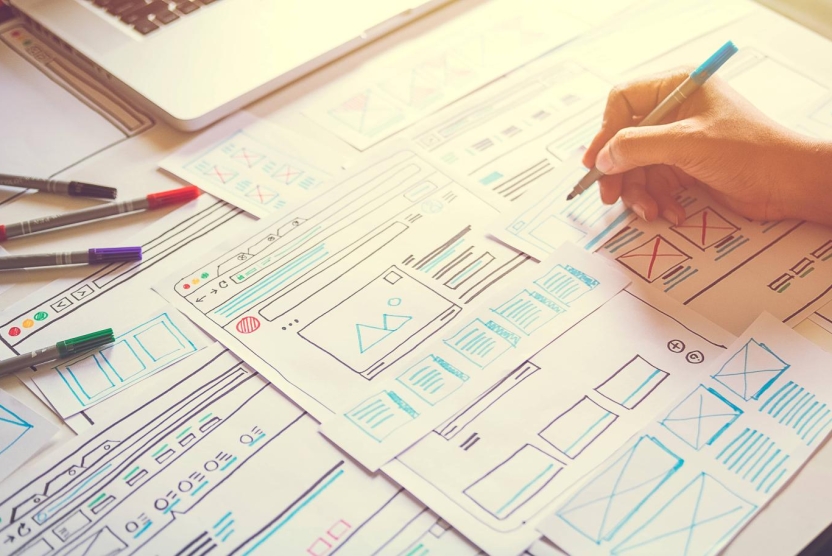 Finding the right web design partner that fits your company and your needs can be difficult. On top of needing web graphics and other things, a website can be a large investment. All of these things represent your brand online, so choosing a good partner is crucial. Here's what to look for in a web designer:
1. They Listen to You
Nobody knows your business better than you. A good design team will meet with you to go over your business and your specific goals. They should be listening to you and asking questions to get an understanding of your needs.
Then, they should be able to take those ideas and that information and distill them into a beautifully designed website, or other graphics. If your designer doesn't ask about your business, you may end up with something bland, something that doesn't meet your needs, or something that doesn't fit your brand.
2. Good Web Designers Contribute Their Own Ideas
Becoming a master designer requires being able to study design. Good designers know how how to take apart what is there, understand how it works and why it works, and are able to create something fresh and new with new ideas. This is why it's important for a designer to listen to you, and it's also important for there to be a conversation and exchange of ideas.
They should also be doing what you are paying them for – providing their expert opinion. The best design happens when you work together as a team, and your ideas are taken into consideration and combined and shaped with a designer's ideas and experiences. You want to partner with a designer that is not afraid to speak up.
3. They Have a Live Design Portfolio
Web design isn't static; it's about creating a great user experience and also staying current with technology. When you are looking for a web designer, it's essential that they have a design portfolio of work you can check out. You should also be able to check out those references and see them in action out on the web.
4. Good Designers Have Staying Power
About 1 in 5 US small businesses fail within the first year and about 50% fail within the first five years. It also seems like design agencies close just a little faster. You want whoever you're working with to stick with you throughout the project.
If you like the results, you'll likely want them to stick around so you can work with them again! Plus, they should be able and want to support you after. You don't necessarily have to ignore new designers, but you do want to make sure whoever you're partnering with has staying power and will be around for a while.
5. They Have the Right Experience
Enough experience and the right experience are what to look for in a web designer. Not only do they need to have enough experience to demonstrate their skills, but they also need to be able to design effectively for what you need. In the case of a good company logo, logo design tips only take you so far; a good designer has the experience to apply those tips, break rules when needed, and make sure you get a logo that represents your brand well.
There are differences when it comes to web design and print design. If you need web design, a designer with only print design experience likely won't be able to deliver what you need. Finding a designer that has the experience you need is important; finding a designer that excels at both web and print is even better.
6. Their Team is Comprehensive
Especially on larger projects, like a website, that require more than design, having a great designer is just the beginning. You want to make sure the web design partner you choose has the comprehensive team needed to handle your project.
If you're looking for a website, are there developers that can bring that design to life and ensure a smooth, functional experience? When deciding on an agency to work with, having the right resources and team members is crucial to make your project a success.
7. They Use a CMS for Websites
A CMS (content management system) is a foundation that a website can be built on that allows non-develops to update content without programming knowledge. A user-friendly interface that allows for easier website content management is one of the benefits of using WordPress for your website.
The use of a CMS has become an industry standard. Although you may need to evaluate a custom website vs template website when it comes to the design, the website designer you partner with should be able to discuss those things with you and keep ongoing website maintenance needs in mind.
You don't want someone who will make the maintenance of your website a nightmare. Difficult website maintenance and content management are often signs you need a new website. It may even be what drove you to look for a new site in the first place!
8. Good Designers Are User Experience Experts
Will your designer be able to give your site both form and function? Many designers can make a nice-looking page, but creating one that guides the user appropriately takes additional experience and expertise.
This can be one of the issues that come when working with designers whose design experience comes from only print design. Even designers with web design experience can still get tripped up when it comes to designing for a good user experience.
When you choose a website designer, make sure they have the experience and knowledge to create a site that will work for you and help take your business into the future.
9. They Design Responsive Websites
The current state of web design is mobile-first. Mobile devices make up a huge portion of the search market and every website should be able to cater to this demographic. Your website needs to be mobile-friendly and able to respond effectively to various screen sizes. If it doesn't, your website offers a poor user experience and that could damage your brand reputation and negatively affect your bottom line.
10. They Are Appropriately Priced
Part of choosing the right web designer is considering what they charge. Web design prices range wildly depending on a ton of factors and variables involved in your project.
Without knowing the scope of your project, it may be difficult to provide a number; however, a good website designer will be able to provide an estimated cost with more information about what you're looking for and some project specifics.
You don't want to pay unnecessarily exorbitant prices for your design. At the same time, you don't necessarily want to go for the lowest bidder if that means not getting what you need and having to pay someone else to redo the work later.
Partner With MIND For Your Design Needs
What to look for in a web designer may vary slightly depending on your business and what you need. What's important is finding a partner who knows what they're doing and will work with you every step of the way to ensure you get the website, brand assets, etc. that you need.
If you're looking for a web design agency, contact us for a meeting of the MINDs. We can talk about your business, your goals, your design needs, and how MIND can help; we can even help you with your print design needs!

Want to Share it on Your Site?
Just copy and paste this embed code into your page to share it with others:
<a href="https://www.minddevelopmentanddesign.com/blog/what-to-look-for-in-a-web-designer/" title="MIND Development & Design"><img src="https://www.minddevelopmentanddesign.com/wp-content/uploads/2022/10/what-to-look-for-in-a-web-designer-min.jpg" alt="What to Look For in a Web Designer - Infographic by MIND" style="border:none;" /></a>