14 Benefits of Using WordPress for Your Website
May 5, 2022

By Ashley Orndorff, aka Marketing Geek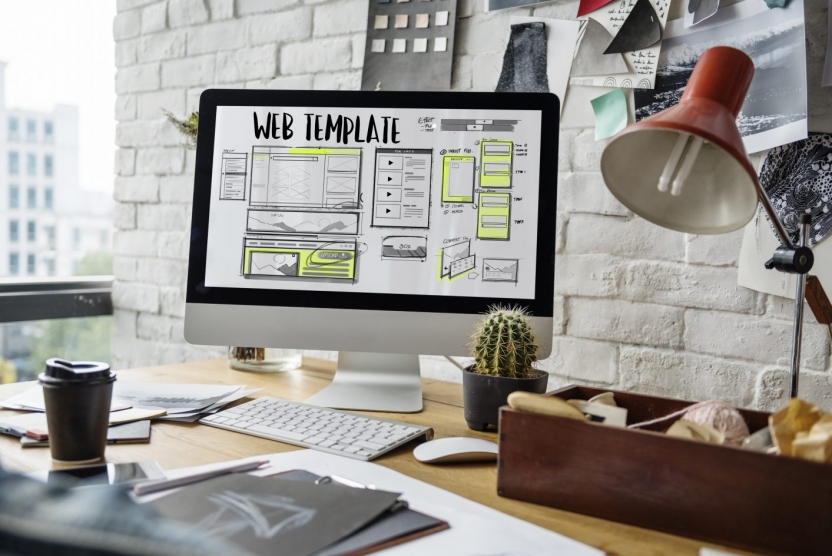 When it comes to your website, it's important for the design and the way it's built to represent your brand accurately, look good, function well, and provide a good user experience. Using a content management system (CMS) as the foundation for your website can help make it easier to update, change, and manage long-term. WordPress is one of the most popular CMS options, and for good reasons. It's hard to find a more comprehensive, better-suited platform for such a wide variety of industries and businesses. Here are a few benefits of using WordPress for your website:
1. WordPress is a Versatile and Customizable CMS
When it comes to a Content Management System (CMS), WordPress is one of the most versatile and customizable. You can present your service pages the way you want to, add a blog, create a photo and/or video gallery, offer visitors an interactive learning center, and more – the possibilities are endless.
With good designers and developers on your side, you can get a WordPress-powered website that offers a user experience visitors will love, truly represents your business, is customized to fit your specific needs, and helps you reach more potential customers.
2. You Can Take More Ownership of Your Website and Manage it Easier
One of the biggest complaints many businesses have about their website is that it is difficult to manage or make changes. They may find themselves stuck with the website they received and unable to make changes or post updates without the help of a developer.
That's a frustrating situation! It's your website, it should belong to you – no strings attached. You shouldn't have to have a computer science degree and 3+ years of development experience to make a small change on your own website. One of the ways to avoid vendor lock-in and get a website you can manage yourself is to build it on a user-friendly, portable CMS.
WordPress has a user-friendly, easy-to-use administration portal. You can set up multiple users, customize access levels and capabilities, easily manage users, and more. Because access is browser-based, you can log in and manage your website from anywhere you have internet access. With WordPress on your side, you'll be able to maintain more ownership over your website and make many changes to the content on your own.
3. WordPress Websites Can Have Lower Setup and Maintenance Costs
Because WordPress is easy to use and manage and is free to download, it also tends to have lower setup and maintenance costs associated with it. This is not to say that all WordPress websites are cheap, especially business websites. Although you'll need to pay for custom design and development, hosting, etc., there are no initial or ongoing licensing fees for WordPress itself.
Compared to costs associated with other platforms, a website developed on WordPress can cost less, but a lot goes into a website's cost. The functions that will need to be built into the site, the level of customization needed, and several other factors all affect a website's cost. This is something to consider when you are evaluating a website builder vs template website vs custom website.
A website built on WordPress can cost less initially. It can also provide more savings over time in easier maintenance and management compared to what the same website would cost if it were built on a different platform. It really depends on your website and what you need.
4. WordPress has the Tools to be SEO-Friendly
Compared to other platforms, and depending on how it's set up, WordPress is relatively SEO-friendly and responsive out of the box. The code behind it is relatively simple and clean, which is easier for search engines to read, crawl, and index.
It has a lot of built-in features that can help build a strong foundation for good SEO, including some responsive design and a focus on being mobile-friendly. It's not perfect, but it can help you avoid some common web design mistakes and you're certainly starting on a much better foundation than many other platforms
5. Blogging is Built Into WordPress
Because WordPress was originally a blogging platform, it also has built-in blogging functionality that is easy to integrate and use. There are a lot of things businesses should know about blogging.
Some of the biggest things are that it's an essential part of a solid SEO strategy, helps drive traffic to your website, helps you build authority in your industry, and helps you reach more potential customers.
6. It Supports Several Media Types
The internet is multimedia, and it's a good idea for your website to be as well. Out of the box, WordPress supports several media types. Whether you have text content, images, video, slides, infographics, white papers, and more, a WordPress website is able to work with, support, and display them all.
Plus, with some programming, you can even create custom post types to display whatever content you need however you want. This allows you to offer more value to potential customers, engage website visitors with useful content, offer a good user experience, and better meet search intent.
7. You Can Extend Functionality With Plugins
Custom development requires a specific skill set and can get expensive. Sometimes, it's the best choice for functionality you want to add to your website that doesn't natively exist. In other cases adding the desired functionality with a plugin is the better solution. Knowing the difference and being able to deliver are some things to look for in a web designer.
With WordPress, you can take advantage of a robust library of plugins offering whatever functionality you need. There are several WordPress plugins to help you ensure your website and its content are as friendly to users – and search engines – as possible. You don't want to add a ton of plugins you don't need as that can affect page speed and SEO, but the ability to add functions with plugins when it is a better option than custom development is useful and efficient.
8. You Can Integrate With Almost Any Service or Application
Approximately 39.5% of all websites on the web use WordPress. Of the websites using a CMS, about 60% or so use WordPress. With a platform this popular, integration with your other services or applications tends to be easier than with other platforms.
This means you can truly make your website the hub for your business online. You can integrate your email marketing service, hook into your social media profiles, connect your website forms to your Customer/Contact Relationship Management (CRM) system, and more.
With WordPress backing you up, your website will not be a separate entity from the rest of your business activities. Instead, it will be an integral part of how your business functions, and also how it succeeds.
9. As an Open-Source Platform, WordPress is Always Improving
WordPress is an open-source platform. This means it has a large community of designers and developers who are inspired and motivated to constantly make it better. The history of WordPress is full of iterative improvements over time. Not only does this make it a reliable and stable platform for your website, but it also means there are regular updates.
This means problems are resolved quickly, your CMS stays relevant, and new features are added as needed. With technology constantly evolving, it is imperative that your website platform evolves to keep up with the changes. WordPress does that.
10. A Huge WordPress Community Means There Are Tons of Useful Resources
Another advantage of a popular open-source platform is the huge community that comes with it. In addition to tons of improvements, you also have access to even more useful resources. So, if you find yourself stuck and need to troubleshoot, there are plenty of articles, guides, tutorials, and people to help you out.
11. Safety and Security Features Are Built Into WordPress
Safety and security on the internet is a serious undertaking. A lifetime of solid security decisions can be flushed down the drain with one vulnerability.
You have to be constantly monitoring and reviewing your security measures. Hackers don't stop changing their methods and evolving – neither should your security.
Thankfully, with user roles, password verifications, and various other features, WordPress is built with security in mind. To help your site stay safe and ahead of the curve, you can also implement further security measures such as using a plugin like Sucuri.
12. It Offers a Robust Ecommerce Solution
WooCommerce is the premiere ecommerce plugin for WordPress. It launched in September of 2011 and over 28% of ecommerce websites across the internet currently use it.
It is designed for both small and large online merchants using WordPress. The base product is free and many paid add-ons and premium features are available.
So, much like WordPress, you can customize the WooCommerce platform to get the online shopping cart your business needs. Then, you can rest easy knowing it will integrate seamlessly with your WordPress website. Even if you prefer another platform, like Shopify, you can still integrate it easily with your WordPress site for the ecommerce functionality you need.
13. There Are Plenty of Hosting Options and Upgrades Available
With WordPress powering over 400 million websites, hosting providers cannot afford to slack off when it comes to WordPress hosting services. This means you aren't locked into a specific hosting provider; you can shop around to find the perfect hosting partner for you with the upgrades you want.
Security, speed, support, and automatic backups should be standard when you choose a web hosting provider. Plus, if you need to switch hosting providers in the future, the process tends to be easier with a WordPress site than with other platforms because it is a portable CMS.
14. WordPress Can Easily Grow With Your Business
WordPress is built to be scalable and work well with businesses big and small. This means that no matter where you start, your website can grow seamlessly with you as your business grows. And, it can do so without compromising performance.
These are just a few benefits of using WordPress for your website. There are pros and cons of WordPress for B2B companies, but most of the time, it's a good fit. It's a platform that makes day-to-day management easy, remains a cost-effective solution, and offers endless opportunities for growth.
Work With MIND on Your WordPress Build
Picking the right CMS is just the beginning to getting a website that offers a great user experience and is easy for you to manage. If you have any questions about how WordPress can benefit your business or are interested in building your website on WordPress, take a look at our portfolio and then contact us for a meeting of the MINDs. We can help you design and build a website that will help support your business and meet your goals!

Want to Share it on Your Site?
Just copy and paste this embed code into your page to share it with others:
<a href="https://www.minddevelopmentanddesign.com/blog/benefits-of-using-wordpress/" title="MIND Development & Design"><img src="https://www.minddevelopmentanddesign.com/wp-content/uploads/2022/06/Benefits-of-Using-Wordpress-Infographic-min-1.jpg" alt="Benefits of Using WordPress for Your Website - Infographic by MIND Development & Design" style="border:none;" /></a>