How to Drive Traffic to Your Website
March 29, 2018

By Ashley Orndorff, aka Marketing Geek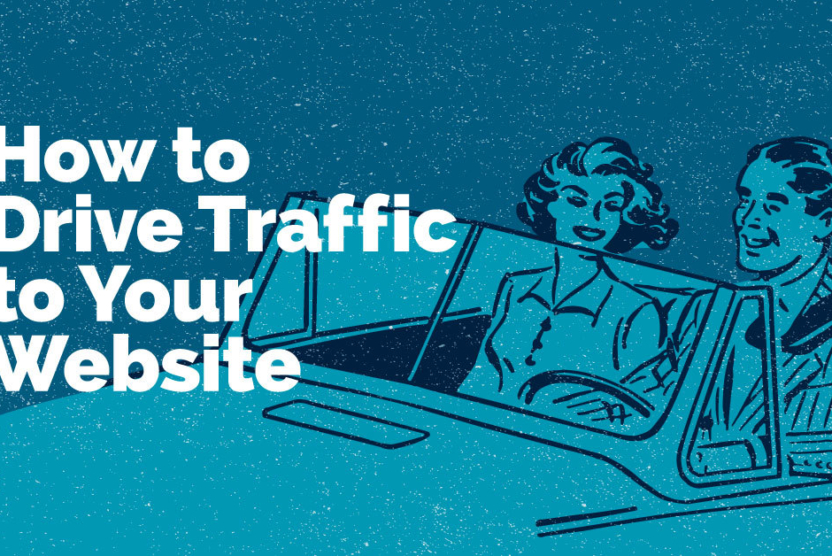 Simply having a website is just not enough. The landscape is too competitive and your customers are not going to come to your website in droves unless you are actively working to drive traffic to it. Here are some major ways to help drive traffic to your website:
1. Ensure Your Website is Technically Sound
Before you jump in and start driving traffic to your website, first make sure its foundation is strong and technically sound. In order for your site to appear in search engines, it has to be accessible to search engine crawlers.
Check the settings in your CMS (content management system) and the rules in your robots.txt to make sure you're allowing search engine crawlers to access your site. If they're able to crawl your website pages, then you have a chance at those pages getting indexed.
The next step is to ensure your website is easy to navigate and offers an incredible user experience. Engagement metrics matter to the success of your website. If users are engaging with your website, it sends signals to search engines that your website is relevant and should be included in search results.
On the other hand, if users are not engaging and are immediately leaving your website, it sends the signal that it is irrelevant – and therefore, does not deserve a place in search engine results. On top of that, users who leave your website without interacting are unlikely to become customers for your business.
Responsive and Mobile-Friendly
Part of offering a good user experience and ensuring your website functions as it should is building it to be responsive and mobile-friendly. This means that the elements on your website shift and change to respond to varying screen sizes, and that they are built to be functionally friendly to small screens and big fingers.
This allows users to find what they need effectively regardless of the device they're using. With mobile searches overtaking desktop, having a site that is friendly to mobile users is imperative to showing up in the SERPs (search engine results pages).
Fast Load Time
Speed matters to your users, and they expect content on the web to load fast. Around 53% of users leave a site if it takes more than 3 seconds to load. In fact, 47% of them expect a site to load in 2 seconds or less. The bottom line is that page speed matters to your users, which means it matters to search engines, and, in turn, matters for your website's success.
If you start off by ensuring your website is user-friendly, you'll be poised to make the most of the traffic that comes to your site. As more and more users positively engage with your site, you'll see an increase in leads and benefits to your business over time.
2. Implement SEO Basics
Search Engine Optimization (SEO), when done right, helps your site gain more visibility in search engines, which provides more opportunities to gain traffic. Not investing in SEO at all is one of the biggest SEO mistakes to avoid.
Good SEO also helps website visitors find and navigate your website pages and content. This is why it is so important to follow SEO best practices – at the very least, doing so positions your site for success.
Technical SEO
The previous section touched on some points of technical SEO. In addition to what was listed above, you should also use a site audit tool to regularly crawl your site. Doing so helps to identify and fix any issues, like 404 errors, redirect issues, and more. Beyond that, there are two other "types" of SEO to consider – on-page SEO and off-page SEO.
On-Page SEO
On-page SEO is on your site, and specifically refers to changes you make to pages to make them more engaging for users and search engines. This often includes things like updating your title tag and meta descriptions, implementing useful internal linking, using headings appropriately in your content, and more.
This is one of the reasons why keyword research is important; it can help inform you on how your target audience is searching and how your content can best meet search intent for those topics and queries.
Off-Page SEO
Off-page SEO relates to activities you do outside of your site that send signals back to search engines about what others think of it. This often takes the form of backlinks, which are links from other websites to yours, social media shares, directory listings, and more.
3. List Your Website in Relevant Directories
A common off-page SEO technique, and something that will help drive traffic back to your website, is to list your site in relevant directories. You do have to be careful with directories as many have been devalued due to spamming.
However, most of the large, well-known business directories are still useful. You'll also want to identify any directories specific to your niche, evaluate their authority, and list your business in them.
Make Sure Your NAP Citation is Consistent
Each directory listing is a citation for your business on the web. Your NAP citation – business name, address, and phone number – needs to be consistent across your listings. It's also a good idea to ensure your website address is listed consistently, as well as any contact email you include in your business listings.
Start with updating your Google My Business page, or creating one if you don't have one yet. This information feeds directly into Google and is necessary for monitoring and responding to reviews on it.
4. Cross-Promote
Cross-promote your website. Add your website address to your email signature (you can use an email signature generator tool to get one that looks great if you don't have one designed already). Also, include the website address in any of your bios across the web, on your business card, and in all printed and digital material for your business.
Make sure it's included in just about everything related to your business. You want to make sure that no matter how someone is engaging with your business, they also have easy access to your website.
5. Publish to Your Blog Regularly
Search engines love fresh content. When you regularly add new content and update existing content on your website, you show search engines that your brand is a living entity and is focused on becoming a valuable resource for users.
Additionally, each new blog post is another page of your site that has the opportunity to be crawled and indexed to appear in search results. Plus, content marketing often costs 62% less than traditional marketing and generates approximately three times the amount of leads.
Businesses that blog generate approximately 55% more traffic to their website than companies that don't. In addition, they experience 126% higher lead growth than businesses that don't blog. Blogging for your business generates more traffic to your website, brings more leads into your business, and continues to build benefits for you over time.
Focus on Quality Content
As you dive into business blogging, make sure to keep the focus of your content creation on quality. Your content needs to be well-written, valuable, and comprehensive in order to compete. Although your website will receive more traffic the more you blog, the last thing you want to do is sacrifice the quality of your content. Thin content or content that is not valuable to visitors will not help you and has the potential to hurt you in search engines.
Figure out how much time you're able to set aside for blogging while maintaining quality and stick to that, even if it only means one or two posts a month. It is better to maintain a higher quality of content with a smaller number of posts than it is to publish a higher quantity of low-quality posts. Yes, this may mean that the growth blog posts offer will be slower, since it is cumulative. However, you also won't be harming your site with low-quality content in the long run either.
Mix and Match Content Types
As you plan out blog content, try to mix and match content types with your strategy. The more valuable you can make a blog post by building it into a resource, the better off you will be. The easiest type to start with is images.
People love to engage with visuals, and providing images throughout your blog post increases the amount of engagement it gets. In fact, articles with images get 94% more views than those without and they keep reader's attention longer.
You can also switch it up with videos, audio files, slide decks, and more. Additionally, you can include content upgrades like downloadable one-sheets, checklists, eBooks, and more.
Repurpose Content
Repurposing your content is a great strategy to supplement your content marketing efforts. Plus, there are several different ways to repurpose content. By repurposing one piece of content into other types, you create interesting new visuals and representations of the content you've already created.
You also provide a library of assets to choose from when adding different content types to a blog post. One blog post can be repurposed into a series of social media graphics, a number of graphs and charts, an eBook, a slide deck, a podcast, a speaking presentation, an infographic, and more.
Regularly Update Existing Content
In addition to creating new content, you also want to make time to go back and update your older, existing content. This ensures your content stays fresh, up-to-date, and relevant. It's also one of the tops ways to keep your old content working for you.
Only 55% of bloggers update their old posts; for those that do, they are approximately 74% more likely to get strong results when it comes to their website traffic. Updating your older posts also gives you the opportunity to expand on the topic and remain competitive, bringing even more traffic to your site over time.
6. Post and Engage on Social Media
88% of businesses are using social media and over two-thirds of Americans are active on social media. This means your customers are on social and so are your competitors. If you're not, you're missing out on business opportunities and website traffic.
There are a ton of social media networks out there and types of content to post on social media, so it can be overwhelming when you first get started. Begin by finding out where your customers are spending most of their time in the social sphere and setting up profiles on those networks. Fill out all of your details and then start posting.
You'll want to post regularly on the social networks you've chosen with a mix of your own content and content from others. This will start to drive traffic back to your site while also ensuring that there is recent activity on those profiles.
Additionally, social media is a great place to promote your blog posts. Organic, or non-paid, reach has been declining over the years on some social networks. Most notably, organic reach has declined again on Facebook. You can still have non-paid success there, but it does take time.
The good news is that social paid advertising is cost-effective. It allows you to extend your reach exponentially with a smaller budget than is oftentimes required by Google AdWords. This is not to say you should ignore AdWords by any means, just that there are also paid opportunities on social media with their own benefits.
7. Build Relationships and Get Involved
Go back to the basics and take your efforts offline to generate traffic to your website, then integrate them with your online efforts to drive even more traffic. Build relationships with bloggers in your niche, reporters in your industry, and other thought leaders. Find out how you can provide value to them and start reaching out.
When you do something newsworthy, write about it. Write press releases and submit them to reporters and press release distributors that are still valid and authoritative. The caveat here is that your press release must be newsworthy. If it's not newsworthy, it won't do you any good.
Guest Blogging
You can also reach out to other sites in your industry in order to post content on their sites. This is usually referred to as guest blogging. You do need to be careful as this technique has been rife with spam over the years.
If you do it right and provide value with your content, you can generate traffic back to your site. If you do it wrong and do not deliver valuable content, you can hurt your site and your brand's reputation.
Events
Get involved in your community and industry by participating in events, hosting events, becoming a sponsor, speaking at them, and more. Additionally, attending events and getting involved gives you a plethora of opportunities to network, get material for producing content, and promote your website.
If you are sponsoring a table, you can feature your brand name and website on your table banner and on the free swag you give away. If your website address is printed on your business card, you'll have plenty of opportunities to hand those out. If you're speaking, make sure your website address is featured on your presentation slides to get a boost in traffic from attendees.
8. Use Paid Ads to Boost Traffic
In addition to paid social ads, you also have the option of PPC (pay-per-click) advertising on Google and/or Bing to boost traffic to your site. The landscape here is usually competitive, so you'll need a higher budget to get the results you want, but it does result in more traffic to your website.
9. Start Building an Email List
Email Provides Another Marketing Channel for Your Business
Customers operate in a multi-channel world, so businesses must as well in order to keep up. Plus, the more channels your business has producing results for you the better. In doing so, you're not relying on one, single channel for all of your success. So, if there are fluctuations in one channel, you have others that can continue to bolster your business while the volatile channel recovers.
An In-House Email List is a Channel You Own
One of the best ways to ensure you have a steady marketing channel is to own it. Building an in-house email list is a great way to create a marketing channel your business owns.
Granted, your email list needs to be full of active, engaged customers in order to be successful, but building your own email list is certainly superior to buying one or relying solely on other channels.
For many businesses, an in-house email list becomes a source of steady traffic to their website and stream of revenue. 59% of B2B marketers identify email as their most effective channel for revenue generation.
Start Collecting Email Addresses on Your Website
You can start collecting email addresses on your site by adding a subscription to your blog and also by creating landing pages for offers your customers will find valuable. You want to ensure you are offering sufficient value in exchange for someone's contact information.
Focus on Value to Keep Your Email List Engaged
Then, you need to make sure you continue to add value in order to maintain an active and fully engaged email list. In doing so, you'll know that your email list will respond positively to what you send out and maintains email as a valuable marketing channel for your business.
10. Use Landing Pages to Feature Offers
Landing pages can be valuable additions to your website. If you are able to craft compelling offers for your customers, you can use landing pages to collect information in exchange for those offers. You can also build specific campaigns around your top landing pages to drive traffic to your site, build your email list, and generate leads.
Much like your website, landing pages aren't going to just generate traffic on their own, you do have to actively drive traffic towards them. However, if you've done your research and used landing page optimization best practices to set up your landing page correctly, you'll have the perfect place to drive targeted traffic that is more likely to convert into leads.
11. Check Your Analytics
Google Analytics, or another analytics platform, is where you can find data about how users are finding and interacting with your website. It's important to check in to see where users are getting hung up and how your marketing efforts are performing.
Checking your analytics data allows you to identify existing issues, and potential issues, so you can fix them and improve your user experience. Data will also give you an idea about what marketing efforts, channels, and campaigns are performing best for your business and which need improvement.
Improve Click-Through Rate
Click-through rate is the percentage of people who see your result, email, ad, etc. and actually click to visit your link. It is a great KPI (key performance indicator) to track in order to determine whether your efforts are driving traffic.
It's also one of many search engine ranking factors. The more people who click on your website in the results and stay there, then the more relevant your website appears as a result. Improving your click-through rate can result in more visibility in search engines and more traffic.
Improve Conversions
Improving your click-through rate is one thing, but everything you do should ultimately contribute to increasing your conversions. All the traffic in the world to your website won't do you much good if you're not converting any of it into leads for your business. As long as you have implemented the proper tracking and set up goals in your analytics, you'll have data on conversions.
Analyzing how people are getting to your offers and moving towards conversion can give you a lot of information on how to improve your conversion rate. For example, if tons of people are reaching a contact form and not filling it out, it's time to test some updates. You can test updated content, a new CTA (call-to-action), the number of form fields, the text of your buttons, and more.
By checking your analytics and digging in to analyze the data, you'll be able to identify opportunities that will allow you to drive more traffic to your site and make the most of it once it gets there.
Not having a plan for getting traffic to your site is one of the most common mistakes businesses make with their website strategy. A successful website is designed well, built right, and offers an incredible user experience. After that, it's all about getting people to see it and engage with it so they want to work with your business. For help with your website design, development, or marketing, contact us for a meeting of the MINDs.