Algorithm and Blues: What You Should Know About Google's Algorithm Evolution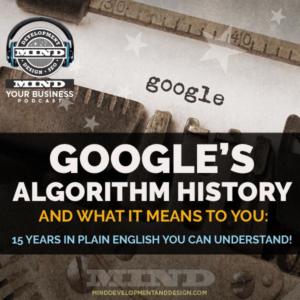 Google's Algorithm History and What You Should Know
The great philospher Joey Ramone once sang those famous words, "I don't care about history!!  Rock, rock.  Rock and roll high school."
When it comes to Google's algorithm history, it's important to understand it because you can then better understand what's going on today.  You can then better see through the veritable snake oil that many SEOs are selling and be able to identify those who could get you in trouble.
In today's podcast, Mark will simplify Google's Algorithm History and how it is important for you and your business in plain English.  In about 20 minutes.  Seriously…if you want to get beyond all the psychogibberish and learn why these changes have happened over the past 15 years, you are in the right place.
From link penalties to keyword stuffing penalties to lame content penalties…Pandas and Penguins and Pigeons, oh my!  You will understand this stuff like never before!
Thank you for taking the time to listen and please send us your questions.   We LOVE answering them and we don't ever want to run out of them!  Drop your website development, design, SEO, content marketing and general Internet marketing questions on us through our Ask A Question page.  Of course, you can always email us at [email protected], leave a comment on Facebook or simply kick it old school and put a message in a bottle.  We will do our best to answer your question on a future podcast:)     At your next political rally, make sure you ask your congressman to crank up the MIND Your Business podcast!