Branding Your Business In The Internet Age With Gary Rossignol, Cincinnati's Rock N Roll Real Estate Agent.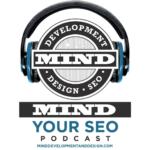 Gary Rossignol Talks About Branding Your Business On The Internet.
This week on the MIND Your Business podcast, we welcome a gentlemen I first met about 9 years ago when I was coaching real estate agents on marketing as the Internet was becoming a much more fierce and competitive marketplace.
Gary was the first person I worked with who was way ahead of his competition in how he was viewing this thing called the Internet and how to market yourself.  He was the first person I worked with who understood that it's not enough just to BE on the Internet.  What are you actually doing with it?
How are you using this medium to project yourself and your heart behind your business to people who are online searching for something more than a price-point…they're searching for someone who, in the case of real estate, is going to help them with what might just be the largest purchase of their life.
They just want to know that you care beyond the dollar signs.  Gary relates what he did in branding his business and how some of the "little things" turned out to be big things as he built his brand.
We hope you enjoy the podcast and find concepts and ideas that you can put to use for your business:)  Thank you for listening to it through our site, iTunes, Stitcher, Google Play or whatever.  During your next workout, crank up the MIND Your Business podcast!