Social Media, Customer Service and Validation For Your Business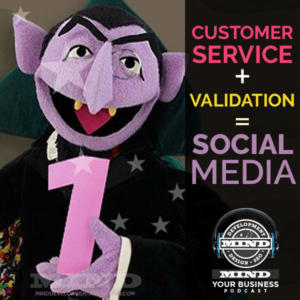 Customer Service + Validation = Social Media
Our social media swami Kris Bradley is back with us this week to talk about customer service, your business validation and what social media has to do with it.
More specifically, he will be talking about how Facebook is approaching customer service with their announcement that they are investing "heavily" in building a customer service organization including live online chat and screen sharing.  How will this work for small and medium sized businesses?  That will be interesting to watch and possibly learn from.
Kris will also be talking about the important concept of your social media properties being an extension of your website. Aiming to provide customers and potential customers with validation with regard to your business. Here is the link to the article by Greg Sterling that Kris referenced in the podcast.
Thank you for taking the time to listen and please send us your questions.   We LOVE answering them and we don't ever want to run out of them!  Drop your website development, design, SEO, content marketing and general Internet marketing questions on us through our Ask A Question page, email us at [email protected], leave a comment on Facebook or simply kick it old school and put a message in a bottle.  We will do our best to answer your question on a future podcast:)     At your next family reunion, make sure you ask the DJ to crank up the MIND Your Business podcast!