Google+ Is Back And More Personal. And It Never Really Went Away.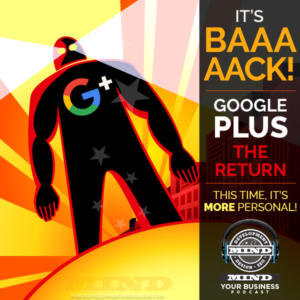 Google+ Is Back Because It Never Really Went Away.
Well, all of the hype a few months ago was exactly that…hype!
You heard it right here on the podcast the whole time it was going on…kinda like Aaron Rodgers with Green Bay Packers fans last year.  R-E-L-A-X.  (Frankie say.)  Google+ was never going away…it was evolving.
And it continues to evolve.
The most important thing to remember is that, even though it's playing second fiddle to other social media (especially Facebook), Google+ has been more successful than Google Buzz and Google Wave ever were.  Successful enough for Google to choose to redesign it to be more social and create a clear delineation between it and your Google My Business profile.
But WAIT…there's MORE!
But you'll have to listen to the podcast to find out.  I promise it will be worth your time, though:)
Please send us ANY of your questions.   We LOVE answering them and we don't ever want to run out of them!  Give your website development, design, SEO, content marketing and general Internet marketing questions to us on our Ask A Question page, email us at [email protected], or drop us a comment on Facebook or simply hire a skywriter.  We will do our best to answer your question on a future podcast:)     At your next tailgate party, make sure you ask the DJ to crank up the MIND Your Business podcast!