Healthy Living Facts With Nick the Dev (aka The Good Nick)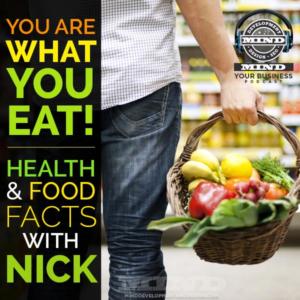 Food and Nutrition Facts From The Good Nick, MIND's Newest Developer.
Do you eat late at night?
Do you crave something right now that you know you will wind up wishing you didn't eat?
Do you know how many fruit fly eggs or maggots are in that yummy glass of orange juice?
On this week's podcast, Nick the Dev (aka The Good Nick) plays the nutrition game as we uncover some amazing, eye-opening and sometimes disgusting facts about food and nutrition and overall healthy eating that can shed some light on the good and not-so-good choices you can make if you are trying to eat healthy and maintain/lose weight.
We hope you enjoy the podcast and thank you for listening to it.   We always appreciate your two cents, so don't be shy.  What would you like to hear us cover on the podcast?  Let us know…and on your next commercial flight to the Mars colony, ask your intergalactic airline to replace the usual boring entertainment with the MIND Your Business Podcast!