How To Get Online Reviews and Why Testimonials Are Going Out Of Style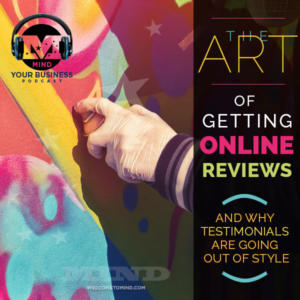 How To Get Google Reviews and Why Testimonials Are Going Out of Style
Do you wish you had more reviews of your business online?  Get frustrated that you don't have enough reviews to make your beautiful gold stars show on your Google business listing?   Do you get frustrated that consumers are quick to the keyboard when unhappy? Yet they're not in such a hurry when they have a GOOD experience?
Reviews are the source of much debate for many reasons, but the one undeniable truth is that reviews are becoming more and more important to consumers and, in fact, are rendering the tried-and-true testimonial worthless.   In this week's MIND Your Business podcast, we look at why testimonials are going out of style and exactly what you can do to get more reviews of your business online and earn more trust with today's tech savvy consumers.
We hope you find this podcast to be helpful and that you can put the information to good use for your business:)  Also, remember that if you have questions, we have answers.  Give your website development, design, SEO, content marketing and general Internet marketing questions to us on our Ask A Question page, email us at [email protected], or drop us a comment on Facebook or simply hire a skywriter.  We will do our best to answer your question on a future podcast:)     At your next sporting event, tell them to get rid of the cheesy organ music and play the MIND Your Business podcast!