Breaking Through Your Marketing Comfort Zone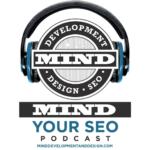 Best Selling Author, Speaker and Educator Mark Schaefer Discusses How He Broke Through His Own Comfort Zone and Helps Others Do The Same.
This week on the MIND Your Business podcast, we welcome back one of our favorites…Mark Schaefer, author of numerous best selling books on marketing and content sharing including The Content Code and, most recently, Known.
No matter who you meet and how successful they are, chances are that they have had to overcome numerous obstacles on their way to success…including stepping outside their normal areas of comfort in order for both their business and their life to progress.
It can be scary and if you're scared or nervous, you're not alone.
Progress happens outside of your comfort zone.  Let's say that you're a bit of an introvert. But the work you do requires you to consistently be in front of people…even speaking and doing presentations.  If that's the case, then you will be most definitely interested in what Mark has to share.  That's just part of your takeaway from this week's podcast…there's plenty more and, as always, Mark is down-to-earth, fun and entertaining in relating his own journey while giving you tips and advice for yours!
Thank you for listening to our podcast and feel free to contact us if you have any questions regarding it or anything website related.  During your next boring business meeting, put in your earbuds and crank up the MIND Your Business podcast!