How To Be A Marketing Badass: Mark Schaefer and The Content Code part 1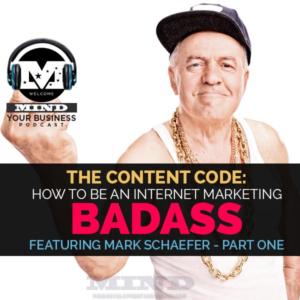 How To Be A Marketing Badass With Mark Schaefer
This week we welcome a special guest to the MIND Your Business podcast.  It's Mark Schaefer, best selling author, speaker, educator and all-around good dude.
If you haven't read his best-selling book The Content Code, I highly recommend it.  Not only is it crammed full of great information and strategy, but Mark delivers it in such a fun, sensible and easy-to-read fashion that you will find yourself reading and re-reading it.  Seriously.  This podcast may serve as your introduction to Mark's Internet marketing philosophy, with the appropriate acronym of BADASS:
Brand development
Authority
Distribution, advertising, promotion, SEO
Audience and influencers
Shareability
Social proof and social signals
We hope you enjoy the podcast and thank you for listening to it.   We always appreciate your two cents, so don't be shy.  What would you like to hear us cover on the podcast?  Let us know…and on your next commercial flight to the Mars colony, ask your intergalactic airline to replace the usual boring entertainment with the MIND Your Business Podcast!