Mark Schaefer and Facts About The Great Outdoors! You Don't Wanna Miss This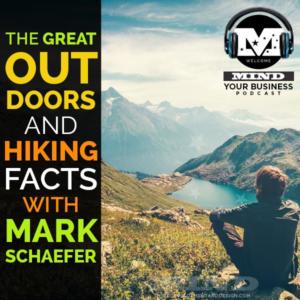 Mark Schaefer On Hiking, Great Smoky Mountains, Tennis and more!
This week, best selling author and marketing educator Mark Schaefer is back on our podcast to have some fun with facts about the great outdoors!
Living in the Great Smoky Mountains, Mark enjoys hiking, kayaking, tennis and just plain being outside.  As we love doing on the podcast, we've put together some interesting, fun and – in some cases – absurd facts about some of these interests and Mark was kind enough to play the facts game with us on this final podcast of 2016
Can a mouse squeeze into a hole the circumference of a ball point pen to sneak into your tent while you're camping?
Who was the a) youngest, b) first German and c) first unseeded player to win the classic Wimbledon tennis tournament?   Hint:  It was the same person
What is Mark's favorite place to hike?  Surprisingly, it's not actually in the Smoky Mountains where he lives.
Find out the answers to these and more fun questions on today's podcast and make sure to check out his best-selling book The Content Code. It's a great read on not just social media, but how social media works with other aspects of your marketing mix.
We hope you enjoy the podcast and thank you for listening to it.  In the meantime, check out Mark's other books including Social Media Explained, Return on Influence, The Tao of Twitter and his forthcoming new book Known, due out in Spring 2017.   On your next commercial flight to the Mars colony, ask your intergalactic airline to replace the usual boring entertainment with the MIND Your Business Podcast!