Repurposing Your Website Content featuring Author and Marketing Pro Stoney deGeyter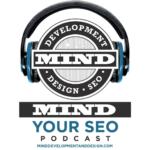 Can I Repurpose My Content?  Yes, You Can and Stoney deGeyter Will Tell You How!
This week on the MIND Your Business podcast, we welcome for the first time as our guest Stoney deGeyter, CEO of Pole Position Marketing and author of The Best Damn Web Marketing Checklist, Period!
Stoney has been in web marketing since 1998, when he started Pole Position Marketing and has a wealth of knowledge to share on all aspects of web marketing.  On the podcast today, the focus is on repurposing your content.  Blog writing for your business is necessary in building trust with the search engines as well as educating and earning trust with your visitors so they will become your clients;  however, blog writing can become overwhelming and begin to feel like a chore really quickly without proper planning.
Repurposing content, when done properly and with the right intent, can be a major time saver and at the same time help you reach a wider audience.  Stoney will give you guidelines on how to do it properly so you can work efficiently and, as he proudly states, "have more time to binge-watch Netflix."
Thank you for listening to our podcast and feel free to contact us if you have any questions regarding it or anything website related.  During your next boring business meeting, put in your earbuds and crank up the MIND Your Business podcast!