Major SEO Changes, SMX 2016 and Linkless Links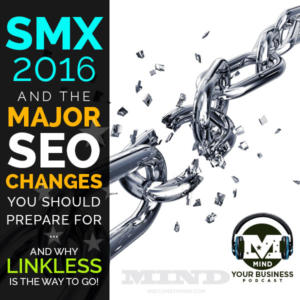 SMX 2016 Reveals Some Major (and not so surprising) Changes in SEO
I always look forwards to the SMX conferences each year because soooo much of where SEO and Internet marketing is headed is revealed in those meetings, sometimes rather cryptically.
The most recent conference in San Jose was most fruitful in laying out some of the changes we can expect on the SEO landscape and that's a big part of what we're covering in today's MIND Your Business podcast:
How keyword research isn't just about keywords anymore and why they're a better source of consumer intelligence info than those worthless marketing surveys.
Voice search and what to do about it
Understanding RankBrain and the impact that it is having
Why linkless backlinks are becoming the way to go.
Linkless Backlinks
We hope you get some powerful food for thought from our podcast:)   In the meantime, please send us ANY of your questions.   We LOVE answering them and we don't ever want to run out of them!
Give your website development, design, SEO, content marketing and general Internet marketing questions to us on our Ask A Question page, email us at [email protected], or drop us a comment on Facebook or simply hire a skywriter.  We will do our best to answer your question on a future podcast:)    Next time you're jogging, make sure you're listening to a cassette of the MIND Your Business podcast on your WalkMan!