Small Budget SEO Revisited: How To Get Your Business Found With A Low Budget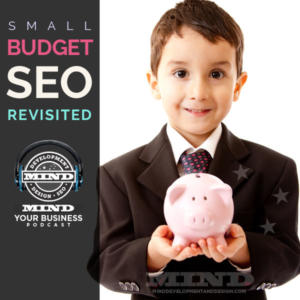 SEO On A Low Budget
The great philospher Ray Davies once sang those famous words, "They squeeze me so tight that I can't stand no more.  They're a size 28, but I take 34.  I'm on a lowww budget."
There's nothing more frustrating and, indeed, deflating than pouring your heart and soul into your business and website and then feeling like you have no chance of anyone finding you in online searches.  Truth is, to do it right isn't cheap…it's an ongoing process and it's not getting any easier at all.
But we've got good news for all of you who are on a low budget and feel like there's nothing you can do to get your business found and compete with your online…er, competition.  On this week's show, Mark revisits the hot topic of Small Budget SEO and he will give you 5 juicy (steak) tips on things you CAN do to improve your online presence when you're working with a limited budget.
Remember…these tips are not the be-all-end-all.   SEO is an ongoing process, but if you do these 5 things you will lay a solid foundation for your ongoing SEO and you will see improvement in your traffic and online presence:)
Thank you for taking the time to listen and please remember to send us your questions.   We LOVE answering them…that's what we're here for!  Drop your website development, design, SEO, content marketing and general Internet marketing questions on us through our Ask A Question page.  Of course, you can always email us at [email protected], leave a comment on Facebook or simply kick it old school and wire us a telegraph.  We will do our best to answer your question on a future podcast:)     At your tailgate party, make sure you ask your grillmaster to crank up the MIND Your Business podcast!