Social Media Mistakes You Should Avoid – Featuring Small Business Expert Melinda Emerson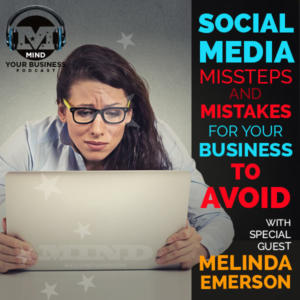 Social Media Mistakes Businesses Should Avoid With Melinda Emerson
This week on the MIND Your Business podcast, we welcome America's number one small business expert and small business lady Melinda Emerson.
Melinda is a best selling author, featuring in the New York Times, MSNBC, FOX News, Black Enterprise, Fortune and CNBC. Known for discussing her sharp and creative approach to social media and how to build your audience.  After meeting her at a Lancaster marketing event, I am delighted to have her on our podcast. She has quite a lot of valuable information to share with you all.
This week we take a focus on your social media. More importantly, what social media mistakes businesses should avoid.
Get ready for a great podcast with a creative and straight shooting lady who will both educate and inspire you!
We hope you enjoy the podcast and thank you for listening to it.  On your next commercial flight to the Mars colony, ask your intergalactic airline to replace the usual boring entertainment with the MIND Your Business Podcast!