Your Brand Logo: You Get What You Pay For and Five Dollar Logos Suck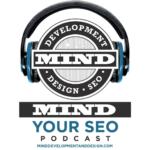 Because Five Dollar Logos Suck…Is That All You Think Your Brand Is Worth?
If you want to raise the ire of Mark or MIND lead designer ChadRock McComsey, just say Fiverr.com and that will get them going?
Want proof?
Check out this week's MIND Your Business Podcast where Chad joins the party to discuss why Fiverr's five dollar logos are both detrimental and devaluing to the design business itself AND ultimately not what you really want for your brand.
Logos…identifying marks…they're important and always will be.   From KISS to Prudential, stylized words to stand-alone images, doing your logo right and creating an enduring symbol for your company takes time, thought and more than five bucks.
Find out the issues with five dollar logos and learn about what you should be focusing on instead with the identifying mark of your company.  You really do get what you pay for.
In the meantime, please send us your questions.   We LOVE answering them and we don't ever want to run out of them!  Give your website development, design, SEO, content marketing and general Internet marketing questions to us on our Ask A Question page, email us at [email protected], or drop us a comment on Facebook or simply kick it old school and use the Pony Express.  We will do our best to answer your question on a future podcast:)     At your next Chamber of Commerce function, make sure you ask the DJ to crank up the MIND Your Business podcast!