13 Halloween Marketing Ideas for Your Business
September 19, 2019

By Ashley Orndorff, aka Marketing Geek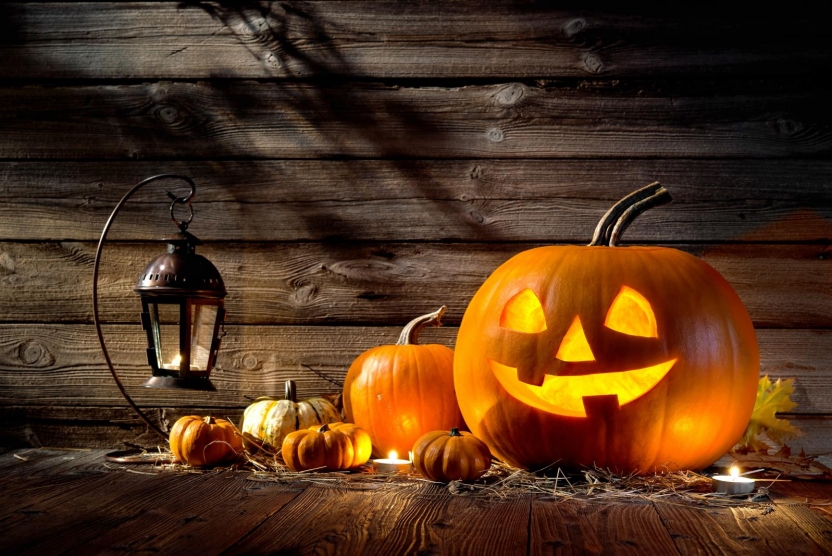 Halloween may not be the first holiday that comes to mind when you think of holiday marketing strategies. But, it's certainly one that should be on your list, especially if you are a local business. It may not be as big as Christmas or the big Cyber Five online shopping days. But, your business can still get involved in all the spooky fun while also boosting awareness of your brand and reaping plenty of benefits. Here are a few Halloween marketing ideas for your business to get you started:
1. Get Involved in Your Community's Trick-or-Treat Night
Whether you are a local brick-and-mortar shop or an online business only, you can get involved in your community's trick-or-treat night.
Become a Trick-or-Treat Stop
If you have a brick-and-mortar location and trick-or-treaters are likely to pass by your business, open your doors during trick-or-treat night and become a stop on the community route. You can give out candy or swag attached to your business card to the adults and candy or small toys to the kids. You can also get little bags printed with your logo and fill them with candy or create branded candy bars to hand out.
If your brand leans towards something more creative, there are always options available for toys, stickers, stuffed animals, and more that allow you to provide something cool that fits your brand. If your business is located somewhere in the middle of the community route, you could even become a relief station and hand out water bottles with your logo on the wrapper.
Host a Haunted House
Use a section of your own building, set up a pop-up, or team up as a sponsor in the community to run a haunted house. This can be a great way to get involved in your community's Halloween celebrations and participate in trick-or-treat night.
This gives your business a chance to start building relationships with people and other businesses in the community. It's networking in a space you've created that's also attractive to your customers. How you approach it depends on your goals and your customer base.
You could collect donations for entry into the haunted house to benefit a local organization. And, then you can provide a little treat bag with your business card or logo attached at the end. Offer a little something extra for joining your email list or dropping a business card on the way out.
In addition to the haunted house, you can also take advantage of social media to get even more benefits outside of the event itself. Set up a table outside the exit running a giveaway that encourages people to take selfies and use a dedicated branded hashtag for a chance to win. You'll get the benefit of UGC (user-generated content), increased engagement on social media, a boost in traffic to your site, and if you do it right, some leads for your business too.
Run or Sponsor a Face Painting Station
Face painting tends to be popular with both children and adults, so consider running or sponsoring a face painting station during your community's Halloween celebrations. You can even get local artists involved.
Kids will have a blast and parents may decide to join in and get their face painted as well. And, if the face painting station is located inside your store, parents may end up browsing while they wait. If you can get a makeup artist and a hairstylist on board, you can even offer a Halloween transformation for free with purchase.
2. Run a Costume Contest
There are a couple of ways you can run a costume contest to benefit your business.
One is to encourage employees to dress up. For those that do, take pictures, promote them on social media, and then ask your fans and followers to vote for the one they like the most by liking, retweeting, etc. and to share their own costumes with you.
You can also switch the focus completely to your customers and encourage user-generated content. The contest would run the same way, the picture with the most likes, retweets, etc. wins. But, in this one, your customers are the ones providing the content.
For both of these options, you can run giveaways where the winner of the costume contest wins a prize and a lucky participant in the voting also wins a prize. You can encourage more engagement by offering extra entries to people who share the contest with their friends.
3. Team Up for a Good Cause
Halloween may be known for spookiness, mischief, and the macabre, but it's also a great opportunity to team up with a local charity for a good cause.
Team up with a local charity to host a zombie walk/run, a fall festival, a Halloween concert with local bands, a movie night in the park, or another event to raise funds for a good cause.
Get involved and have a table at the event with some giveaways, like branded water bottles, reusable cups with your logo on them full of hot apple cider, t-shirts, bumper stickers, etc.
This is a great way to get your business involved in your community, increase brand awareness, and promote a good brand reputation.
Do some outreach to increase participation in your event and include journalists. You might end up with some good PR and perhaps a few backlinks to your website as well.
4. Make Sure You Decorate Your Store
If you have a brick-and-mortar retail location, decorate your storefront and inside your store to help customers get in the spirit of Halloween.
Basic decorations like window clings and fake cobwebs can go a long way towards creating a spooky atmosphere that's fun to shop in. Offer small branded goodie bags or a branded reusable trick-or-treat bag with every purchase to complete the theme.
You can also get involved as an online business by "decorating" your website for Halloween. A Halloween-themed reskin can make your website stand out during this spooky holiday. If a complete temporary reskin is too much of an undertaking, you can always work with web developers to incorporate some small spooky surprises throughout your site.
A "spookified" logo is a small change that can make a big difference. Interactive ghosts, zombies, or other elements throughout your site can make for a fun user experience that increases user engagement too.
5. Use Limited Time Offers
Holidays are a classic time for businesses to offer sales, bonuses, coupons, special discounts, and more. Halloween is another great time to develop a limited time offer. Limited time offers work and operate on a few principles – scarcity, social proof, FOMO, and commitment.
The Scarcity Principle
The scarcity principle describes the idea that we place a higher value on an object that is, or appears to be, scarce. We want what it seems we cannot have – just look at the phenomenon "Black Friday" has become.
Also, remember the last time you looked at a product on Amazon or went to add it to your wishlist and it showed how few there were left? That's Amazon putting the scarcity principle to work in their marketing to encourage a purchase.
Social Proof
There are other principles that feed into the scarcity effect, like social proof, FOMO, and commitment. If a product is available for only a short amount of time, especially because it is sold out or has a low inventory, it is often perceived as being a quality product. After all, if everyone else is buying it, it must be good and I should get it while I can – that's social proof.
FOMO
FOMO, or the "fear of missing out," is a more recent phenomenon tied to the rise of social media. In a world that is always connected, we have begun feeling apprehensive when we disconnect – what if we miss something fun or interesting?
That's exactly what FOMO is – the fear, anxiety, or apprehension that you're missing out on an exciting or interesting event happening somewhere else.
When there is a limited time offer on the table, FOMO will sometimes kick in and give customers a push to take advantage of it while they can so they don't risk missing out.
Commitment
Commitment, at least in the world of social psychology, is when someone has committed themselves to something like purchasing a product, finds out they cannot have it, and then wants the item even more.
A limited time offer engages these principles, which can encourage your customers to grab their chance before it's gone. If you have a rewards or loyalty program, double the points your customers can accumulate for actions they take during a specific time.
Limited Time Offers in Action: PokémonGO Halloween Event
When it was released in 2016, PokémonGO was one of the most popular apps of the summer. Years later, it's still popular around the world. Aside from having a dedicated fanbase already in fans of the Pokémon brand, the app has also engaged fans with real-life events and limited time offers and events within the game.
Every year, PokémonGO's Halloween Event employs limited time offers to its benefit. In the first year, the event catapulted the app back to the top of the "highest-grossing" app charts. And, in the years since, the event helped bring players back the app, increase engagement with the app by rewarding players for their interaction, and also boosting revenue generated by the app thanks to in-app purchases of limited-time bundles.
But, you don't need to have an app or a rewards program to make this tactic work for you. Offer a special BOGO (buy one, get one), 50% off, or other valuable promotion to customers who stop by your store, join your email list, refer a friend, make a purchase, etc. during a limited time to create your own Halloween event.
6. Send Out an Interactive Direct Mail Promotion
Although there are people who think print is dead, direct mail can still be an effective marketing tactic. Sure, sending out a ton of printed pieces to everyone usually results in low response rates, but promoting something relevant to your target audience that is also designed well? That can keep your promotion out of the trash and lead to a much better response rate.
92% of young shoppers report they prefer direct mail for making purchasing decisions with the number averaging out at 67% across all ages. But, you don't want to cut email of your strategy either. 51% of shoppers prefer companies to use a combination of direct mail and email when communicating with them.
Send a spooky postcard with a promotional scratch-off. Take it a step further and integrate your marketing efforts by connecting it to a special Halloween adventure on your website with a custom URL, QR code, or beacon technology.
7. Create a Spooky-Themed Email Series
Email, when it's done well, is an effective marketing strategy, especially during the holidays. Whether you pair it with a direct mail promotion or create a standalone email campaign, a spooky email series can take your Halloween marketing to the next level.
Think about this – an estimated 91% of consumers check email at least once a day on their smartphones and email has a 66% conversion rate for online consumers when it comes to purchases made as a result of receiving a marketing message.
Create a spooky-themed email series to take your subscribers on a Halloween adventure. You can create a "choose your own adventure" autoresponder series that takes them through a haunted house, a graveyard, a zombie apocalypse, etc.
By offering small rewards throughout and a larger reward at the end, you can encourage engagement with your campaign. Offer them coupons or points for participation with a valuable limited time offer at the end. Take it a step further by offering a referral bonus to increase the reach of your campaign and also increase leads.
8. Develop Halloween-Themed Product Bundles
Product bundles can be a great way to create an attractive offer for your customers and increase orders. Bundle your products into various fall and Halloween themes to turn this tactic into a Halloween marketing idea.
Depending on the products you have available, you can group them into spooky segments like vampire, zombie, pirate, ghost, etc. Though this tactic works especially well for fashion & apparel brands, it can also apply to food suppliers and other industry verticals.
9. Host a Spooky Scavenger Hunt on Social Media
Social media is a great way to engage with your potential customers any time of the year and particularly around holidays or themes. Create a buzz around your brand and engage people by hosting a scavenger hunt on social media.
Post a series of clues on your chosen platforms or across platforms. You can even take an integrated approach and have the clues span across different channels. Once a customer has all the pieces and solves the puzzle, give them a special promotional code they can use in-store or on your website to receive a discount or something free.
You can also place physical clues around town for customers to collect. Post pictures of the clues on social media so customers know where to go. Then, bring them into your store for a gift card or coupon to complete the hunt.
With a retail location, you can get customers to explore your store by creating a treasure map for them to follow. They'll get a little something special at each station and a gift card or another prize for completing the journey. Promote the activity on social media to increase foot traffic to your store and increase participation.
Whether it's a rhyme, a riddle, or a scavenger hunt, online, offline, or both, this Halloween marketing idea creatively ties social media and a fun activity together to benefit your business.
10. Generate a Local Halloween Event Guide
Whether you create it online, in print, or both, making a guide to all of the local Halloween attractions and events can seriously benefit your brand. It's a great way to get on board with some local marketing and provide a valuable resource as well.
If you're running an event of your own, partnering with someone, or sponsoring something, it's a great way to advertise it. Plus, you'll be providing a very valuable piece of content visitors to your site can download or share on social media. If you plan some PR outreach accordingly, you might be able to earn a few quality backlinks for your website too.
11. Publish Halloween-Themed Content
No matter your industry or business, there are plenty of opportunities for you to publish Halloween-themed content. Social media graphics, quotes, pictures, and more with a Halloween theme are a great way for almost any brand to join in on the Halloween fun.
You can also get more creative with Halloween-themed blog posts. Another option is to create content that focuses on "scary" fails or consequences related to your industry and target audience along with some good tips on what to avoid and how to "stay safe".
12. Build a Limited Edition Halloween Product
When it comes to Halloween or any other holiday, you can pair product development and a limited offer by creating a limited edition Halloween product. Food & beverage and fashion & apparel brands are notorious for creating limited-edition Halloween-themed products. Developing a brand new themed product may not make sense for every business, but with some creative messaging and/or packaging, just about every business can make this tactic work for them.
13. Produce Halloween Party Favors for Your Top Clients
Whether you are B2B or B2C, it makes sense to keep in contact with your top clients. Good communication, rewards, customer retention strategies, and more can all help you connect better with your customers and increase loyalty.
As long as it fits your target audience, you can create little bags or Halloween party favors that you can send to your top clients and customers. This is a great way to delight and surprise your customers, have a positive touchpoint with them, and do some Halloween-themed marketing for your business.
Whether you take it on alone or team up with other organizations, there are plenty of Halloween marketing ideas that let your business get a little spooky for Halloween while also fostering growth.