What Businesses Should Know About Snapchat
August 23, 2018

By Ashley Orndorff, aka Marketing Geek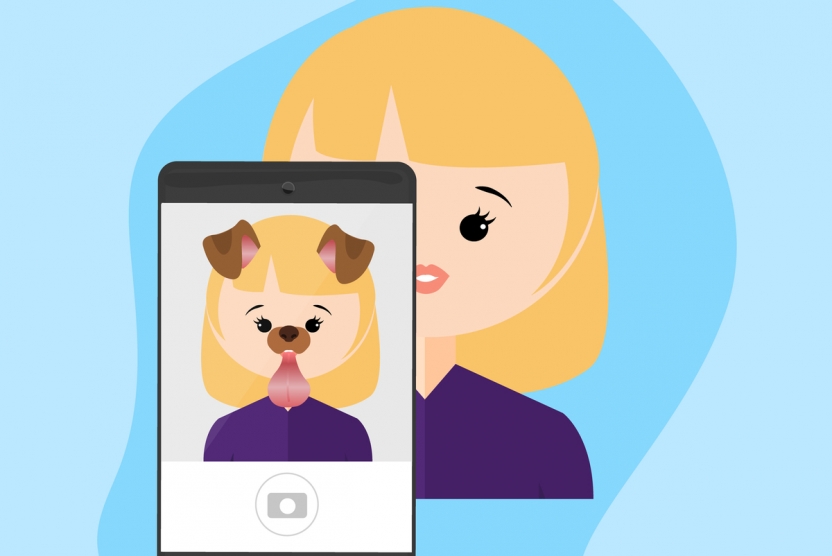 Snapchat is known for its user-to-user connections, "disappearing" content, and, of course, all the crazy filters. The facial recognition software paired with insanely creative filters and ever-increasing features all work together to offer a unique user experience on the platform. Snapchat is a dynamic sharing service that continues to increase in popularity. Although the platform is mostly playful, there are opportunities for businesses to engage and interact. Here's what businesses should know about Snapchat:
1. There is a hefty active user base.
Although Snapchat is not as big as some other social giants like Facebook, Instagram, Pinterest, or YouTube, their user base is nothing to scoff at or ignore. Snapchat boasts over 300 million active monthly users and around 210 million users who are on the app daily. Between photos and videos, these users are creating over 2 million snaps every single day and racking up more than 10 billion video views daily!
2. The demographic is mostly younger.
Snapchat's demographic is mainly younger. Around 90% of Snapchat users range between 18 and 24. Snapchat users are also mostly female. Users identifying as female make up around roughly 60% of all Snapchat users. These demographics, paired with overall user numbers, make Snapchat a platform ripe for interactions with businesses.
3. It's more than temporary content.
Snapchat may be known for its temporary content – snaps that disappear after the recipient views them, unless they are saved – but it's also so much more than that. In addition to photos, users can also create short videos or a collection of photos or videos to make a story.
In 2016, Snapchat released "Memories", which will show a user older posts and allow them to retrieve them. Much like Facebook's "On this Day" feature, Snapchat "Memories" stay private until users decide to post or share them. This is a way for users to maintain the privacy and temporary content Snapchat gives them while also making old memories available for reposting.
4. There is space for businesses.
Snapchat offers space for businesses and its user base is keen to interact with things that interest them. In addition to normal Snapchat usage, there is also a Discover section. This was launched early in 2016 and allows users to view content from media organizations.
The key to Snapchat is to keep things basic, brief, and engaging. This could be a funny snap to make users laugh or something more business-related. You can share quick snaps of new stock, share happenings throughout an event, offer brief sneak peeks behind-the-scenes, send teasers for an upcoming event or product release, advertise a flash sale, and so much more.
Setting Up Your Snapchat Account for Business
Snapchat is a mobile-only platform, so you'll have to download the app to your smartphone first. From there, you'll need to use your personal details to sign up. You can choose a username and profile pic to represent your business, but you'll need to enter your name, email address, and more in the Settings to claim your account.
Make sure you put some thought into your username because you cannot change it once it has been created. Also, when people don't have access to your snapcode, they'll type in your username to find you, so make sure it relates to your business. You also need to have an account in order to advertise on Snapchat, so regardless of what you want to do moving forward, this is your first step to getting started on Snapchat.
5. Advertising options are available to help you build your audience.
Once you have a Snapchat account, you can start building your audience. One way to do this is to start snapping and let social media followers on other networks know you have the channel. Another way is to include your snapcode on your website.
In addition to these slower, more organic methods of growth, you can also use ads to increase brand awareness and start building your audience more quickly. These are the five main advertising options available to you on Snapchat. Four options are official Snapchat advertising options and one is not mediated by Snapchat:
Snap Ads
Snap Ads are vertical videos that offer an interactive element. They are full screen, range from 3 to 10 seconds long, and can include a clickable call to action to visit a target link. Most ads include audio, but you don't necessarily need to include it for a successful ad.
As a note, the audio will play automatically when the user's sound is on. You can also use a still image for these if you would like, but most ads tend to be live or feature some sort of motion, even if it's just in the form of a slideshow.
Sponsored Geofilters
Sponsored geofilters allow you to create a Snapchat filter that is specific to your location. It encourages users to share snaps from your business because the filters are only available in those locations. Geofilters can also be applied nationwide to allow your business to sponsor a filter for a theme, a holiday, or an event. Geofilters are a great way for your brand to promote or participate in events.
In 2017, Snapchat launched On-Demand Geofilters, which allows all users to design a custom geofilter. Templates are available and you can customize with colors, words, and more. Prices start at $5.99, which makes it an affordable add-on to your Snapchat marketing strategy.
Sponsored Lenses
Sponsored lenses are like geofilters, but are more interactive. Lenses are part of the filter family. Their function is most highly recognized by the facial recognition required to turn users into dogs, add flower crowns, puke rainbows, or add another animated function to their snaps. You can create your own lens with Lens Studio to share with friends or sponsor one through the Ads Manager to reach a wider audience.
There are three triggers to make a lense work – the initial face detection, adding the reaction, and then the final product, which is available for you to share. However, sponsored lenses do not come cheap. Prices vary depending on the time of day, popularity, events, etc. but each will cost you several hundred thousand dollars a day. Reported estimates for Sponsored Lenses are $450,000 a day for Sunday through Thursday, $500,000 a day for Friday and Saturday, and $700,000 a day for holidays/special events.
Shoppable AR
Sponsored lenses tend to drive three times the brand awareness than other methods and two times the purchase intent. This is great news for businesses because users can purchase items through face or world lenses without having to leave the Snapchat app. This is called Shoppable AR. It's a newer Snapchat feature and also can be relatively pricey to get started. These options are sold through a bidding process that starts at $100 a day and requires the user to swipe up to open the camera.
Another option starts at $40,000 a day using a pre-negotiated price per thousand users (CPM) and is accessible through the main camera function. An additional option is to pay extra in order for your lens to be the first one that shows up to everyone. Right now, the price point limits the Shoppable AR experience to bigger brands with an established presence and much larger marketing budgets.
Snapchat Discover
With the addition of the Discover section, featuring stories from large media organizations, businesses have a dedicated space in the app where they know users are specifically browsing business content. There are opportunities for brands to advertise within these stories. This option, too, requires a large marketing budget. Most of these ads begin at $50,000 a day, live stories start at $250,000, and competition can be high. Prominent and preferred ad spots in the Discover section tend to be already reserved for well-known publications and brands.
Working with Influencers
Working with influencers on Snapchat is one way to advertise your business on Snapchat, but it is not mediated or offered by Snapchat itself. Social media influencers have large audiences and partnering with them can result in a huge boost in your brand awareness and potentially in revenue too. Generally, influencers promote a brand or a product for a fee.
To stay within FTC regulations, they need to disclose in their post that it is a sponsored promotion. However, having the right influencer or set of micro-influencers promote your brand or your product can result in a big return on investment many times over for your business. Plus, Snapchat made it even easier in 2018 when they added a feature that allows users to tag other users, including your company username, and attach a link to their snaps.
Social media can be a great addition to your marketing strategy and, as long as the target audience is right, Snapchat can be a great addition to your social media marketing. With this information on what businesses should know about Snapchat in hand, your business is ready to start snapping!