What Businesses Should Know About Instagram
April 5, 2018

By Ashley Orndorff, aka Marketing Geek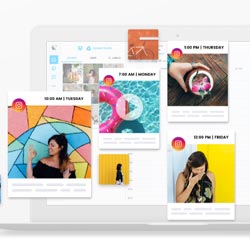 With so many social media options out there, it can be hard to narrow down what's right for your business. As the second most popular social network in the US, it's likely your customers are on Instagram. Each social network has its own rules, styles, and best practices. Here are a few things businesses should know about Instagram:
1. Facebook Owns It
As the largest social network in the world, Facebook owns a lot of stuff. One of their biggest acquisitions was Instagram in 2012. Since then, they've owned the visual mobile platform and have integrated it into Facebook.
2. It's the 2nd Most Popular Platform in the United States
Since its initial launch in 2010 to iOS devices, Instagram's growth has been rapid. Within the first two months, over one million users were registered. Within the first year, the user base grew to 10 million. April 2012 marked the release of Instagram to Android devices. From there, growth only continued to explode.
Instagram is the second most popular social media network in the United States with Facebook as the first. By September 2017, Instagram boasted 800 million monthly active users, 500 million of those users are active every day.
In addition to being incredibly popular, Instagram also has the highest engagement rate across all social networks. Instagram users share 95 million posts per day, "like" over 4.2 billion posts a day, and boast a 2.2% follower interaction rate, which dwarfs any other network, especially Facebook's 0.22% interaction rate.
3. Download the Mobile App
Although there is a desktop version of Instagram, you can't post pictures through it. You can edit your bio, scroll through your feed, and "like" photos. You can also see your notifications.
However, without third-party tools, you can only share posts through the mobile app. So, make sure you download the mobile app in order to get the most benefit from the platform.
4. Get a Business Account
Once you have an Instagram profile, turn it into a business account and make sure you write the perfect Instagram bio. This will give you access to the business features, which include analytics and a lot of extra advertising features.
5. It's All Visual
Instagram is a visual platform. It's all about images, short videos, and stories.
Images
Images are the most popular form of content on Instagram. Make sure you're posting quality images. Instagram is a mobile photography platform. So if you're using images from a DSLR camera or your phone, sharpen them and adjust them for the web first before uploading them to your Instagram account.
Videos
Instagram videos are a great way to engage with your customers and to start delving into video marketing. Did you know that consumers are 64%-85% more likely to buy something after they've watched a video about it?
Video marketing can be a great way to introduce people to your products or services, answer frequently asked questions, share a short demo, create a short commercial, introduce customers to the people behind the scenes, and more.
You have plenty of options when it comes to Instagram video. You can record a video directly through the app on your phone and post it right away or you can use your phone to record video and post it to Instagram later. You can also post a pre-recorded video file or you use Instagram Stories to record video. You can even record live video as well!
The length of the video varies depending on the post type. You can record live video for up to one hour. However, it will no longer appear in the app once it's over, unless you share a replay of it to your story. A regular video post to your Instagram profile can be anywhere from three seconds to 1 minute. If you're recording a video in Stories, it can be up to 15 seconds long, but you can record multiple videos and add them to your story to create a longer narrative.
Instagram Stories
Instagram Stories launched in August 2016. It's a video content tool that allows users to compile videos and/or pictures into an album. Your Instagram Story will be visible for 24 hours. After that, it disappears. You can make stories available after the 24-hour mark by adding them to your profile as a highlight. These show up below your profile photo.
You can post to your story as many times as you want throughout the day and videos can be up to 15 seconds long. Also, your Story is the only other place, aside from your Instagram bio, where you can add an active, clickable URL.
6. It's Common to Interact with Businesses
It's common for Instagram users to interact with businesses on the platform, which is an important thing for businesses to know about Instagram. This means it's normal to see businesses sharing content on that social network. You're not breaking new ground or needing to get a community used to businesses – the culture's already there. In fact, 80% of Instagram accounts follow at least one business.
7. There are Plenty of Advertising Options
Instagram offers plenty of advertising options, including photo, video, carousel, and stories ads. You can also boost posts from within the Instagram app to promote them. Since Facebook owns Instagram, ads used on it are created using the Facebook Advertising platform. If you're thinking about getting started on Instagram, your business is likely already on Facebook. If not, you need a Facebook Page and here's what your business should know about Facebook.
Photo Ads
You can go for a simple photo ad that shows up on your targeted users' feeds. These photo ads can be the standard square that Instagram is known for or they can be in landscape format.
Video Ads
Add sight, sound, and motion to your ads by using video. You can share and promote videos up to 60 seconds long in either square or landscape format.
Carousel Ads
You can create a photo series by making a carousel post. You can also use this post type as an ad on Instagram. This allows users to swipe in order to view additional photos or videos within a single ad. It's a great way to add more narrative and depth to your advertising campaign.
Stories Ads
You can also create ads within Instagram Stories. 300 million accounts currently use Stories. Of those, one-third of the most-viewed come from businesses and one in five get a direct message from those who view it.
When viewing a Story, it happens in vertical, full-screen format, which gives viewers a more immersive experience. Using Stories, you can target your ad using various options to best reach your customer.
8. There's Space for Ecommerce
Another big thing businesses should know about Instagram is that there is space, and there are opportunities, for ecommerce companies on it. Between photos, videos, and ads, there are tons of opportunities to showcase your products and generate interest.
It's also worth the effort. Followers on Instagram have a $65 Average Order Value, $10 more than Facebook fans. In addition to sharing great photos of your products, promoting them in ads, and making the best use of links in Stories and in your bio, you can also use other Instagram features third-party tools to increase "shoppability".
Shopping Tags
The Shopping Tags feature on Instagram allows businesses to add price and description tags to an image. This allows you to "tag" certain products within an image to offer more information about them to an interested buyer and allow them to click through to your website for purchase. This feature helps to boost product discovery and increase sales.
At first, it was only rolled out to a small pool of eligible businesses. However, Instagram opened shopping tags up to more businesses in March 2018 to include fashion businesses and certain merchants in other countries as well. You need to set up an Instagram Business Account and a Facebook Shop to become eligible for shopping on Instagram.
Like2Buy
Like2Buy is one of the common third-party tools to further link ecommerce with your Instagram feed. This tool integrates your product feed with the photos you share on Instagram and links them back to related product pages to allow your customers to shop easily. It sets up a Like2Buy gallery that allows your customers to window-shop online and then click in order to purchase on your site.
9. Optimize Your Posts for More Reach
One of the things businesses should know about Instagram is that there is more to a successful post than just the picture or video. Once you have what you want to post, then you want to make sure you're optimizing your post for optimal reach. These are some good tips to help you write better Instagram captions and round out your Instagram posts:
Stay Within the Character Count
Instagram allows your caption to be up to 2,200 characters. However, it's generally not a good idea to write a caption that long. Keep in mind that Instagram is a visual platform. Users are normally scrolling through their feed looking at pictures; they're not usually spending a lot of time reading captions. So, you want to keep post captions shorter and to the point.
There isn't a designated "optimal length" just yet. Some studies have shown between 130 and 150 characters as a great caption length, others do not show evidence that caption length matters that much. Usually, the best approach is to figure out what will be the most valuable and engaging idea for your users. Then, try to say it concisely, and with the appropriate hashtags, of course.
Hashtag Away
An important thing businesses should know about Instagram is that hashtags are normal and common. So, make sure you include them in your post caption.
Hashtags help you increase the reach and engagement of your post, and extend its shelf life by allowing users to continue to find it as they explore topics they care about. Posts that use one hashtag or more average 12.6% more engagement over posts that don't use any.
You are allowed up to 30 hashtags per post on Instagram. It's tempting to throw as many as possible into your caption. More does tend to be better; however, keeping it between 9 and 11 hashtags seems to be the best range.
Most importantly, make sure you're only using hashtags that are relevant to your post. Between using tools, searching Instagram by topic, checking out competitors' posts, and more, there are a ton of ways to find the best hashtags for Instagram.
Use @Mentions
Including another user's handle in the caption of your post can result in 56% more engagement, on average. It may be tempting to start using @mentions as much as possible, but it's best not to overuse this feature.
Using it authentically, which means only when it is relevant and not spamming users, is when you expand your reach. Using it abusively or inauthentically in a way that spams users will quickly get your account deactivated.
Tag Your Location (Geotagging)
Geotagging, or adding your location to your posts, is a great way to increase reach for any localized posts you add to your feed. In fact, posts that are tagged with a location tend to get 79% higher engagement. The location tag adds another layer to your post and allows users to continue to discover it.
Cross-Promote
When you have interesting content on Instagram, don't be afraid to cross-promote and share it on other platforms. Cross-promote your account as well to let your fans on other social networks know they can connect with you on Instagram.
With these tips and all these things businesses should know about Instagram, your business is ready to start tackling Instagram! For help with social media, or your website, contact us today for a meeting of the MINDs.