Your Internet Marketing Compass for 2016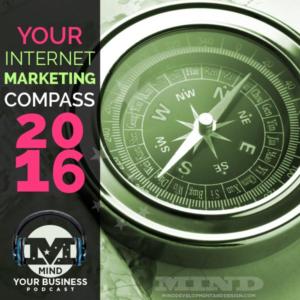 Internet Marketing 2016: Know Where You're Going
Last week we discussed how to weather the changes with regard to Google's search engine algorithm because they're doing a lot of testing and experimenting as they incorporate RankBrain into the main Hummingbird algorithm and there's never a dull moment when it comes to the search engines.
This week, we're setting the table for upcoming discussions with our social media swami Kris Bradley and our VIP with the 411 on the ROI on your PPC, Fabio Cuffaro, and we're talking about your Internet marketing as a whole and how the pieces work together to successfully guide you through the raft (no pun intended) of changes that ultimately come from Google's algorithm updates.
What should you be doing to guide your business through 2016?  We will get you started right here!
In the meantime, send us your questions.  We LOVE answering them and we don't ever want to run out of them!  Give your website development, design, SEO, content marketing and general Internet marketing questions to us through our JAM session form – Just Ask Mind – or drop us a comment on Facebook.  We will do our best to answer your question on a future podcast:)     At your next company meeting, make sure you ask the DJ to crank up the MIND Your Business podcast!