Weathering Algorithmic Changes And Improving Ranking: Riding The Storm Out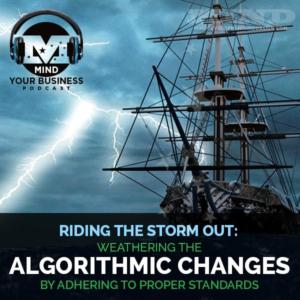 How To Weather Algorithmic Changes Through Proper Standards On Your Website
We talk a lot about SEO and social media management on the MIND Your Business podcast, but this week we're going to discuss your ship – your website – and the importance of the foundation of your ship in your endless quest to get found online.
Simply put, if you're gonna go REO Speedwagon and ride the storm out with regard to the algorithmic changes today and on the search engine horizon, your ship must be built properly and built to last.  Coding must be proper on the development end and design practices must be proper, as well.
It all starts with YOU.  How well do you know what you want?  Are you afraid to trust a designer or developer?  Are you tired of fruitless committee meetings?  You need the right information and tools to help you make the best decisions for your business.  We've got both for you this week.
This podcast will help you in your decision making and get you on the road to a better foundation for your website, which will make all of your Internet marketing efforts more fruitful.  This is all about fruit, right?  Bananas, oranges, apples…and the cabbage (vegetable) we need to buy them.
In the meantime, send us your questions.  We LOVE answering them and we don't ever want to run out of them!  Give your website development, design, SEO, content marketing and general Internet marketing questions to us through our JAM session form – Just Ask Mind – or drop us a comment on Facebook.  We will do our best to answer your question on a future podcast:)     At your next block party, make sure you ask the DJ to crank up the MIND Your Business podcast!