by Marqeteer on

Friday, June 24, 2011
Websites come in all shapes, sizes, colors and levels of user-friendliness. We've blogged before about the importance of your website being easy to navigate and, thus, being user friendly. One aspect of user-friendliness that is often overlooked is the ol' bells and whistles and how they can be a deterrent to visitors.
Specifically, let's look at those cool looking flash-player video presentations, slide shows and such that are built into the home page of your website so as to make a great first impression on your visitors. While some of these effects can look incredible, they can also cause your website to load slowly or, depending on the computer and the connection, even freeze the computer it's loading on.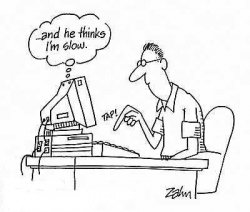 All kinds of people with all kinds of computers and all kinds of connections will be looking at your website, and a good web development and web design team will work with you on what your best options are. Most often, the "keep it simple" rule applies. Be aware that those fun interactive and flashy bits take up some space on your site in the way of scripts and programming. If they aren't included properly or written poorly, your site will suffer! Not to mention the fact that now most search engines, like Google, take loading time as a key factor for page ranking and SEO.
Heck, look at our website. We have a definite design image and a simple "slideshow" of our services. Nothing too over-the-top that would cause our site to load too slowly, as connections and computers vary greatly from one user environment to another.
If your website loads too slowly, it's extremely easy for the visitor to click and go somewhere else…Without ever really seeing your site.
Related Posts:
Mark Boyd+ is our writer and marketing pro! Feel free to hit him up on Twitter @marqeteer Or leave him a message here! Mark likes to play guitar and is currently researching keyword stuffing in song lyrics.