Why You Need A Powerful Backlink Checker Tool
November 5, 2020

By everybody , aka mind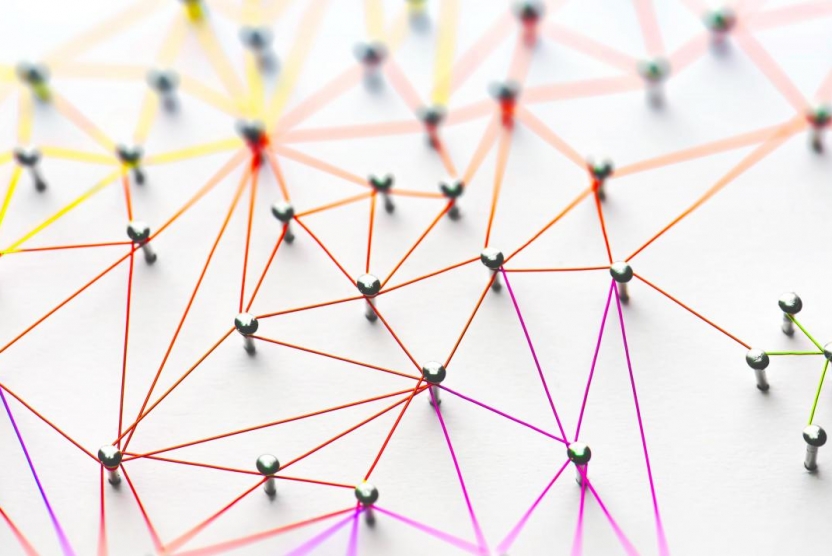 Does it feel like smashing your head against a brick wall trying to build the perfect backlink profile?
If this sounds like you, you're probably in need of a backlink checker tool. A backlink checker tool can make life easier by providing you with crucial information about your website and your competitors' websites.
But, what tools should you be looking at?
Here's what you need to know about the top two backlink checkers and how they were tested:
What Makes A Powerful Backlink?
Before getting into what makes a powerful backlink, you need to understand what a backlink is and how it benefits you.
A backlink is a hyperlink that points to your site from another using a specific anchor text.
They act as a vote of recommendation to your page. The more votes your page has, the more authoritative your site and content is to search engines!
At this point, it's important to mention that not all backlinks are created equal. It's not just about the number of votes to your page, but how relevant and authoritative those votes are as well. Any beginner's guide to links should mention that!
This means to create a powerful backlink you need to think about two factors:
1. The Referring Site's Authority
The more authority the referring site has, the more the vote is worth. For example, links from the likes of Forbes or The Wall Street Journal are worth more than a link from a lower level blogger.
2. The Relevance of the Topic
The page's authority means nothing if the referring sites are not relevant to your content. If you are trying to build a link to an article then stick to link building on websites in that niche.
There used to be a time where you could place spammy links anywhere, and it would significantly increase your rankings.
But, times have changed, which means you need to be a lot more careful with how you approach link building.
If you want to avoid the risk of Google penalization, you need to avoid spammy looking guest post farms and other sources.
You can identify them pretty quickly; they usually say things like:
Write For Us
Submit Guest Posts
Not every site that accepts guest posts will be an issue. Some can be a great resource for reaching new people, building authority, and more. But, you do want to be careful because mediocre content on low-quality sources for the sake of getting a link causes more harm than good.
You also need to use the right mix of anchor texts. If you use the same one repeatedly, then you aren't going to get the maximum benefit out of your backlink profile. And, if it's the exact same keyword over and over, even when other anchor text makes more sense, is a red flag for spammy link building and can be a sign of trouble.
To avoid this, you need to mix it up the anchor text by using things like:
Branded keywords
Topic related words
Target keywords
Finding out which anchor text you should use might seem pretty tricky, but it doesn't have to be, especially when you have access to a backlink checker tool.
It really is that easy!
2 of the Best Backlink Checker Tools On The Web
Building a strong backlink portfolio can be pretty strenuous and very time-consuming. But, it doesn't need to be.
With the right backlink checker in your toolkit, you can work wonders.
Ahrefs and SEMRush have been outperforming all the other backlink checkers for some time now.
Matthew Woodward put both tools to the test along with two other backlink checkers to see how they performed at collecting the data from one million domains.
The domains were pulled from the Majestic Million and ran through each one of the tools. The idea was to find out which backlink checker returned the most:
Referring Domains
Referring Subnets
Click here to see the full results of the test.
Here's what you need to know about the top performers:
1. Ahrefs
Out of all the backlink checkers on the market, Ahrefs has the most extensive backlink index. You can use the tool to analyze your competitor's backlinks.
But, more importantly, you can use the data to outrank them by building a stronger backlink profile!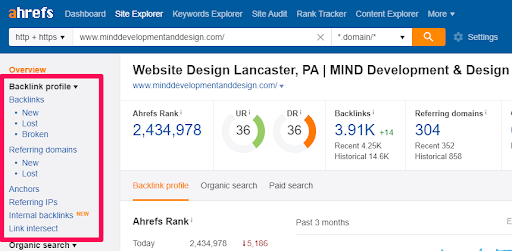 When it comes down to it, Ahrefs has a few main features that help you with your backlink profile.
Anchor Text
Over-optimizing your keywords is a recipe for failure, which you can help avoid by using Ahrefs.
Ahrefs lets you check the anchor text your pages are using and you can then compare it to the top ranking websites to see what types of anchor you need to be using when building your next batch of links.
To check out the anchor text on your links, enter your domain into the site explorer.
On the left-hand side of the screen, you'll see a tab called Anchors; click it, and will give you a detailed report of all the anchor text variations pointing to your site.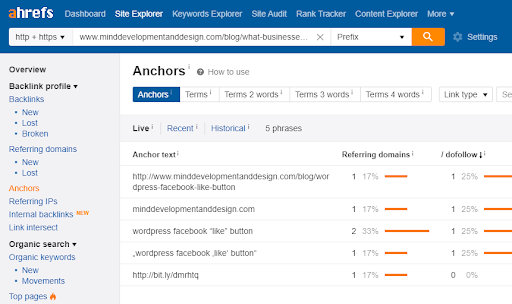 You don't want to see loads of exact-match anchor texts, it's a warning sign your backlink profile is over-optimized.
You'll need to go through anything that looks suspicious and disavow the links.
Find Spammy Links
Spammy looking links are a sure-fire way to kill your link building efforts, which is why you need to check the quality of your links.
To find spammy links, enter your domain into the Ahrefs site explorer and click on "Backlinks".
Ahrefs then generates a list of all the links that point to your site.
Use the DR rating filter to organize the list from lowest to highest. You're looking for links that are low-quality, irrelevant, or suspicious.
The most common spammy links tend to be foreign sites, particularly if you are not an international brand or are not translating your content into other languages. You can use the language filter to speed things up.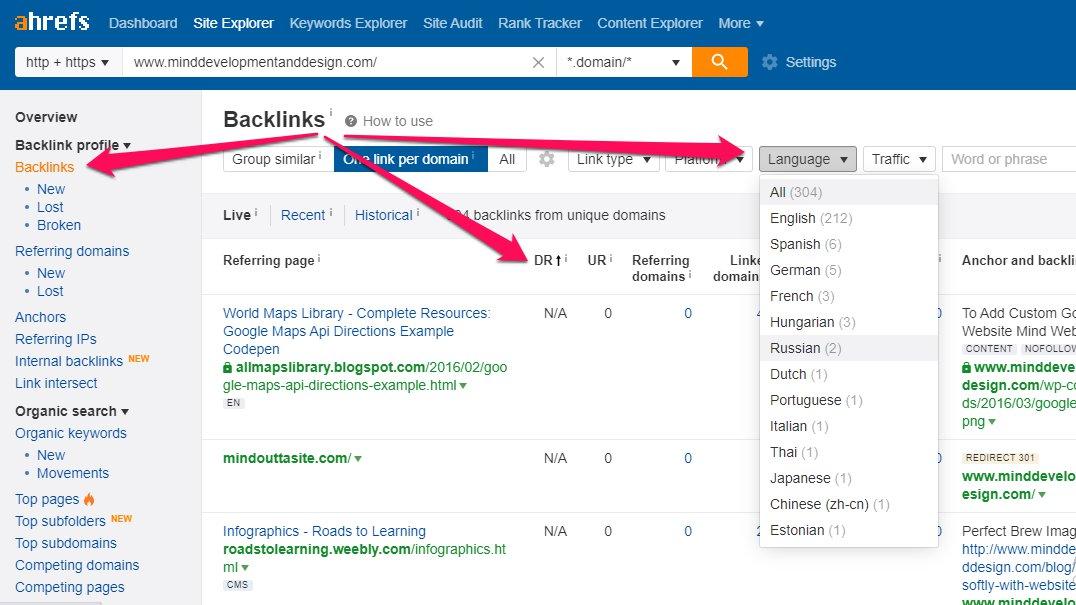 Fix Broken Links
Broken links break your user experience, which is something you don't want. Ahrefs makes it very easy to find all your broken links so you can fix them.
Use the site explorer and navigate your way to "Outgoing links", and then "Broken links".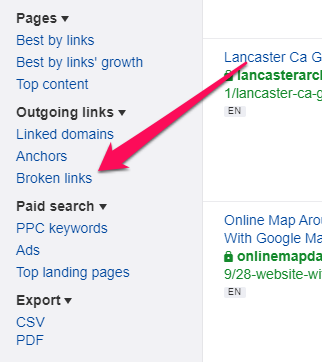 Ahrefs will then generate a list of links that need to be fixed. If links are broken, you should either fix them or redirect them to the next most relevant page. Just make sure you're avoiding common redirect mistakes that can mess up your user experience.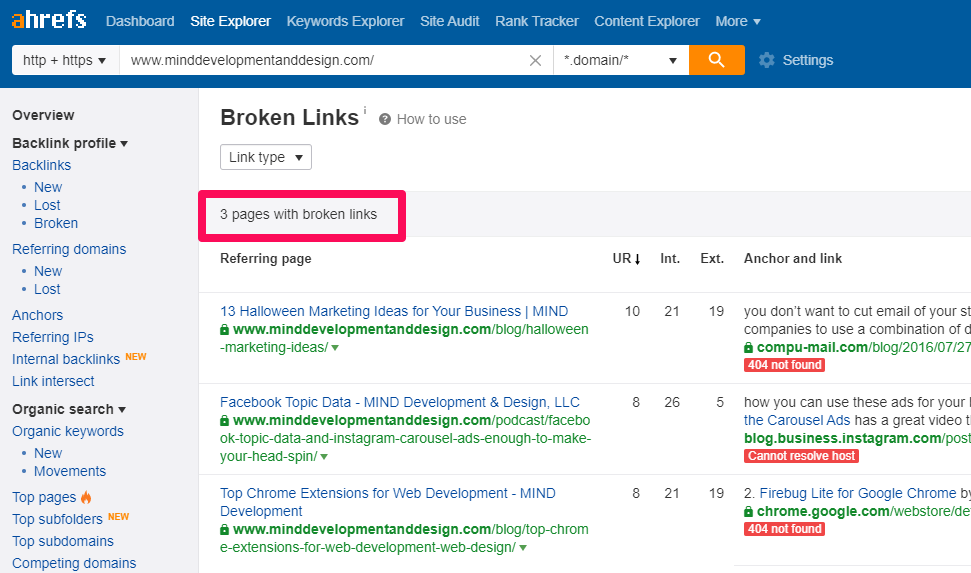 Other Features
Ahrefs can do so much for your link building efforts. The branded alerts feature will send you alerts whenever someone uses your name or any other branded term.
Sometimes people might mention you, but they may not have linked to your site. These alerts make it easy to score quick links.
Perhaps the most powerful link building strategy you can use Ahrefs for is competitor backlink analysis. In other words, spy on your competitors and then replicate their links.
2. SEMRush
Although Ahrefs outstrips all other backlink checker tools when it comes to link analysis, SEMRush is a valiant runner up and not to be discarded.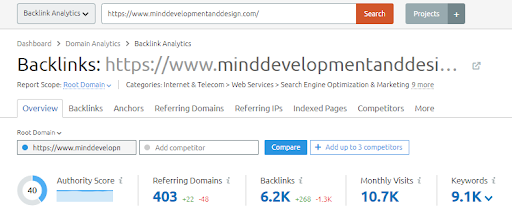 With SEMrush you can see all of your backlinks, anchor text, and a bunch of other helpful data that can also be used to help you improve your marketing efforts.
Spy On Your Competitors Backlinks
Spying on your competitors is an excellent way of formulating a plan to outrank them. And, it can be done relatively easily using SEMRush.
Simply enter the domain name you want to research in the search menu, and use the drop-down menu to select Backlinks.
SEMRush will then show you the entire backlink profile of your competitor.
You can do this with specific pages so you can break the backlinks down to be page-specific.
Compare Five Domains
Running backlink checks on all of your top competitors can be pretty time consuming, right?
Well, SEMRush will speed the whole process up by giving you an overview of all the sites in one place.
Pretty cool, eh?
Wrapping Up
Before you leave, you need to remember a few things. Firstly, backlinks are like votes of recommendation to your site.
The more you have, the better, as long as they are relevant and high-quality.
You have to think about the authority and relevance of the site. If you don't, Google could penalize you. By far, the best backlink checker on the market is Ahrefs; it has an extensive index of backlinks that is unmatched in the amount of data it provides.
However, SEMrush definitely wins out when it comes to keyword research and using data to generate content ideas. And, their link analysis is still pretty powerful too.
When it comes to choosing the best set of tools for you, it all depends on what you're trying to accomplish and the data you need to analyze. You can't lose if you pair SEMrush and Ahrefs together along with other tools!