How to Identify Your Customer Journey
February 23, 2023

By Karen Layman, aka Karen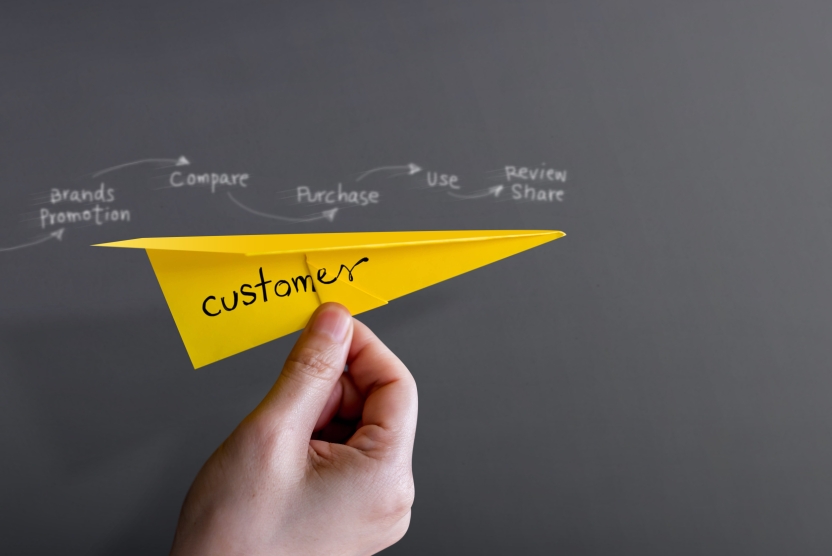 Identifying your customer journey is an important part of your marketing strategy. However, it can be difficult to figure out your customers' habits. Plus, every time you think you have figured it out, something new pops up. Here's how to identify your customer journey.
What is a Customer Journey?
A customer journey is a customer's end-to-end experience with a company, brand, or service. This can include anything from a direct interaction with a customer service representative, or an indirect interaction such as hearing about a brand on television. Other types of interaction include viewing an advertisement on social media to receiving an email from your place of business.
A customer journey includes all the interactions or touchpoints a potential customer may have on the path to becoming an actual customer, from beginning to end and beyond. Going through your customer journey will help achieve the best outcomes and services for both your brand as well as your customer. Mapping it out can provide valuable insights into what interactions your target audience has on the way to becoming a customer, what interactions you need to provide to help them along that journey, and more.
How to Identify Your Customer Journey
Identifying your customer journey will help you better plan marketing strategies and ad campaigns for your business. Here's how to identify your customer journey.
1. Define Your Objectives
Before you can identify your customer journey, you need to define your objectives. You need to ask yourself why you are identifying your customer journey. You will also need to list your goals in going through this process.
In order to achieve this, you may want to create a buyer persona. Creating a fictitious persona based on your ideal customer demographics will help you through that customer journey.
2. Get to Know Your Customers
Understanding your customer base is a very important part of the customer journey. You can do this with some customer research, such as a survey or questionnaire for your customers to fill out. It's important to only reach out to actual customers or confirmed prospects.
Here are a few good questions to ask:
How did you hear about our company?
Have you ever purchased a service or product through our company? If so, how was your experience?
What attracted you to our company?
On a scale of 1 to 10, how easy is our website to use?
What problems are you trying to solve through our services or products?
Have you ever needed customer support? If so, what was your experience like?
After you have results, be sure to compile them into a document for easier reading and analysis.
3. Narrow Down Your Target Personas
Once you've analyzed all your customer personas, narrow them down into two or three personas. Narrowing these down is important because having too many or focusing on the wrong ones won't accurately reflect your customer's journey.
Pick your most common type of customer when identifying your customer journey. This way, you are targeting your biggest customer base. Don't worry about the other customer demographics because you can always go back and identify those specific customer journeys if you need to.
4. List Your Touchpoints
Touchpoints are any interactions customers have with your business. On your website, these are areas of your website where customers can interact with you. List out all the known areas and also all prospective areas. This is a really important part of identifying a customer journey because it gives you insight into your customers' actions.
If they use fewer touchpoints, customers may be discouraged and leave your website. This could also indicate that you are missing critical touchpoints. If they're using more than expected, it could mean it takes a lot of steps to reach their end goal. This might mean your website is complicated to use. It's important to have an easy-to-navigate website so that customers spend more time browsing.
Use Search Engines and Analytics
Touchpoints are not just limited to your website, however. Touchpoints can also include advertisements, social media, and Google paid ads. To find these touchpoints, do a quick Google search of your brand to see what comes up. Then, check out Google Analytics to see where your traffic is originating.
If you don't have any sort of tracking on your site, it's one of the common mistakes when using Google Analytics and also leaves you in the dark about your traffic sources and website performance. Make sure you add Google Analytics or other analytics to your site to start tracking that valuable information.
5. Evaluate the Most Common Touchpoints
Once you have whittled down all your touchpoints, list out the most common ones and start to evaluate them from the customer's perspective. There are a few things to consider as you look at the most common touchpoints.
First, identify customer actions. Go through the actions of your customers as they interact with your brand. It may be a long list, but don't let that scare you. In the long run, this will help you focus on what matters and reduce the number of actions your customers need to take which can result in a higher conversion rate.
Consider Customer Emotions and Motivations
Another thing to consider is your customers' emotions and motivations in interacting with your brand. Any action your customer takes is driven by emotion. That emotion is usually the result of needing to solve a problem. However, their emotions will change depending on what step of the customer journey they're on. Understanding these emotions will help you provide the most relevant content at the right time.
Consider Obstacles and Pain Points
You also need to identify obstacles and pain points. What is keeping your customers from taking a desired action? Cost is one of the most common obstacles and is one of the top reasons why shoppers abandon their carts. A customer may love your product but might be unwilling to pay the high shipping cost. Understanding these obstacles can help you workshop new ways to offer better options for your customers and is a great customer retention strategy.
6. Identify Your Resources and the Resources You May Need
Identifying your customer journey will touch on every aspect of your business. This will highlight all of the resources you need while creating a customer experience. It's important to identify the resources you have and the ones you will need in order to improve the customer journey.
Perhaps your customer journey identifies some flaws In customer support. You may realize your customer support department doesn't have enough resources or the correct tools to properly support your customers. Discovering this issue will advise management to invest in order to improve your response time in customer support.
7. Take the Customer Journey Yourself
Even though you may have successfully identified your customer journey, it's important to go on the journey yourself. You will need to analyze your results and ask yourself a few questions. Ask yourself how you can better assist your customers. Another question to ask is how many customers are visiting your website but then exiting before making a purchase.
Analyzing these results is important because it helps you fill in the gaps where customers' needs are not being met. Using each of your customer personas, go through the entire customer journey as they would. This whole exercise is hypothetical until you go through the journey yourself. You can also invest in user testing or focus groups to get other perspectives.
8. Implement Necessary Changes
This customer journey should help give you an idea of what your website, marketing, processes, etc. should be like. Then, implement those changes. This could be writing more successful calls to action. Or, perhaps you could write more descriptive information about your products or services.
Just remember, your changes will only be effective as long as you fix your customers' pain points and obstacles. This is much more effective than blindly making changes and hoping for the best.
Identifying your customer journey will improve your marketing and advertising goals. These steps on how to identify your customer journey will be a helpful tool as you analyze your website, marketing, business operations, and more for ways to improve customer experience.