7 Effective Tips for Working From Home
March 26, 2020

By Ashley Orndorff, aka Marketing Geek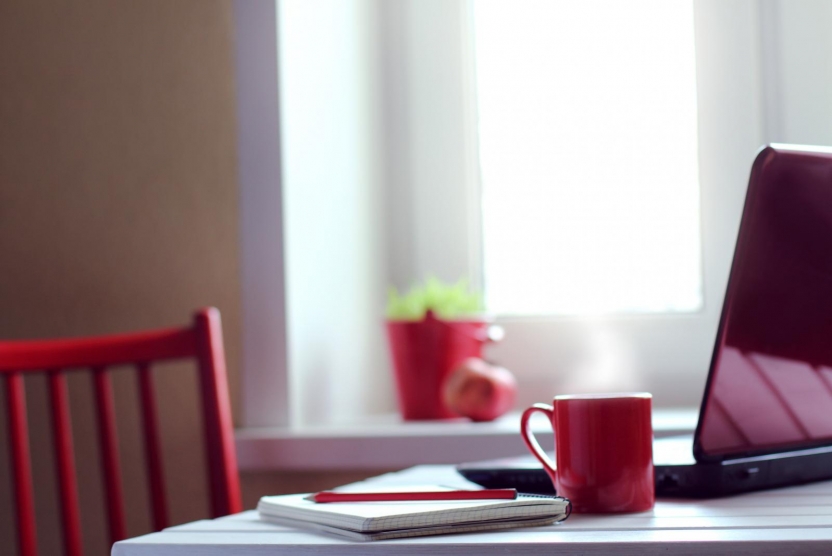 If you're used to being able to work from home or have been a remote worker for years, you probably have a set routine that helps keep you productive. But, if you're new to it or not used to working from home a lot, you might have a hard time adjusting or need some time to work through new challenges. Either way, here are some tips for working from home to help you stay focused, be productive, and get things done:
1. Don't Just Stay in Pajamas
When you're working from home and don't have any scheduled video meetings for the day, it's tempting to just clean up and stay in pajamas all day. This may work for some people. But, for others, it can make you slower to start your day and less productive overall.
You don't have to dress like you would if you were going to the office, but it can still be a good idea to change into clothes to work in. Sometimes, the simple act of changing your clothes is a signal to your body and mind that it's time to work. It can even help you wake up faster and get in the mindset to get things done.
2. Create a Dedicated Workspace
Establishing a good work/life balance can be challenging enough with a standard office job. If you're working from home, those lines can become even more blurred. Regardless of the size of your house or apartment, try to create a dedicated workspace for yourself to recreate that physical work/life separation as much as possible.
You can create a home office in a lesser-used room in your house. You can also just designate a spot at the table, in a corner, or even on the couch as your work area while you are working from home. No matter where you are, you can brighten up a workspace to help get more comfortable and productive.
And, if you're set up in an area you still need to use during off-work hours, pack up your laptop and work at the end of your workday. The goal is to create an area that allows you to focus on work while you're working and then disconnect when you're not.
3. Stick to a Routine
You may be able to set your own schedule when you are working from home or your employer may designate certain working hours. No matter how you work or how flexible your schedule is, one of the tips for working from home is to clearly define your work hours throughout the day.
Not only will this help coworkers when it comes to communication and collaboration, but it also helps to keep you productive. Regular hours are also useful if you need to establish boundaries with other people who live in your household.
Just don't forget to take some breaks too. Stand up, stretch, walk around, go outside for a quick walk, do some programmer posture exercises, etc. Taking breaks throughout the day can help you avoid stiff muscles, stay focused on work, and increase productivity
Sticking with regular hours, whatever that means for you, can help you focus and get your best work done in that time. Plus, if you stick to the schedule you would normally have while in the office or close to it, then transitioning back to an office can be smoother and easier.
4. Include Transitions in Your Routine
Whether you've been working from home or you were commuting to an office to work and are now working from home, there are transitions into and out of work that help prepare your mind to work and also to shut it off from work.
It's important to build some transitions into your work from home routine so that you are still giving your mind that time to prepare and ease into the workday and also reset and ease out of it when you're done working for the day.
This could be as simple as just getting ready in the morning or it could be something extra like meditation, music, the process of making coffee, etc. A similar routine at the end of the workday can help reset your brain, even if you're just jumping right into chores or something else around the home.
5. Figure Out How to Manage Distractions
Between coworkers talking, phones ringing, and more, an office environment can be distracting. When you work from home, there are a lot more distractions around you. Everything you would have been thinking about doing once you got home is surrounding you.
If you have pets, children, roommates, etc., there will also be people and animals to distract you. On top of that, there are the general internet distractions from both your computer and your phone. To be productive working from home, it's important to figure out how to manage these distractions and keep yourself focused on work.
This may include keeping your phone on silent, wearing headphones to drown out the noise, blocking certain websites in your browser during a certain time, setting ground rules and boundaries with the other people who live with you, and more.
6. Address Expectations for Communication
Unless you are a solopreneur or a freelancer who works alone, you will have coworkers you may need to communicate with and collaborate with on projects. Even if you don't need to communicate with coworkers, you'll still need to communicate with clients.
Address expectations for communication early on. Let people know how they can contact you and when. If you're working with other people on something, make sure you have some sort of communication process set up whether that's email, a project management platform, a chat service like Slack, etc.
With all the technology available, you should be able to communicate effectively for what you need even if that means having a conference call, video chat, screenshare, etc. Active communication, flexible scheduling, and more are all ways companies can support employees working from home.
7. Set Aside Some Time to Socialize As Needed
Another one of the tips for working from home is to set aside time to socialize if you need it. This one completely depends on you and the relationship you have with your coworkers. It also depends on how you work and deal with isolation. Some people prefer alone time while others may not enjoy it as much.
If you normally chat with your coworkers throughout the day or in the mornings and you know it's something they enjoy too, you can always set aside some time in your day to ask how everyone's doing, check in with a coworker about a show, etc. in the office chat.
Setting aside some time for whatever is normal for you and your coworkers can help if anyone is feeling isolated and also can help normalize things.
These are just a few tips for working from home to help you stay productive. What works best will vary from person to person.
Just as we all have different working styles and personalities, we also all have different techniques that help us perform best when it comes to remote work.
Keeping trying different things until you find what works for you and then stick to it and build your routine around that. From there, working from home should be a breeze. For these tips and more, check out this infographic from Rocket Mortgage: