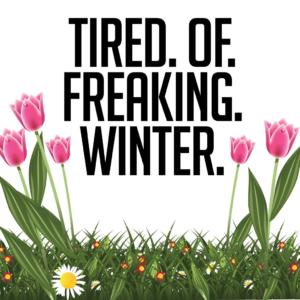 Cabin fever can impact every facet of your world. In my case it has seriously impacted my writing inspiration. Don't get me wrong, I adore writing, but when it's cold, wet, and just bitter out I would much rather crawl into fuzzy pjs and take a nap before I stay on task and write every day. While it seems like a simple task it can be difficult to get started or to keep going. So here are some ideas to help you feel inspired and hopefully put pen to paper.
Use the Prompts
I know they're lame and I know you feel like you're in your high school creative writing class again but they do work. Sit down with a couple of your favorite (or a few you at least tolerate) prompts and simply free write. Keep writing until your hands hurt, until you run out of pages, or your computer dies. And then plug the thing back in and keep writing. This will get a lot of frustration and blockage out of your mind. You will be amazed how much better you feel and how much your writing will improve from here on out. You never know, you might find a good idea amongst all the pages.
Plan Ahead
Coming up with a list of topics can sometimes be way easier than writing a full-on blog post. I suggest you start with seasonal topics if you're not too sure what you want to discuss. By doing a seasonal monthly post you already have one idea ready to go and can at least post on your blog once a month. So first step is done. From there you should consider doing a monthly post about the industry or field you are in and then one or two sort of fun pieces. This will keep your audience, engaged, educated, and entertained.
Edit, Edit, Edit
It seems counter-intuitive but editing your work or the work of others will help you find inspiration and can help you become a better writer in general. So get out your AP Stylebook, your favorite red pen, and get editing! You'll never know what you'll find.
Don't Be Afraid To Fail
Some of your writing is going to be utterly terrible. Sometimes there will be errors, misspellings, and there will be plenty of not-so-nice comments that will show up once you hit publish. And that's perfectly OK. We as human beings create errors and make mistakes. The only thing you can do is fix them as best you can, learn from them, and move on. Otherwise you will just sit there staring at the same paragraph for several hours wondering if it sounds flippant. Not that I know from experience or anything…
So go write, edit, and rewrite to your heart's content! It may not be great (or good or OK) but it will improve.