Between all the emojis and a press release: The careful balance of blogging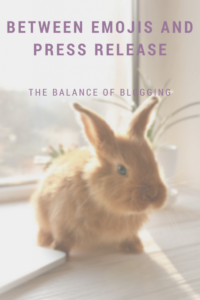 I'm just as guilty as the next person when it comes to making weird, nonsensical posts. It can be difficult, frustrating, and you may need a drink afterward. But in order to create a balance here are a few tips you can follow.
Switch it up
Try to switch from how-to's, to story time, to tips and tricks. These are usually neat ways to show your audience content without sounding like a broken record or boring yourself. Be sure whatever you're writing is focused and valuable to your readers. If they walk away without any ideas, tips, or information they will use later on it is a waste of their time and your brand will be forgotten over time. So make the story funny but to the point, the how-to's quick and efficient, and the tips and tricks to be new and tested by you personally.
Talk to your audience
I know many of us cringe when it comes to networking. It feels awkward, sometimes sleazy, and you walk away full of coffee and questions but guess what? You should do it anyway! That way you meet those who read your blog, you can gauge their reactions, and ask for advice. You'll be amazed by how much your writing will improve if you listen to your audience and work with their ideas. It's interaction and it can lead to incredible growth!
Know the language
The colloquialisms (I say that because I hate the word "lingo") in your industry should be used but used cautiously. Be sure to stay up-to-date with the vocabulary so you never sound outdated or uninterested. Unless you're a hedge fund manager or data analyst at the IMF, however, you should also try to speak conversationally in your blog as to avoid you and your audience becoming bored. Nothing makes me sleepier than the phrase, "Heretofore."
Continue screaming into the void
Blogging can get lonely when no one shares or comments on your posts. But you need to keep going. Keep writing, editing, and finding fun pictures! It may take time and it may become frustrating every now and then, but if what you're writing about is truly your passion, it's worth it.